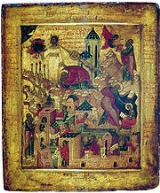 Book of Revelation
The
Book of Revelation
is the final book of the
New Testament
New Testament
The New Testament is the second major division of the Christian biblical canon, the first such division being the much longer Old Testament....
. The title came into usage from the first word of the book in
Koine Greek
Koine Greek
Koine Greek is the universal dialect of the Greek language spoken throughout post-Classical antiquity , developing from the Attic dialect, with admixture of elements especially from Ionic....
:
apokalupsis
, meaning "unveiling" or "revelation" (the author himself not having provided a title). It is also known as the
Book of the Revelation of Saint John the Divine
or the
Apocalypse of John
, (both in reference to its author) or the
Book of the Revelation of Jesus Christ
(in reference to its opening line) or simply
Revelation
, (often dubbed "Revelations" in contrast to the singular in the original Koine) or the
Apocalypse
.
The word "
apocalypse
Apocalypse
An Apocalypse is a disclosure of something hidden from the majority of mankind in an era dominated by falsehood and misconception, i.e. the veil to be lifted. The Apocalypse of John is the Book of Revelation, the last book of the New Testament...
" is also used for other works of a similar nature in the
literary genre
Literary genre
A literary genre is a category of literary composition. Genres may be determined by literary technique, tone, content, or even length. Genre should not be confused with age category, by which literature may be classified as either adult, young-adult, or children's. They also must not be confused...
of
apocalyptic literature
Apocalyptic literature
Apocalyptic literature is a genre of prophetical writing that developed in post-Exilic Jewish culture and was popular among millennialist early Christians....
.