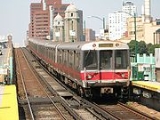 Bombardier Transportation
Bombardier Transportation
is the
rail
Rail transport
Rail transport is a means of conveyance of passengers and goods by way of wheeled vehicles running on rail tracks. In contrast to road transport, where vehicles merely run on a prepared surface, rail vehicles are also directionally guided by the tracks they run on...
equipment division of the Canadian firm, Bombardier Inc. Bombardier Transportation is one of the world's largest companies in the rail-equipment manufacturing and servicing industry. Its headquarters are in Berlin, Germany.
Its wide range of products includes passenger rail vehicles,
locomotive
Locomotive
A locomotive is a railway vehicle that provides the motive power for a train. The word originates from the Latin loco – "from a place", ablative of locus, "place" + Medieval Latin motivus, "causing motion", and is a shortened form of the term locomotive engine, first used in the early 19th...
s,
bogie
Bogie
A bogie is a wheeled wagon or trolley. In mechanics terms, a bogie is a chassis or framework carrying wheels, attached to a vehicle. It can be fixed in place, as on a cargo truck, mounted on a swivel, as on a railway carriage/car or locomotive, or sprung as in the suspension of a caterpillar...
s,
propulsion
Ground propulsion
Ground propulsion is a different term than transport, because it refers to solid bodies being propelled. Those bodies may be mounted on vats or using wheels while the latter dominates for standard applications....
, and controls. They also provide rail control solutions and build total transit systems.
André Navarri is the current
President
President
A president is a leader of an organization, company, trade union, university, or country.Etymologically, a president is one who presides, who sits in leadership...
of Bombardier Transportation. In January 2011 the company had 34,900 employees, 25,400 of them in Europe, and 59 manufacturing locations around the world.
History
Bombardier Transportation's first order for mass transit rolling stock was in 1974 for the
Société de transport de Montréal
Société de transport de Montréal
The Société de transport de Montréal is a public transport agency that operates transit bus, and rapid transit services in Montreal, Quebec, Canada...
(STM) (Montreal transport authority) to build metro trains for the
Montreal Metro
Montreal Metro
The Montreal Metro is a rubber-tired metro system, and the main form of public transportation underground in the city of Montreal, Quebec, Canada....
.
The original core of the Transportation group was formed with the purchase of
Montreal Locomotive Works
Montreal Locomotive Works
Montreal Locomotive Works was a Canadian railway locomotive manufacturer which existed under several names from 1883–1985, producing both steam and diesel locomotives. For a number of years it was a subsidiary of the American Locomotive Company...
(MLW) in 1975. With that purchase Bombardier acquired MLW's
LRC
LRC (train)
LRC is a bilingual acronym for Light, Rapid, Comfortable or Léger, Rapide, et Confortable, the name of a series of lightweight diesel-powered passenger trains that were used on short- to medium-distance inter-city service in the Canadian Provinces of Ontario and Quebec...
(Light, Rapid, Comfortable)
tilting train
Tilting train
A tilting train is a train that has a mechanism enabling increased speed on regular rail tracks. As a train rounds a curve at speed, objects inside the train experience centrifugal force. This can cause packages to slide about or seated passengers to feel squashed by the outboard armrest due to...
design which it produced in the 1980s. The group also purchased
Hawker Siddeley Canada
Hawker Siddeley Canada
Hawker Siddeley Canada was the Canadian unit of the Hawker Siddeley Group of the United Kingdom and manufactured railcars, subway cars, streetcars, aircraft engines and ships from the 1960s to 1980s.-History:...
. MLW was later sold to
General Electric
General Electric
General Electric Company , or GE, is an American multinational conglomerate corporation incorporated in Schenectady, New York and headquartered in Fairfield, Connecticut, United States...
in 1988. GE ended railcar operations in Canada in 1993. Bombardier Transportation continues to operate the railcar operations in Thunder Bay. In 1987, Bombardier bought the assets of US railcar manufacturers Budd and Pullman-Standard.
In the late 1980s Bombardier Transportation gained a manufacturing presence in Europe with the acquisition of a 45% share in
BN Constructions Ferroviaires et Métalliques
La Brugeoise et Nivelles SA.
La Brugeoise et Nivelles SA , later BN Constructions Ferroviaries et Métalliques was a Belgian manufacturer of railway locomotives and other rolling stock; it was formed by a merger of two companies La Brugeoise et Nicaise et Delcuve and Les Ateliers Métallurgiques de Nivelles.The Bruges factory...
(with its principal site in
Bruges
Bruges
Bruges is the capital and largest city of the province of West Flanders in the Flemish Region of Belgium. It is located in the northwest of the country....
, Belgium) in 1986, and the acquisition of ANF-Industries (with its principal site in
Crespin
Crespin, Nord
-References:*...
, France, near the Belgian border) in 1989. In 1990 Procor Engineering Ltd. of
Horbury
Horbury
-Demography:In 2008 Horbury had a largely white population compared with Yorkshire and the Humber.-Population change:The population of Horbury in 2001 was 10,002-Transport:...
near
Wakefield
Wakefield
Wakefield is the main settlement and administrative centre of the City of Wakefield, a metropolitan district of West Yorkshire, England. Located by the River Calder on the eastern edge of the Pennines, the urban area is and had a population of 76,886 in 2001....
, UK; a manufacturer of bodyshells, was acquired, and renamed Bombardier Prorail.
In 1991 the grouping
Bombardier Eurorail
was formed consisting of the company's European subsidiaries; BN, ANF-Industrie, Prorail, and BWS.
In 1995
Waggonfabrik Talbot KG
Waggonfabrik Talbot
Waggonfabrik Talbot was a rolling stock manufacturer founded in Aachen, Germany in 1838. The company was an early pioneer of self discharging freight wagons, and in the latter part of the twentieth century a major supplier to the Dutch State Railways .In the 1990s the company developed the Talent...
in
Aachen
Aachen
Aachen has historically been a spa town in North Rhine-Westphalia, Germany. Aachen was a favoured residence of Charlemagne, and the place of coronation of the Kings of Germany. Geographically, Aachen is the westernmost town of Germany, located along its borders with Belgium and the Netherlands, ...
, Germany, and in 1998 Deutsche Waggonbau AG (DWA), and
Ateliers de constructions mécaniques de Vevey
Ateliers de Constructions Mécaniques de Vevey
Ateliers de constructions mécaniques de Vevey was an metal engineering company based in Vevey, Switzerland. Founded as Ateliers B.Roy & Cie in 1848 by Benjamin Roy it became Ateliers de constructions mécaniques de Vevey SA in 1895....
in
Vevey
Vevey
Vevey is a town in Switzerland in the canton Vaud, on the north shore of Lake Geneva, near Lausanne.It was the seat of the district of the same name until 2006, and is now part of the Riviera-Pays-d'Enhaut District...
, Switzerland, were acquired. DWA encompassed the major portion of the railway equipment industry of the former East Germany ("Kombinat Schienenfahrzeugbau") with its principal sites in
Bautzen
Bautzen
Bautzen is a hill-top town in eastern Saxony, Germany, and administrative centre of the eponymous district. It is located on the Spree River. As of 2008, its population is 41,161...
and
Görlitz
Görlitz
Görlitz is a town in Germany. It is the easternmost town in the country, located on the Lusatian Neisse River in the Bundesland of Saxony. It is opposite the Polish town of Zgorzelec, which was a part of Görlitz until 1945. Historically, Görlitz was in the region of Upper Lusatia...
.
The 2001 acquisition of the German company
ADtranz
Adtranz
ABB Daimler-Benz Transportation , commonly known under its brand Adtranz, was a multi-national rail transport equipment manufacturer with facilities concentrated in Europe and the USA....
from
DaimlerChrysler
DaimlerChrysler
Daimler AG is a German car corporation. By unit sales, it is the thirteenth-largest car manufacturer and second-largest truck manufacturer in the world. In addition to automobiles, Daimler manufactures buses and provides financial services through its Daimler Financial Services arm...
made Bombardier Transportation become by many measurements the Western world's largest rail-equipment manufacturer. The addition of ADtranz made Bombardier a manufacturer of locomotives along with its existing product lines of passenger carriages, multiple-unit trains, and
tram
Tram
A tram is a passenger rail vehicle which runs on tracks along public urban streets and also sometimes on separate rights of way. It may also run between cities and/or towns , and/or partially grade separated even in the cities...
s. With the acquisition of ADtranz, Bombardier gained competence in the electrical propulsion components business.
Products and services
In addition to manufacturing a wide variety of passenger rail vehicles and locomotives Bombardier Transportation provides services for commuter train providers.
Maintenance: Bombardier Transportation has several maintenance contracts for the servicing of commuter trains. This includes fueling, storage, train washing and upkeep. One of their key clients is GO Transit

GO Transit

GO Transit is an inter-regional public transit system in Southern Ontario, Canada. It primarily serves the Greater Toronto and Hamilton Area conurbation, with operations extending to several communities beyond the GTHA proper in the Greater Golden Horseshoe...


, as well as OCTranspo (Ottawa O-Train

Ottawa O-Train

The O-Train is a light-rail transit service in Ottawa, Ontario, Canada operated by OC Transpo. The present line runs north-south on a railway line, from Bayview to Greenboro, a distance of approximately...


).
Train Operation: Bombardier Transportation will be the next operator for 6 of the 7 GO Transit

GO Transit

GO Transit is an inter-regional public transit system in Southern Ontario, Canada. It primarily serves the Greater Toronto and Hamilton Area conurbation, with operations extending to several communities beyond the GTHA proper in the Greater Golden Horseshoe...


commuter train lines starting in June 2008.
Facilities
Bombardier Transportation has production facilities or product development in:
Americas:
Europe:

Belgium : Passenger vehicles
Czech Republic : freight rolling stock
Denmark : Continues production of IC3

IC3

The IC3 is a Danish-built high-comfort medium/long distance diesel multiple-unit train. The sets were built by ABB Scandia . This train model has been operating in Denmark and Sweden since 1989...


"flexiliner" passenger multiple units.
France : Public transport - mass transit, trolleybuses, metros
Germany : Major facilities for production of mass transit, regional, and high speed passenger trains. Control systems. Diesel and electric locomotive manufacture.
Italy : Production site for FS Class E464

FS Class E464

The E464 is a class of Italian railways electric locomotives. They were introduced in the course of the 1990s for hauling light trains, especially for commuter service. They were acquired by FS Trenitalia to replace the old E424 and E646, dating from the 1940s and 1950s...


in Vado Ligure

Vado Ligure

Vado Ligure, in antiquity Vado Sabatia, is a town and comune in the province of Savona, Liguria, in northern Italy.- Economy :Vado has a large industrial and commercial port....


(former Adtranz factory)
Norway : servicing of Adtranz products NSB Class 73

NSB Class 73

NSB Class 73 is a class of 22 electric multiple units built by Adtranz for the Norwegian State Railways. The four-car trains were modifications of Class 71, which was again based on the Swedish X2. The A-series consists of 16 intercity trains; they were delivered in 1999 and 2000 and are used on...


and GMB Class 71 built at former Adtranz factory in Strømmen

Strømmen

Strømmen is a town in Skedsmo, Akershus, Norway. It is about twenty kilometers east of Oslo, and considered part of Greater Oslo. It has around 8,000 residents....


(see Strømmens Værksted

Strømmens Værksted

Strømmens Værksted A/S was an industrial company based in Skedsmo, Norway, specializing in the production of rolling stock. Founded in 1873, it remains as a part of Bombardier Transportation...


), also manufactures NSB Class 93
Poland : (Bombardier Transportation Polska

Bombardier Transportation Polska

Bombardier Transportation Polska is the Polish division of Bombardier Transportation. It comprises the former Pafawag factory in Wroclaw and another facility in Lodz as Bombardier Transportation Polska Sp. z o.o. and another manufacturing plant Bombardier Transportation Polska Sp. z o.o. in...


), includes manufacturing site in Wroclaw (former Pafawag

Pafawag

Pafawag is a Polish locomotive manufacturer based in Wrocław. The company became part of Adtranz in 1997 as Adtranz Pafawag, and in 2001 part of Bombardier Transportation...


factory), Katowice, Lodz and Warsaw.
Sweden : Production, engineering, development Also manufactures Regina EMUs

Regina (train)

The Regina is a Swedish model of electric multiple unit passenger train, manufactured by Bombardier Transportation . It is used by the national passenger railway SJ along with numerous regional and private operators, in variants designated X50, X51, X52, X53, X54 and X55, and in two- and...



Switzerland : Research and design - propulsion and bogies, also manufacture of high capacity (double decker) passenger vehicles.
United Kingdom : Derby Carriage and Wagon Works

Derby Carriage and Wagon Works

Derby Carriage and Wagon Works was built by the Midland Railway in Derby, England. The plant has been through many changes of ownership and is currently owned by Bombardier Transportation, a subsidiary of Bombardier Inc. of Canada. As of 2011 it is the only remaining passenger rolling stock...


- Manufacturing TurboStar, ElectroStar passenger multiple units and London Underground Stock. .
Also Hungary, Austria, Spain Finland, Romania.

Asia:

India : Movia

Movia

Movia is a family of metro train built by Bombardier Transportation. The structure and body shell are fully customisable for the needs of each system that orders it. Unlike most traditional metro trains, they usually have full-width gangways between carriages, allowing passengers to walk the entire...


-car manufacturing and Electrical component manufacture in Savli

Savli

Savli is a village near Vadodara, one of the GIDC is very near to it. The famous companies that are in the this GIDC are Bombardier Transportation, Thermax etc....


, Vadodara

Vadodara

Vadodara formerly known as Baroda is the third most populated city in the Indian State of Gujarat . It is one of the four cities with the population of over 1 million...


.
China : Joint ventures with native companies Bombardier Sifang-Power (Qingdao) transportation Ltd., Changchun Bombardier railway vehicles Co. Ltd., Bombardier CPC propulsion systems Ltd..

Australia:

(Bombardier Transportation Australia Ltd)- Dandenong, Melbourne, Victoria.
External links