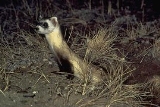 Black-footed Ferret
The
Black-footed Ferret
(
Mustela nigripes
), also known as the
American polecat
or
Prairie Dog Hunter
, is a species of
Mustelid
Mustelidae
Mustelidae , commonly referred to as the weasel family, are a family of carnivorous mammals. Mustelids are diverse and the largest family in the order Carnivora, at least partly because in the past it has been a catch-all category for many early or poorly differentiated taxa...
native to central
North America
North America
North America is a continent wholly within the Northern Hemisphere and almost wholly within the Western Hemisphere. It is also considered a northern subcontinent of the Americas...
. It is listed as endangered by the IUCN, because of its very small and restricted populations. First discovered by
Audubon
John James Audubon
John James Audubon was a French-American ornithologist, naturalist, and painter. He was notable for his expansive studies to document all types of American birds and for his detailed illustrations that depicted the birds in their natural habitats...
and
Bachman
John Bachman
The Rev. John Bachman was an American Lutheran minister, social activist and naturalist who collaborated with J.J. Audubon to produce Viviparous Quadrapeds of North America and whose writings, particularly Unity of the Human Race, were influential in the development of the theory of evolution. He...
in 1851, the species declined throughout the 20th century, primarily as a result of decreases in
prairie dog
Prairie dog
Prairie dogs are burrowing rodents native to the grasslands of North America. There are five different species of prairie dogs: black-tailed, white-tailed, Gunnison's, Utah and Mexican prairie dogs. They are a type of ground squirrel, found in the United States, Canada and Mexico...
populations and sylvatic plague.