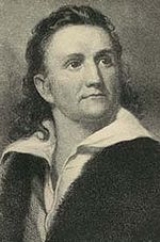 John James Audubon
John James Audubon (April 26, 1785 – January 27, 1851) was a
French
French people
The French are a nation that share a common French culture and speak the French language as a mother tongue. Historically, the French population are descended from peoples of Celtic, Latin and Germanic origin, and are today a mixture of several ethnic groups...
-
American
United States
The United States of America is a federal constitutional republic comprising fifty states and a federal district...
ornithologist
Ornithology
Ornithology is a branch of zoology that concerns the study of birds. Several aspects of ornithology differ from related disciplines, due partly to the high visibility and the aesthetic appeal of birds...
,
naturalist
Natural history
Natural history is the scientific research of plants or animals, leaning more towards observational rather than experimental methods of study, and encompasses more research published in magazines than in academic journals. Grouped among the natural sciences, natural history is the systematic study...
, and
painter
Painting
Painting is the practice of applying paint, pigment, color or other medium to a surface . The application of the medium is commonly applied to the base with a brush but other objects can be used. In art, the term painting describes both the act and the result of the action. However, painting is...
. He was notable for his expansive studies to document all types of American birds and for his detailed illustrations that depicted the birds in their natural habitats. His major work, a color-plate book entitled The Birds of North America (1827–1839), is considered one of the finest ornithological works ever completed.