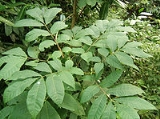 Bitternut Hickory
Carya cordiformis
, the
Bitternut Hickory
, also called bitternut or swamp hickory, is a large pecan hickory with commercial stands located mostly north of the other pecan hickories. Bitternut hickory is cut and sold in mixture with the true hickories. It is the shortest lived of the hickories, living to about 200 years.
Description
It is a large
deciduous
Deciduous
Deciduous means "falling off at maturity" or "tending to fall off", and is typically used in reference to trees or shrubs that lose their leaves seasonally, and to the shedding of other plant structures such as petals after flowering or fruit when ripe...
tree
Tree
A tree is a perennial woody plant. It is most often defined as a woody plant that has many secondary branches supported clear of the ground on a single main stem or trunk with clear apical dominance. A minimum height specification at maturity is cited by some authors, varying from 3 m to...
, growing up to 35 meters tall (exceptionally to 47 m), with a trunk up to 1 m diameter. The
leaves
Leaf
A leaf is an organ of a vascular plant, as defined in botanical terms, and in particular in plant morphology. Foliage is a mass noun that refers to leaves as a feature of plants....
are 15-30 cm long, pinnate, with 7-11 leaflets, each leaflet lanceolate, 7-13 cm long, with the apical leaflets the largest but only slightly so. The
flower
Flower
A flower, sometimes known as a bloom or blossom, is the reproductive structure found in flowering plants . The biological function of a flower is to effect reproduction, usually by providing a mechanism for the union of sperm with eggs...
s are small wind-pollinated
catkin
Catkin
A catkin or ament is a slim, cylindrical flower cluster, with inconspicuous or no petals, usually wind-pollinated but sometimes insect pollinated . They contain many, usually unisexual flowers, arranged closely along a central stem which is often drooping...
s, produced in spring. The
fruit
Fruit
In broad terms, a fruit is a structure of a plant that contains its seeds.The term has different meanings dependent on context. In non-technical usage, such as food preparation, fruit normally means the fleshy seed-associated structures of certain plants that are sweet and edible in the raw state,...
is a very bitter
nut
Nut (fruit)
A nut is a hard-shelled fruit of some plants having an indehiscent seed. While a wide variety of dried seeds and fruits are called nuts in English, only a certain number of them are considered by biologists to be true nuts...
, 2-3 cm long with a green four-valved cover which splits off at maturity in the fall, and a hard, bony shell. Another indentifying characteristic is its bright sulfur-yellow winter buds. No other hickory has this distinguishing feature.
It is closely related to the
Pecan
Pecan
The pecan , Carya illinoinensis, is a species of hickory, native to south-central North America, in Mexico from Coahuila south to Jalisco and Veracruz, in the United States from southern Iowa, Illinois, Missouri, and Indiana east to western Kentucky, southwestern Ohio, North Carolina, South...
, sharing similar leaf shape and being classified in the same section of the genus
Carya
sect.
Apocarya
, but unlike the Pecan, it does not have edible nuts. It is most readily distinguished from the Pecan by the smaller number of leaflets, with many leaves having only 7 leaflets (rarely fewer than 9, and often 11-13, in the Pecan). Hybrids with the Pecan are known, and named
Carya × brownii
. A hybrid between the Shagbark Hickory (
C. ovata
) is also recognized, and is known as Laney's Hickory (
Carya x Laneyi
).
Habitat
Bitternut hickory grows in moist mountain valleys along streambanks and in swamps. Although it is usually found on wet bottom lands, it grows on dry sites and also grows well on poor soils low in nutrients. The species is not included as a titled species in the Society of American Foresters forest cover types because it does not grow in sufficient numbers.
Range
Bitternut hickory grows throughout the eastern United States from southwestern New Hampshire, Vermont, Maine, and southern Quebec; west to southern Ontario, central Michigan, and northern Minnesota; south to eastern Texas; and east to northwestern Florida and Georgia. It is most common, however, from southern New England west to Iowa and from southern Michigan south to Kentucky. It is probably the most abundant and most uniformly distributed of all the hickories.
Uses
Bitternut is used for lumber and pulpwood. Because bitternut hickory wood is hard and durable, it is used for furniture, paneling, dowels, tool handles and ladders. Like other hickories, the
wood
Wood
Wood is a hard, fibrous tissue found in many trees. It has been used for hundreds of thousands of years for both fuel and as a construction material. It is an organic material, a natural composite of cellulose fibers embedded in a matrix of lignin which resists compression...
is used for smoking
meat
Meat
Meat is animal flesh that is used as food. Most often, this means the skeletal muscle and associated fat and other tissues, but it may also describe other edible tissues such as organs and offal...
, and by
Native Americans
Indigenous peoples of the Americas
The indigenous peoples of the Americas are the pre-Columbian inhabitants of North and South America, their descendants and other ethnic groups who are identified with those peoples. Indigenous peoples are known in Canada as Aboriginal peoples, and in the United States as Native Americans...
for making
bows
Bow (weapon)
The bow and arrow is a projectile weapon system that predates recorded history and is common to most cultures.-Description:A bow is a flexible arc that shoots aerodynamic projectiles by means of elastic energy. Essentially, the bow is a form of spring powered by a string or cord...
. Bitternut hickory seeds and its bark are eaten by wildlife.
External links