 Belgian waffle
The
Belgian waffle
is a type of
waffle
Waffle
A waffle is a batter- or dough-based cake cooked in a waffle iron patterned to give a distinctive and characteristic shape. There are many variations based on the type and shape of the iron and the recipe used....
identified by its larger size, lighter batter and higher grid pattern which forms deep pockets and has larger squares than other types. In Belgium, there are a number of different types of waffle, including the Brussels waffle, the Liège waffle and the
stroopwafel
Stroopwafel
A stroopwafel is a waffle made from two thin layers of baked batter with a caramel-like syrup filling in the middle. They were first made in Gouda in the Netherlands, in 1784...
; what is known in North America as the "Belgian waffle" is most similar to the Brussels waffle. As opposed to a traditional waffle, the Belgian waffle attributes its height to the use of
yeast
Yeast
Yeasts are eukaryotic micro-organisms classified in the kingdom Fungi, with 1,500 species currently described estimated to be only 1% of all fungal species. Most reproduce asexually by mitosis, and many do so by an asymmetric division process called budding...
batter instead of a pancake
batter
Batter (cooking)
Batter is a semi-liquid mixture of one or more flours combined with liquids such as water, milk or eggs used to prepare various foods. Often a leavening agent such as baking powder is included to aerate and fluff up the batter as it cooks, or the mixture may be naturally fermented for this purpose...
. They are often eaten as a breakfast food. In North America, they are usually served with butter (or
margarine
Margarine
Margarine , as a generic term, can indicate any of a wide range of butter substitutes, typically composed of vegetable oils. In many parts of the world, the market share of margarine and spreads has overtaken that of butter...
) and
maple syrup
Maple syrup
Maple syrup is a syrup usually made from the xylem sap of sugar maple, red maple, or black maple trees, although it can also be made from other maple species such as the bigleaf maple. In cold climates, these trees store starch in their trunks and roots before the winter; the starch is then...
or with vanilla ice cream and fresh fruit (such as strawberries) as a
dessert
Dessert
In cultures around the world, dessert is a course that typically comes at the end of a meal, usually consisting of sweet food. The word comes from the French language as dessert and this from Old French desservir, "to clear the table" and "to serve." Common Western desserts include cakes, biscuits,...
.
History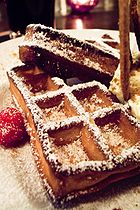 Originally showcased in 1958 at Expo 58, Belgian waffles had their
American
United States
The United States of America is a federal constitutional republic comprising fifty states and a federal district...
debut at the
Century 21 Exposition
Century 21 Exposition
The Century 21 Exposition was a World's Fair held April 21, 1962, to October 21, 1962 in Seattle, Washington.Nearly 10 million people attended the fair...
in Seattle, WA in 1962. The waffles were further popularized in the
United States
United States
The United States of America is a federal constitutional republic comprising fifty states and a federal district...
during the
1964 New York World's Fair
1964 New York World's Fair
The 1964/1965 New York World's Fair was the third major world's fair to be held in New York City. Hailing itself as a "universal and international" exposition, the fair's theme was "Peace Through Understanding," dedicated to "Man's Achievement on a Shrinking Globe in an Expanding Universe";...
at Flushing Meadows Park, USA. The waffle was introduced by Maurice Vermersch of Brussels, Belgium. Originally called Brussels waffles, Vermersch decided to change the name upon observing the poor geographical skills of Americans. The waffles were served with
whipped cream
Whipped cream
Whipped cream is cream that has been beaten by a mixer, whisk, or fork until it is light and fluffy. Whipped cream is often sweetened and sometimes flavored with vanilla, in which case it may be called Chantilly cream or crème Chantilly ....
and strawberries, and retailed for a dollar.