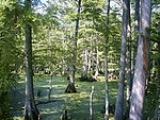 Bayou
noun
(1) A swampy arm or slow-moving outlet of a lake (term used mainly in Mississippi and Louisiana)
Etymology
From American , from .
Noun
A creek.
A very slow-moving creek.
A swamp.
An inlet from the Gulf of Mexico, from a lake, or from a large river, sometimes sluggish, sometimes without perceptible movement except from tide and wind.
Usage notes
Used almost exclusively to refer to the bodies of water in Louisiana and the adjoining areas, including southern Mississippi, eastern Texas, and Arkansas.