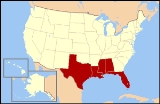 Gulf Coast of the United States
The
Gulf Coast of the United States
, sometimes referred to as the
Gulf South
,
South Coast
, or
3rd Coast
, comprises the coasts of American states that are on the
Gulf of Mexico
Gulf of Mexico
The Gulf of Mexico is a partially landlocked ocean basin largely surrounded by the North American continent and the island of Cuba. It is bounded on the northeast, north and northwest by the Gulf Coast of the United States, on the southwest and south by Mexico, and on the southeast by Cuba. In...
, which includes
Texas
Texas
Texas is the second largest U.S. state by both area and population, and the largest state by area in the contiguous United States.The name, based on the Caddo word "Tejas" meaning "friends" or "allies", was applied by the Spanish to the Caddo themselves and to the region of their settlement in...
,
Louisiana
Louisiana
Louisiana is a state located in the southern region of the United States of America. Its capital is Baton Rouge and largest city is New Orleans. Louisiana is the only state in the U.S. with political subdivisions termed parishes, which are local governments equivalent to counties...
,
Mississippi
Mississippi
Mississippi is a U.S. state located in the Southern United States. Jackson is the state capital and largest city. The name of the state derives from the Mississippi River, which flows along its western boundary, whose name comes from the Ojibwe word misi-ziibi...
,
Alabama
Alabama
Alabama is a state located in the southeastern region of the United States. It is bordered by Tennessee to the north, Georgia to the east, Florida and the Gulf of Mexico to the south, and Mississippi to the west. Alabama ranks 30th in total land area and ranks second in the size of its inland...
, and
Florida
Florida
Florida is a state in the southeastern United States, located on the nation's Atlantic and Gulf coasts. It is bordered to the west by the Gulf of Mexico, to the north by Alabama and Georgia and to the east by the Atlantic Ocean. With a population of 18,801,310 as measured by the 2010 census, it...
and are known as the
Gulf States
. All Gulf States are located in the
Southern
Southern United States
The Southern United States—commonly referred to as the American South, Dixie, or simply the South—constitutes a large distinctive area in the southeastern and south-central United States...
region of the United States.
The economy of the Gulf Coast region is dominated by industries related to fishing, aerospace, agriculture, and tourism.