 Bay of Puck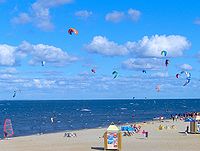 The
Bay of Puck
or
Puck Bay
, historically also known as the
Bay of Putzig
, is a shallow western branch of the Bay of Gdańsk in the southern
Baltic Sea
Baltic Sea
The Baltic Sea is a brackish mediterranean sea located in Northern Europe, from 53°N to 66°N latitude and from 20°E to 26°E longitude. It is bounded by the Scandinavian Peninsula, the mainland of Europe, and the Danish islands. It drains into the Kattegat by way of the Øresund, the Great Belt and...
, off the shores of
Gdańsk Pomerania
Gdańsk Pomerania
For the medieval duchy, see Pomeranian duchies and dukesGdańsk Pomerania or Eastern Pomerania is a geographical region in northern Poland covering eastern part of Pomeranian Voivodeship...
,
Poland
Poland
Poland , officially the Republic of Poland , is a country in Central Europe bordered by Germany to the west; the Czech Republic and Slovakia to the south; Ukraine, Belarus and Lithuania to the east; and the Baltic Sea and Kaliningrad Oblast, a Russian exclave, to the north...
. It is separated from the open sea by the
Hel Peninsula
Hel Peninsula
Hel Peninsula |Nehrung]]) is a 35-km-long sand bar peninsula in northern Poland separating the Bay of Puck from the open Baltic Sea. It is located in Puck County of the Pomeranian Voivodeship.- Geography :...
.
The bay has an average depth of 2-6 metres. There is a shallow sand-bank from Rewa Cape to
Kuźnica
Kuznica
Kuźnica is a popular Polish sea side resort, a part of the town of Jastarnia. Located between Chałupy and Jastarnia on the Hel Peninsula on the southern Baltic Sea in Puck County, Pomeranian Voivodeship, northern Poland....
in the middle of Hel Peninsula. The bay is available only for small fishing boats and yachts, which have to stick to the strict deeper routes. There are deposits of potassium salt below the Bay of Puck.
The main ports are
Puck
Puck, Poland
Puck is a town in northwestern Poland with 11,350 inhabitants. It is in Gdańsk Pomerania on the south coast of the Baltic Sea . Previously in the Gdańsk Voivodeship , Puck has been the capital of Puck County in the Pomeranian Voivodeship since 1999.-History:The settlement became a marketplace...
,
Jastarnia
Jastarnia
Jastarnia is a small town in Puck County, Pomeranian Voivodship, northern Poland. It is located on the Hel Peninsula on the Baltic Sea. Popular Polish seaside resort and small fishing port....
, and
Hel
Hel, Poland
Hel is a town in Puck County, Pomeranian Voivodeship, Poland, located on the tip of the Hel Peninsula, some 33 kilometres from the Polish mainland.-Early developments:...
.
External links