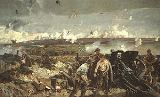 Battle of Vimy Ridge
The
Battle of Vimy Ridge
was a military engagement fought primarily as part of the
Battle of Arras
Battle of Arras (1917)
The Battle of Arras was a British offensive during the First World War. From 9 April to 16 May 1917, British, Canadian, New Zealand, Newfoundland, and Australian troops attacked German trenches near the French city of Arras on the Western Front....
, in the Nord-Pas-de-Calais region of
France
France
The French Republic , The French Republic , The French Republic , (commonly known as France , is a unitary semi-presidential republic in Western Europe with several overseas territories and islands located on other continents and in the Indian, Pacific, and Atlantic oceans. Metropolitan France...
, during the First World War. The main combatants were the
Canadian Corps
Canadian Corps
The Canadian Corps was a World War I corps formed from the Canadian Expeditionary Force in September 1915 after the arrival of the 2nd Canadian Division in France. The corps was expanded by the addition of the 3rd Canadian Division in December 1915 and the 4th Canadian Division in August 1916...
, of four divisions, against three divisions of the German Sixth Army. The battle, which took place from 9 to 12 April 1917, was part of the opening phase of the British-led Battle of Arras, a diversionary attack for the French
Nivelle Offensive
Nivelle offensive
The Nivelle Offensive was a 1917 French attack on the Western Front in the First World War. Promised as the assault that would end the war within 48 hours, with casualties expected of around 10,000 men, it failed on both counts. It was a three-stage plan:...
.
The objective of the Canadian Corps was to take control of the German-held high ground along an
escarpment
Escarpment
An escarpment is a steep slope or long cliff that occurs from erosion or faulting and separates two relatively level areas of differing elevations.-Description and variants:...
at the northernmost end of the Arras Offensive.