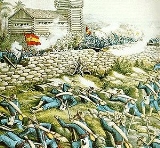 Battle of San Juan Hill
The
Battle of San Juan Hill
(July 1, 1898), also known as the battle for the
San Juan Heights
, was a decisive battle of the
Spanish-American War
Spanish-American War
The Spanish–American War was a conflict in 1898 between Spain and the United States, effectively the result of American intervention in the ongoing Cuban War of Independence...
. The San Juan heights was a north-south running elevation about two kilometers east of
Santiago de Cuba
Santiago de Cuba
Santiago de Cuba is the second largest city of Cuba and capital city of Santiago de Cuba Province in the south-eastern area of the island, some south-east of the Cuban capital of Havana....
. The names San Juan Hill and Kettle Hill were names given by the Americans. This fight for the heights was the bloodiest and most famous battle of the War. It was also the location of the greatest victory for the
Rough Riders
Rough Riders
The Rough Riders is the name bestowed on the 1st United States Volunteer Cavalry, one of three such regiments raised in 1898 for the Spanish-American War and the only one of the three to see action. The United States Army was weakened and left with little manpower after the American Civil War...
as claimed by the press and its new commander, the future Vice-President and later President,
Theodore Roosevelt
Theodore Roosevelt
Theodore "Teddy" Roosevelt was the 26th President of the United States . He is noted for his exuberant personality, range of interests and achievements, and his leadership of the Progressive Movement, as well as his "cowboy" persona and robust masculinity...
was (posthumously) awarded the
Medal of Honor
Medal of Honor
The Medal of Honor is the highest military decoration awarded by the United States government. It is bestowed by the President, in the name of Congress, upon members of the United States Armed Forces who distinguish themselves through "conspicuous gallantry and intrepidity at the risk of his or her...
in 2001 for his actions in Cuba.