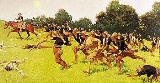 Spanish-American War
The
Spanish–American War
was a conflict in 1898 between
Spain
Spain under the Restoration
The Restoration was the name given to the period that began on December 29, 1874 after the First Spanish Republic ended with the restoration of Alfonso XII to the throne after a coup d'état by Martinez Campos, and ended on April 14, 1931 with the proclamation of the Second Spanish Republic.After...
and the
United States
United States
The United States of America is a federal constitutional republic comprising fifty states and a federal district...
, effectively the result of American intervention in the ongoing
Cuban War of Independence
Cuban War of Independence
Cuban War of Independence was the last of three liberation wars that Cuba fought against Spain, the other two being the Ten Years' War and the Little War...
. American attacks on Spain's
Pacific possessions
Spanish East Indies
Spanish East Indies was a term used to describe Spanish territories in Asia-Pacific which lasted for three centuries . With the seat of government in Manila, the territory encompassed the Philippine Islands, Guam and the Mariana Islands, the Caroline Islands, and for a period of time, parts of...
led to involvement in the
Philippine Revolution
Philippine Revolution
The Philippine Revolution , called the "Tagalog War" by the Spanish, was an armed military conflict between the people of the Philippines and the Spanish colonial authorities which resulted in the secession of the Philippine Islands from the Spanish Empire.The Philippine Revolution began in August...
and ultimately to the
Philippine-American War
Philippine-American War
The Philippine–American War, also known as the Philippine War of Independence or the Philippine Insurrection , was an armed conflict between a group of Filipino revolutionaries and the United States which arose from the struggle of the First Philippine Republic to gain independence following...
.
Revolts against Spanish rule had been endemic for decades in Cuba and were closely watched by Americans; there had been war scares before, as in the
Virginius Affair
Virginius Affair
The Virginius Affair was a diplomatic dispute that occurred in the 1870s between the United States, the United Kingdom and Spain, then in control of Cuba, during the Ten Years' War....
in 1873.