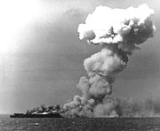 Battle of Leyte Gulf
The
Battle of Leyte Gulf
, also called the "Battles for Leyte Gulf", and formerly known as the "Second Battle of the Philippine Sea", is generally considered to be the largest naval battle of
World War II
World War II
World War II, or the Second World War , was a global conflict lasting from 1939 to 1945, involving most of the world's nations—including all of the great powers—eventually forming two opposing military alliances: the Allies and the Axis...
and, by some criteria, possibly the
largest naval battle in history
Largest naval battle in history
The title of "largest naval battle in history" is disputed between adherents of criteria which include the numbers of personnel and/or vessels involved in the battle, and the total tonnage of the vessels involved...
.
It was fought in waters near the
Philippine
Philippines
The Philippines , officially known as the Republic of the Philippines , is a country in Southeast Asia in the western Pacific Ocean. To its north across the Luzon Strait lies Taiwan. West across the South China Sea sits Vietnam...
islands of
Leyte
Leyte Island
Leyte is an island in the Visayas group of the Philippines.The island measures about 180 km north-south and about 65 km at its widest point. In the north it nearly joins Samar, separated by the San Juanico Strait, which becomes as narrow as 2 km in some places...
,
Samar
Samar Island
Samar is an island in the Visayas, within the central Philippines. The island is divided into three provinces: Samar province, Northern Samar, and Eastern Samar. These three provinces, along with the provinces on the nearby islands of Leyte and Biliran are part of the Eastern Visayas region...
from 23–26 October 1944, between combined US and Australian forces and the
Imperial Japanese Navy
Imperial Japanese Navy
The Imperial Japanese Navy was the navy of the Empire of Japan from 1869 until 1947, when it was dissolved following Japan's constitutional renunciation of the use of force as a means of settling international disputes...
. On 20 October, United States troops
invaded the island of Leyte
Battle of Leyte
The Battle of Leyte in the Pacific campaign of World War II was the invasion and conquest of the island of Leyte in the Philippines by American and Filipino guerrilla forces under the command of General Douglas MacArthur, who fought against the Imperial Japanese Army in the Philippines led by...
as part of a strategy aimed at isolating Japan from the countries it had occupied in South East Asia, and in particular depriving its forces and industry of vital
oil
Petroleum
Petroleum or crude oil is a naturally occurring, flammable liquid consisting of a complex mixture of hydrocarbons of various molecular weights and other liquid organic compounds, that are found in geologic formations beneath the Earth's surface. Petroleum is recovered mostly through oil drilling...
supplies.