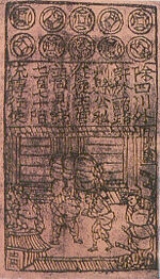 Banknote
A
banknote
is a kind of
negotiable instrument
Negotiable instrument
A negotiable instrument is a document guaranteeing the payment of a specific amount of money, either on demand, or at a set time. According to the Section 13 of the Negotiable Instruments Act, 1881 in India, a negotiable instrument means a promissory note, bill of exchange or cheque payable either...
, a
promissory note
Promissory note
A promissory note is a negotiable instrument, wherein one party makes an unconditional promise in writing to pay a determinate sum of money to the other , either at a fixed or determinable future time or on demand of the payee, under specific terms.Referred to as a note payable in accounting, or...
made by a
bank
Bank
A bank is a financial institution that serves as a financial intermediary. The term "bank" may refer to one of several related types of entities:...
payable to the bearer on demand, used as
money
Money
Money is any object or record that is generally accepted as payment for goods and services and repayment of debts in a given country or socio-economic context. The main functions of money are distinguished as: a medium of exchange; a unit of account; a store of value; and, occasionally in the past,...
, and in many jurisdictions is
legal tender
Legal tender
Legal tender is a medium of payment allowed by law or recognized by a legal system to be valid for meeting a financial obligation. Paper currency is a common form of legal tender in many countries....
. In addition to
coin
Coin
A coin is a piece of hard material that is standardized in weight, is produced in large quantities in order to facilitate trade, and primarily can be used as a legal tender token for commerce in the designated country, region, or territory....
s, banknotes make up the
cash
Cash
In common language cash refers to money in the physical form of currency, such as banknotes and coins.In bookkeeping and finance, cash refers to current assets comprising currency or currency equivalents that can be accessed immediately or near-immediately...
or bearer forms of all modern
fiat money
Fiat money
Fiat money is money that has value only because of government regulation or law. The term derives from the Latin fiat, meaning "let it be done", as such money is established by government decree. Where fiat money is used as currency, the term fiat currency is used.Fiat money originated in 11th...
. With the exception of non-circulating high-value or precious metal commemorative issues, coins are used for lower valued monetary units, while banknotes are used for higher values.
The banknote was first developed in China during the
Tang
Tang Dynasty
The Tang Dynasty was an imperial dynasty of China preceded by the Sui Dynasty and followed by the Five Dynasties and Ten Kingdoms Period. It was founded by the Li family, who seized power during the decline and collapse of the Sui Empire...
and
Song
Song Dynasty
The Song Dynasty was a ruling dynasty in China between 960 and 1279; it succeeded the Five Dynasties and Ten Kingdoms Period, and was followed by the Yuan Dynasty. It was the first government in world history to issue banknotes or paper money, and the first Chinese government to establish a...
dynasties, starting in the 7th century.