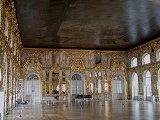 Ballroom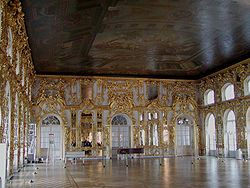 A
ballroom
is a large room inside a
building
Building
In architecture, construction, engineering, real estate development and technology the word building may refer to one of the following:...
, the designated purpose of which is holding formal dances called
ball
Ball (dance)
A ball is a formal dance. The word 'ball' is derived from the Latin word "ballare", meaning 'to dance'; the term also derived into "bailar", which is the Spanish and Portuguese word for dance . In Catalan it is the same word, 'ball', for the dance event.Attendees wear evening attire, which is...
s. Traditionally, most balls were held in private residences; many
mansion
Mansion
A mansion is a very large dwelling house. U.S. real estate brokers define a mansion as a dwelling of over . A traditional European mansion was defined as a house which contained a ballroom and tens of bedrooms...
s contain one or more ballrooms. In other large houses, a large room such as the main
drawing room
Drawing room
A drawing room is a room in a house where visitors may be entertained. The name is derived from the sixteenth-century terms "withdrawing room" and "withdrawing chamber", which remained in use through the seventeenth century, and made its first written appearance in 1642...
,
long gallery
Long gallery
Long gallery is an architectural term given to a long, narrow room, often with a high ceiling. In British architecture, long galleries were popular in Elizabethan and Jacobean houses. They were often located on the upper floor of the great houses of the time, and stretched across the entire...
, or hall may double as a ballroom, but a good ballroom should have the right type of
flooring
Flooring
Flooring is the general term for a permanent covering of a floor, or for the work of installing such a floor covering. Floor covering is a term to generically describe any finish material applied over a floor structure to provide a walking surface...
, such as hardwood flooring or stone flooring (usually marble).
Ballrooms are generally quite large, and may have
ceiling
Ceiling
A ceiling is an overhead interior surface that covers the upper limit of a room. It is generally not a structural element, but a finished surface concealing the underside of the floor or roof structure above....
s higher than other rooms in the same building. The large amount of space for dancing, as well as the highly formal tone of events have given rise to ballroom dancing. The largest balls are now nearly always held in public buildings, and many
hotel
Hotel
A hotel is an establishment that provides paid lodging on a short-term basis. The provision of basic accommodation, in times past, consisting only of a room with a bed, a cupboard, a small table and a washstand has largely been replaced by rooms with modern facilities, including en-suite bathrooms...
s have a ballroom. They are also designed large to help the sound of orchestras carry well throughout the whole room.
A special case is the annual
Vienna Opera Ball
Vienna Opera Ball
The Vienna Opera Ball is an annual Austrian society event which takes place in the building of the Vienna State Opera on the Thursday preceding Ash Wednesday. Together with the New Year Concert, the Opera Ball is one of the highlights of the Viennese carnival season...
, where, just for one night, the
auditorium
Auditorium
An auditorium is a room built to enable an audience to hear and watch performances at venues such as theatres. For movie theaters, the number of auditoriums is expressed as the number of screens.- Etymology :...
of the
Vienna State Opera
Vienna State Opera
The Vienna State Opera is an opera house – and opera company – with a history dating back to the mid-19th century. It is located in the centre of Vienna, Austria. It was originally called the Vienna Court Opera . In 1920, with the replacement of the Habsburg Monarchy by the First Austrian...
is turned into a large ballroom. On the eve of the event, the rows of seats are removed from the
stalls
Stall (enclosure)
A stall is a small enclosure of some kind, usually less enclosed than a room.-Market stall:A market stall is usually an immobile temporary structure erected by merchants to display and shelter their merchandise...
, and a new floor, level with the
stage
Stage (theatre)
In theatre or performance arts, the stage is a designated space for the performance productions. The stage serves as a space for actors or performers and a focal point for the members of the audience...
, is built.
Lists of hardwood floor ballrooms
These lists should only include ballrooms with permanent wood floors. The size of the floor should only include the largest contiguous area without obstructions. The web sites and materials about some places add up multiple spaces, rooms, and balconies, and floors. However, this list ranks ballrooms based on the size of one single open space with a hardwood floor.
Currently Existing Hardwood Floor Ballrooms in the United States
Name
Location
Size (sq. ft.)
Year built
Link
Coliseum Ballroom

Cedar Point

Cedar Point is a 364 acre amusement park located in Sandusky, Ohio, United States on a narrow peninsula jutting into Lake Erie. Cedar Point is the only amusement park with four roller coasters that are taller than...



Sandusky, Ohio

Sandusky, Ohio

Sandusky is a city in the U.S. state of Ohio and the county seat of Erie County. It is located in northern Ohio and is situated on the shores of Lake Erie, almost exactly half-way between Toledo to the west and Cleveland to the east....



20,000
1907
Amusement Park site
Video
Aragon Ballroom, Chicago
Chicago, Illinois
20,000
1926
Official site
Sunnybrook Ballroom
Pottstown, PA
15,200
1931
Official site
Cotillion Ballroom

Cotillion Ballroom

The Cotillion Ballroom is the third largest concert venue in the Wichita, Kansas area. It is a special events facility that hosts concerts, dances, comedians, and stage shows featuring nationally known artists and performers. This special events facility is available to rent for concerts, dances,...



Wichita, KS
11,000
1960
Official site
Roseland Ballroom

Roseland Ballroom

The Roseland Ballroom is a multi-purpose hall, in a converted ice skating rink, with a colorful ballroom dancing pedigree, in New York City's theatre district, on West 52nd Street....



Manhattan, NY
9,100
1922/1956
Official site
Val Air Ballroom
Des Moines, IA
8,750
1961
Official site
Spanish Ballroom
Glen Echo, MD
7,500
1933
Official site
Elite Hall
Hyrum, Utah

Hyrum, Utah

As of the census of 2000, there are 6,316 people, 1,683 households, and 1,497 families residing in the city. The population density is 1,617.2 people per square mile . There are 1,744 housing units at an average density of 446.5 per square mile...



7,000
1917
Official site
Surf Ballroom
Clear Lake, Iowa

Clear Lake, Iowa

Clear Lake is a city in Cerro Gordo County, Iowa, United States. The population was 8,161 at the 2000 census. The city is named for the large lake on which it is located. It is the home of a number of marinas, state parks and tourism-related businesses. Clear Lake is also a major stop on Interstate...



6,300
1948
Official site
Anhalt Hall
Spring Branch, Texas

Spring Branch, Comal County, Texas

Spring Branch is an unincorporated area located in western Comal County, Texas, United States, north of San Antonio. Surrounding towns include Bulverde and Canyon Lake. It is part of the San Antonio Metropolitan Statistical Area....



6,300
1908
Official site
Country Club Ballroom, Biltmore Hotel
Coral Gables, Florida

Coral Gables, Florida

Coral Gables is a city in Miami-Dade County, Florida, southwest of Downtown Miami, in the United States. The city is home to the University of Miami....



6,200
1926
Official site
Hammerstein Ballroom

Hammerstein Ballroom

The Hammerstein Ballroom is a two-tiered, 12,000 square feet ballroom located within the Manhattan Center Studios on 311 West 34th Street in Manhattan, New York City, New York, United States of America. It is known for its elegant appearance and excellent acoustical design...



Manhattan, NY
6,100
1906
Official site
Vasa Park Ballroom
Bellevue, Washington

Bellevue, Washington

Bellevue is a city in the Eastside region of King County, Washington, United States, across Lake Washington from Seattle. Long known as a suburb or satellite city of Seattle, it is now categorized as an edge city or a boomburb. The population was 122,363 at the 2010 census.Downtown Bellevue is...



6,000
????
Official site
Willowbrook Ballroom

Willowbrook Ballroom

The Willowbrook Ballroom is a dance ballroom and banquet facility located in Willow Springs, Illinois along Archer Avenue. It was founded in 1921 by John Verderbar and named Oh Henry Park. Today, the ballroom continues to host ballroom dancing events with a live orchestra weekly...



Willow Springs, Illinois

Willow Springs, Illinois

Willow Springs is a village in Cook and DuPage Counties, Illinois, United States. The population was 5,027 at the 2000 census.-Geography:Willow Springs is located at ....



6,000
1921
Official site
Vanity Ballroom
Detroit, Michigan

Detroit, Michigan

Detroit is the major city among the primary cultural, financial, and transportation centers in the Metro Detroit area, a region of 5.2 million people. As the seat of Wayne County, the city of Detroit is the largest city in the U.S. state of Michigan and serves as a major port on the Detroit River...



5,600
1929
No site
Schroeder Hall
Victoria, Texas

Victoria, Texas

Victoria is a city in and the seat of Victoria County, Texas, United States. The population was 60,603 at the 2000 census. The three counties of the Victoria Metropolitan Statistical Area had a population of 111,163 at the 2000 census,...



5,000
1890
Official site
Swiss Alp Hall
Swiss Alp, Texas

Swiss Alp, Texas

Swiss Alp is an unincorporated community in southern Fayette County, Texas, United States.It was settled by German Lutheran settlers-External links:* Handbook of Texas Online....



5,000
1899
Official site
Electric Park Ballroom
Waterloo, Iowa

Waterloo, Iowa

Waterloo is a city in and the county seat of Black Hawk County, Iowa, United States. As of the 2010 United States Census the population decreased by 0.5% to 68,406. Waterloo is part of the Waterloo – Cedar Falls Metropolitan Statistical Area, and is the more populous of the two...



5,103
1936
Official site
Crystal Ballroom

Crystal Ballroom (Portland, Oregon)

Crystal Ballroom, originally built as Cotillion Hall, is a historic building in Portland, Oregon, United States. Cotillion Hall was built in 1914 as a ballroom, and dance revivals were held there through the Great Depression...



Portland, Oregon

Portland, Oregon

Portland is a city located in the Pacific Northwest, near the confluence of the Willamette and Columbia rivers in the U.S. state of Oregon. As of the 2010 Census, it had a population of 583,776, making it the 29th most populous city in the United States...



3,600
1914
Official site
Melody Grand Ballroom
Portland, OR
3,500
1925
Official site
Historic Ballroom
Twin Falls, Idaho

Twin Falls, Idaho

Twin Falls is the county seat and largest city of Twin Falls County, Idaho, United States. The population was 44,125 at the 2010 censusTwin Falls is the largest city of Idaho's Magic Valley region...



3,170
1922
Official site
Grand Palladian Ballroom at The Semple Mansion
Minneapolis, MN
3,000

1880s-1890s
Official site
Elks Tower Ballroom
Sacramento, CA
2,400
????
Official site
Fullerton Ballroom
Fullerton, CA
2,145
1927
Official site
Lakeside Ballroom
Guttenberg, IA
????
1927
Official site
Oak Ballroom
Schuyler, NE
????
1929
Official site http://communitydisc.westside66.org/html/colette/muralsSIG/Oakballroom.html
Cain's Ballroom
Tulsa, OK
????
1924
Official site
See also
Robert Meyer,"Millennium Maple - Glorious, Historic, Legendary, Treasured Ballroom Dance Floors", Amateur Dancers, Jan/Feb 2000, Issue#123.
Geronimo Trevino. Dance Halls and Last Calls: A History of Texas Country Music. Lanham, MD: Republic of Texas Press 2002. ISBN 1-55622-927-5. Copyright
See also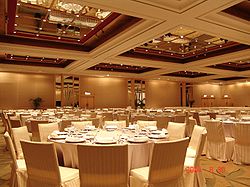 Aragon Ballroom (Ocean Park, Santa Monica, California)
Ballroom an album of Irish music by De Dannan

De Dannan

De Dannan was an Irish folk music group. They were formed by Frankie Gavin , Alec Finn , Johnny "Ringo" McDonagh and Charlie Piggott as a result of sessions in Hughes's Pub in An Spidéal, County Galway, subsequently inviting Dolores Keane to join the band...