 Bacong, Negros Oriental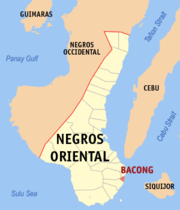 Bacong
is a fourth-class municipality in the province of Negros Oriental,
Philippines
Philippines
The Philippines , officially known as the Republic of the Philippines , is a country in Southeast Asia in the western Pacific Ocean. To its north across the Luzon Strait lies Taiwan. West across the South China Sea sits Vietnam...
. According to the 2000 census, it has a population of 23,219 people in 4,832 households. Bacong is the hometown of the
Visayan
Visayas
The Visayas or Visayan Islands and locally known as Kabisay-an gid, is one of the three principal geographical divisions of the Philippines, along with Mindanao and Luzon. It consists of several islands, primarily surrounding the Visayan Sea, although the Visayas are considered the northeast...
hero of the
Philippine Revolution
Philippine Revolution
The Philippine Revolution , called the "Tagalog War" by the Spanish, was an armed military conflict between the people of the Philippines and the Spanish colonial authorities which resulted in the secession of the Philippine Islands from the Spanish Empire.The Philippine Revolution began in August...
, Pantaleon Villegas, better known as
León Kilat
León Kilat
Pantaleón Villegas better known as León Kilat , was a revolutionary leader in Cebu during the Philippine Revolution against Spain. He was born in Bacong, Negros Oriental, to Don Policarpio Villegas and Doña Ursula Soldi...
.
Barangays
Bacong is politically subdivided into 22
barangay
Barangay
A barangay is the smallest administrative division in the Philippines and is the native Filipino term for a village, district or ward...
s.
Balayagmanok
Banilad
Buntis
Buntod
Calangag
Combado
Doldol
Isugan
Liptong
Lutao
Magsuhot

Malabago
Mampas
North Poblacion
Sacsac
San Miguel
South Poblacion
Sulodpan
Timbanga
Timbao
Tubod
West Poblacion
External links