 Avenue (landscape)
__notoc__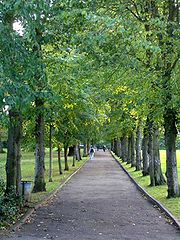 In
landscaping
Landscaping
Landscaping refers to any activity that modifies the visible features of an area of land, including:# living elements, such as flora or fauna; or what is commonly referred to as gardening, the art and craft of growing plants with a goal of creating a beautiful environment within the landscape.#...
, an
avenue
or
allée
is traditionally a straight route with a line of
tree
Tree
A tree is a perennial woody plant. It is most often defined as a woody plant that has many secondary branches supported clear of the ground on a single main stem or trunk with clear apical dominance. A minimum height specification at maturity is cited by some authors, varying from 3 m to...
s or large
shrub
Shrub
A shrub or bush is distinguished from a tree by its multiple stems and shorter height, usually under 5–6 m tall. A large number of plants may become either shrubs or trees, depending on the growing conditions they experience...
s running along each, which is used, as its French source
venir
("to come") indicates, to emphasize the "coming to," or
arrival
at a landscape or
architectural
Architecture
Architecture is both the process and product of planning, designing and construction. Architectural works, in the material form of buildings, are often perceived as cultural and political symbols and as works of art...
feature. In most cases, the trees planted in an avenue will be all of the same
species
Species
In biology, a species is one of the basic units of biological classification and a taxonomic rank. A species is often defined as a group of organisms capable of interbreeding and producing fertile offspring. While in many cases this definition is adequate, more precise or differing measures are...
or
cultivar
Cultivar
A cultivar'Cultivar has two meanings as explained under Formal definition. When used in reference to a taxon, the word does not apply to an individual plant but to all those plants sharing the unique characteristics that define the cultivar. is a plant or group of plants selected for desirable...
, so as to give uniform appearance along the full length of the avenue. The French term
allée
is confined normally to avenues planted in parks and landscape gardens.
History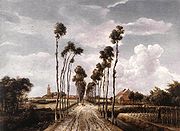 The avenue is one of the oldest ideas in the history of gardens. An avenue of
sphinx
Sphinx
A sphinx is a mythical creature with a lion's body and a human head or a cat head.The sphinx, in Greek tradition, has the haunches of a lion, the wings of a great bird, and the face of a woman. She is mythicised as treacherous and merciless...
es still leads to the tomb of the
pharaoh
Pharaoh
Pharaoh is a title used in many modern discussions of the ancient Egyptian rulers of all periods. The title originates in the term "pr-aa" which means "great house" and describes the royal palace...
Hatshepsut
Hatshepsut
Hatshepsut also Hatchepsut; meaning Foremost of Noble Ladies;1508–1458 BC) was the fifth pharaoh of the eighteenth dynasty of Ancient Egypt...
(died 1458 BCE); see the entry
Sphinx
Sphinx
A sphinx is a mythical creature with a lion's body and a human head or a cat head.The sphinx, in Greek tradition, has the haunches of a lion, the wings of a great bird, and the face of a woman. She is mythicised as treacherous and merciless...
. Avenues similarly defined by guardian stone lions lead to the Ming tombs in China. British archaeologists have adopted highly specific criteria for "avenues"-
avenue (archaeology)
Avenue (archaeology)
British Archaeologists refine the general archaeological use of avenue to denote a long, parallel-sided strip of land, measuring up to about 30m in width, open at either end and with edges marked by stone or timber alignments and/or a low earth bank and ditch...
, within the context of British
archaeology
Archaeology
Archaeology, or archeology , is the study of human society, primarily through the recovery and analysis of the material culture and environmental data that they have left behind, which includes artifacts, architecture, biofacts and cultural landscapes...
.
In
Garden à la française
Garden à la française
The French formal garden, also called jardin à la française, is a style of garden based on symmetry and the principle of imposing order over nature. It reached its apogee in the 17th century with the creation of the Gardens of Versailles, designed for Louis XIV by the landscape architect André Le...
Baroque
Baroque
The Baroque is a period and the style that used exaggerated motion and clear, easily interpreted detail to produce drama, tension, exuberance, and grandeur in sculpture, painting, literature, dance, and music...
landscape design
Landscape design
Landscape design is an independent profession and a design and art tradition, practised by landscape designers, combining nature and culture. In contemporary practice landscape design bridges between landscape architecture and garden design.-Design scope:...
, avenues of trees that were centered upon the dwelling radiated across the landscape. See the avenues in the
Gardens of Versailles
Gardens of Versailles
The Gardens of Versailles occupy part of what was once the Domaine royal de Versailles, the royal demesne of the château of Versailles. Situated to the west of the palace, the gardens cover some 800 hectares of land, much of which is landscaped in the classic French Garden style perfected here by...
or
Het Loo
Het Loo
Het Loo Palace is a palace in Apeldoorn, Netherlands. The symmetrical Dutch Baroque building was designed by Jacob Roman and Johan van Swieten and was built between 1684 and 1686 for stadtholder-king William III and Mary II of England...
. Other late 17th century French and Dutch landscapes, in that intensely ordered and flat terrain, fell naturally into avenues;
Meindert Hobbema
Meindert Hobbema
Meindert Hobbema , was a landscape painter of the Dutch school.-Life:The facts of his life are somewhat obscure. His chronology and signed pictures substantially contradict each other...
, in
The Avenue at Middelharnis

Middelharnis

Middelharnis is a municipality and a village in the western Netherlands, in the province of South Holland. The municipality covers an area of 86.79 km² ....



, 1689, presents such an avenue in farming country, neatly flanked at regular intervals by rows of young trees that have been rigorously limbed up; his central
vanishing point
Vanishing point
A vanishing point is a point in a perspective drawing to which parallel lines not parallel to the image plane appear to converge. The number and placement of the vanishing points determines which perspective technique is being used...
mimics the avenue's propensity to draw the spectator forwards along it.
Street name
In
urban
Urban area
An urban area is characterized by higher population density and vast human features in comparison to areas surrounding it. Urban areas may be cities, towns or conurbations, but the term is not commonly extended to rural settlements such as villages and hamlets.Urban areas are created and further...
or suburban settings, "avenue" is one of the usual suite of words used in street names, along with "boulevard", "circle", "court", "drive", "lane", "place", "road", "street", "terrace", "way" and so on, each of which may carry connotations as to the street's size, importance, or function.
In
cities
City
A city is a relatively large and permanent settlement. Although there is no agreement on how a city is distinguished from a town within general English language meanings, many cities have a particular administrative, legal, or historical status based on local law.For example, in the U.S...
which have a
grid plan
Grid plan
The grid plan, grid street plan or gridiron plan is a type of city plan in which streets run at right angles to each other, forming a grid...
, such as the
borough
Borough (New York City)
New York City, one of the largest cities in the world, is composed of five boroughs. Each borough now has the same boundaries as the county it is in. County governments were dissolved when the city consolidated in 1898, along with all city, town, and village governments within each county...
of
Manhattan
Manhattan
Manhattan is the oldest and the most densely populated of the five boroughs of New York City. Located primarily on the island of Manhattan at the mouth of the Hudson River, the boundaries of the borough are identical to those of New York County, an original county of the state of New York...
in
New York City
New York City
New York is the most populous city in the United States and the center of the New York Metropolitan Area, one of the most populous metropolitan areas in the world. New York exerts a significant impact upon global commerce, finance, media, art, fashion, research, technology, education, and...
, there may be a convention that avenues run in one direction – roughly north-south in the case of Manhattan – while street run in the perpendicular direction – roughly east-west in Manhattan. In Washington, DC the avenues run diagonally across the grid of streets. In
Phoenix, Arizona
Phoenix, Arizona
Phoenix is the capital, and largest city, of the U.S. state of Arizona, as well as the sixth most populated city in the United States. Phoenix is home to 1,445,632 people according to the official 2010 U.S. Census Bureau data...
, "the avenues" can colloquially mean "the west side of town", due to the numbered north-south running roads being called "Avenues" in the western part of the city, separated from the eastern "Streets" by a "Central Avenue". Similarly, "the avenues" in
San Francisco, California
San Francisco, California
San Francisco , officially the City and County of San Francisco, is the financial, cultural, and transportation center of the San Francisco Bay Area, a region of 7.15 million people which includes San Jose and Oakland...
refers to the
Richmond District
Richmond District, San Francisco, California
The Richmond District is a neighborhood in the northwest corner of San Francisco, California.-Location:Lying directly north of Golden Gate Park, "the Richmond" is bounded roughly by Fulton Street to the south, Arguello Boulevard and Laurel Heights to the east, The Presidio National Park and Lincoln...
and the Sunset District, the two neighborhoods on the Pacific coast, north and south of
Golden Gate Park
Golden Gate Park
Golden Gate Park, located in San Francisco, California, is a large urban park consisting of of public grounds. Configured as a rectangle, it is similar in shape but 20% larger than Central Park in New York, to which it is often compared. It is over three miles long east to west, and about half a...
, respectively.