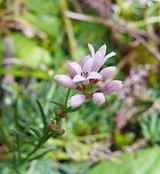 Asperula cynanchica
Asperula cynanchica
is a
species
Species
In biology, a species is one of the basic units of biological classification and a taxonomic rank. A species is often defined as a group of organisms capable of interbreeding and producing fertile offspring. While in many cases this definition is adequate, more precise or differing measures are...
of
flowering plant
Flowering plant
The flowering plants , also known as Angiospermae or Magnoliophyta, are the most diverse group of land plants. Angiosperms are seed-producing plants like the gymnosperms and can be distinguished from the gymnosperms by a series of synapomorphies...
in the
Rubiaceae
Rubiaceae
The Rubiaceae is a family of flowering plants, variously called the coffee family, madder family, or bedstraw family. The group contains many commonly known plants, including the economically important coffee , quinine , and gambier , and the horticulturally valuable madder , west indian jasmine ,...
family
Family (biology)
In biological classification, family is* a taxonomic rank. Other well-known ranks are life, domain, kingdom, phylum, class, order, genus, and species, with family fitting between order and genus. As for the other well-known ranks, there is the option of an immediately lower rank, indicated by the...
. Its common name is derived from its former use as a medicinal
herb
Herb
Except in botanical usage, an herb is "any plant with leaves, seeds, or flowers used for flavoring, food, medicine, or perfume" or "a part of such a plant as used in cooking"...
to cure quinsy. It is native to much of
Europe
Europe
Europe is, by convention, one of the world's seven continents. Comprising the westernmost peninsula of Eurasia, Europe is generally 'divided' from Asia to its east by the watershed divides of the Ural and Caucasus Mountains, the Ural River, the Caspian and Black Seas, and the waterways connecting...
.
Description and Habitat
It is a
perennial plant
Perennial plant
A perennial plant or simply perennial is a plant that lives for more than two years. The term is often used to differentiate a plant from shorter lived annuals and biennials. The term is sometimes misused by commercial gardeners or horticulturalists to describe only herbaceous perennials...
and grows in short grassland or sand dunes on
calcareous
Calcareous
Calcareous is an adjective meaning mostly or partly composed of calcium carbonate, in other words, containing lime or being chalky. The term is used in a wide variety of scientific disciplines.-In zoology:...
soils. The flowers are small and can be either pink or white.