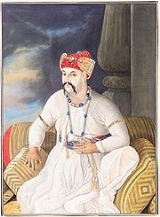 Asaf-Ud-Dowlah
Asaf-Ud-Daula
(b. 23 September 1748 – d. 21 September 1797)
was the nawab wazir of Oudh from 26 January 1775 to 21 September 1797, and the son of Shuja-ud-Dowlah, his mother and grandmother being the
begum
Begum
Begum, Begam or Baigum is a Turkic title given to female family members of a Baig or 'Beg', a higher official. The term Begum is derived from the word Beg, and means a female member of the Beg's family.Also used Begzadi, for Ex...
s of Oudh, whose spoliation formed one of the chief counts in the charges against
Warren Hastings
Warren Hastings
Warren Hastings PC was the first Governor-General of India, from 1773 to 1785. He was famously accused of corruption in an impeachment in 1787, but was acquitted in 1795. He was made a Privy Councillor in 1814.-Early life:...
.
Life
A contemporary chronicler describes the person of Asafuddaula as follows:
B.3.C. 26 Feb. 1776, Bristow to Board, 12 Feb,

"His features bore a general resemblance to his father's. The upper part of his body was rather long, but the lower part from waist downwards was very short. From his childhood he was obese; his fat ears, neck and double chin were one fleshy mass. His fingers and palm were short and plump. From his boyhood he was addicted to frivolities and his natural inclinations and attachments were for low, ill-born and base-minded associates. He used to laugh unseasonably, fling derisive abuse at others and desire derisive abuse in return. He delighted in meaningless amusements and was immensely pleased with anyone who indulged in filthy language; and the more obscene the conversation was in any company the better he was pleased."

John Bristow, Resident in Oudh when Asafuddaula ascended the
masnad
, wrote of him:
B.3.C. 26 Feb. 1776, Bristow to Board, 12 Feb,

"His Excellency is juvenile in his amusements, volatile, injudicious in the choice of his confidants, and so familiar in his conversation as to throw aside the sovereign and admit his favourites to a freedom destructive to all subordination and a cause for the inattention paid by them to his commands. He frequently passes whole days in dissipation and is of late much given to liquor, for I have known him to make himself and his favourites and even his menial servants indecently drunk. By this mode of passing his time he can have little leisure for business and indeed he hardly attends to any excepting when I wait upon him on the Company's affairs, and then I am generally referred to his minister, to whom and other favourites he confides the entire charge of this government."

Shujauddaula had made all possible effort to make his eldest son and heir-apparent in every way a worthy successor to himself. The best of tutors were engaged to impart princely qualities to Asafuddaula, but all that he added to his native generosity was skill in archery. Of his generosity tales are still heard in
Lucknow
Lucknow
Lucknow is the capital city of Uttar Pradesh in India. Lucknow is the administrative headquarters of Lucknow District and Lucknow Division....
and elsewhere in Oudh, and shopkeepers in Lucknow even today open their shops with his name on their lips. Perhaps some vanity was mixed with his generosity, and many a foreign adventurer made fortunes by playing upon this trait of his character. He readily bought from them worthless tinsels for lakhs of rupees and when reprimanded by his ministers, confessed that he did so with his eyes open, but how could he refuse one who had taken the trouble of travelling all the way to Oudh having heard of his generosity!
When of marriageable age, Asafuddaula was married to the daughter of Imtiazuddaula, a nobleman who wielded considerable influence in the Court of the Emperor at Delhi. But the nawab preferred young men, and the marriage never seems to have been consummated.
The testimony of Faiz Bakhsh and Bristow might have been dismissed as exaggerated, as it has been the tendency of one school to do, on the ground that they belonged to a hostile group of critics. Bristow is known to have aspired to wield unfettered authority in Oudh, for which he was recalled by Warren Hastings, and it was in his interest to present the nawab in the worst possible light. Faiz Bakhsh was patronized by the "Begam of Oudh", Asafuddaula's mother and grandmother, who were not well-disposed towards the nawab. But there is overwhelming evidence corroborating these critics. See especially Kamaluddin Haidar, Sanxmihat-i-SaJatin-i-Awadh f. 25; Ghulam Ali, Imad-us-Sa'adat 137 ; Abu Talib, Tafzih*ul-Qhafilin (Tr. by W. Hoey) 37-9, 46-50, 91-4, 98-106, 115.
Reign as nawab
Asafuddaula became nawab at the age of 26, on the death of his father, Shujauddaula, on 28 January 1775.
Faiz Bakhsh, Tarikh-i-FaraMakhsh (Tr. by W. Hoey) 12.
When Shuja-ud-Daulah died he left two million pounds sterling buried in the vaults of the
zenana
Zenana
Zenana , refers to the part of a house belonging to a Muslim family in the Middle East and South Asia reserved for the women of the household. The Zenana are the inner apartments of a house in which the women of the family live...
. The widow and mother of the deceased prince claimed the whole of this treasure under the terms of a will which was never produced. When Warren Hastings pressed the nawab for the payment of debt due to the
British East India Company
British East India Company
The East India Company was an early English joint-stock company that was formed initially for pursuing trade with the East Indies, but that ended up trading mainly with the Indian subcontinent and China...
, he obtained from his mother a loan of 26 lakh (2.6 million)
rupee
Rupee
The rupee is the common name for the monetary unit of account in India, Sri Lanka, Nepal, Pakistan, Mauritius, Seychelles, Maldives, and formerly in Burma, and Afghanistan. Historically, the first currency called "rupee" was introduced in the 16th century...
s, for which he gave her a
jagir
Jagir
In historic India, a jagir was a small territory granted by the ruler to an army chieftain in fairly short terms usually of three years but not extending beyond his lifetime, in recognition of his military service...
(land) of four times the value; of subsequently obtained 30 lakh (3 million) more in return for a full acquittal, and the recognition of her jagirs without interference for life by the Company. These jagirs were afterwards confiscated on the ground of the begum's complicity in the rising of Chai Singh, which was attested by documentary evidence, as the evidence now available seems to show that Warren Hastings did his best throughout to rescue the nawab from his own incapacity, and was inclined to be lenient to the begums.
Towards the beginning of Asafuddaula's rule, men of learning and art avoided Lucknow because Asafuddaula had no regard for such people
Faiz Bakhsh op. cit. 229.
and gathered round the Begums' and their eunuchs' court at Fyzabad, but later on Asafuddaula took greater interest in such people and induced most of them to attach themselves to his Court at Lucknow,
Faiz Bakhsh op. cit. 231
Faiz Bakhsh makes repeated references to the nawab's indifference to civil and military affairs and to his lack of ambition. Shujauddaula died in the month of Shaban. Four months after came the
Muharram
mourning and
taziadari
was observed by Asafuddaula at Fyzabad. After that he spent four or five months on the banks of the Ghagra in the sand and dust without any reason, and he did not evince the slightest inclination to undertake the discipline of the troops or civil administration, to know the leading military officers or inspect the maneuvers of the regiments, to examine the ammunition and equipment of tho artillery or hear the items of negligence in reports. In all these Shuja-ud-daula had been unremittingly employed.
Faiz Bakhsh op. cit. 22
Asafuddaula left the entire work of administration in the hands of Mukhtaruddaula. In 1776 there occurred a serious mutiny among the nawab's regulars at Fyzabad, and although the nawab's and the English intelligencers had dispatched to the
sarkar
full accounts of the outrages and disturbances during two days and nights, the nawab was so indifferent to public affairs that he remained uninformed.
Faiz Bakhsh op. cit. 36
After Mukhtaruddaula 's death, Asafuddaula found a new minister in the person of Haidar Beg Khan in whose hands he left all power and authority. Faiz
Bakhsh tells of an amusing incident which brings out the difference between Asafuddaula and his father. Referring to Asafuddaula's practice of annually visiting the hill resort of Bitul, he says,
Faiz Bakhsh op. cit. 232
"Shujauddaula had once proposed to go to the foot of the hills. The people of the hills, knowing that he was an intrepid soldier and had an army and artillery, and fearing that he might become acquainted with the mountain paths and annex their country, became greatly alarmed, and they opened an embankment which confined the water in a certain place, and let it flow, so that his tents could not be pitched. He turned back quickly.
The mountaineers, however, knew that Asafuddaula did not trouble himself about his dominions, that he had readily given up Benares, a rich province [to the British], and this was a gauge of his greed for territory, so they freely allowed him access."
Shifting the Capital
In 1775 he moved the capital of Oudh from
Faizabad
Faizabad
City of Faizabad , previous capital of Awadh, is the headquarters of Faizabad District and a municipal board in the state of Uttar Pradesh, India, situated on the banks of river Ghaghra . Faizabad has a twin city of Ayodhya, which is considered to be the birthplace of Rama...
to
Lucknow
Lucknow
Lucknow is the capital city of Uttar Pradesh in India. Lucknow is the administrative headquarters of Lucknow District and Lucknow Division....
and built various monuments in and around Lucknow, including the
Bara Imambara
Bara Imambara
Bara Imambara is an imambara complex in Lucknow, India, built by Asaf-ud-daulah, Nawab of Lucknow, in 1784. It is also called the Asafi Imambara.Bara means big, and an imambara is a shrine built by Shia Muslims for the purpose of Azadari...
.
Architectural and other contribution
Nawab Asaf-ud-Dowlah is considered the architect general of
Lucknow
Lucknow
Lucknow is the capital city of Uttar Pradesh in India. Lucknow is the administrative headquarters of Lucknow District and Lucknow Division....
. With the ambition to outshine the splendour of
Mughal architecture
Mughal architecture
Mughal architecture, an amalgam of Islamic, Persian, Turkish and Indian architecture, is the distinctive style developed by the Mughals in the 16th, 17th and 18th centuries in what is now India, Pakistan, Bangladesh and Afghanistan. It is symmetrical and decorative in style.The Mughal dynasty was...
, he built a number of monuments and developed the city of Lucknow into an architectural marvel. Several of the buildings survive today, including the famed Asafi Imambara which attracts tourists even today, and the
Qaisar Bagh
Qaisar Bagh
Qaisarbagh , also spelled Qaiserbagh, Kaisarbagh or Kaiserbagh, is a complex in the city of Lucknow, located in the Awadh region of India...
area of downtown
Lucknow
Lucknow
Lucknow is the capital city of Uttar Pradesh in India. Lucknow is the administrative headquarters of Lucknow District and Lucknow Division....
where thousands live in resurrected buildings.
The Asafi Imambara is a famed vaulted structure surrounded by beautiful gardens, which the Nawab started as a charitable project to generate employment during the famine of 1784. In that famine even the nobles were reduced to penury. It is said that Nawab Asaf employed over 20,000 people for the project (including commoners and noblemen), which was neither a masjid nor a mousoleum (contrary to the popular contemporary norms of buildings). The Nawab's sensitivity towards preserving the reputation of the upper class is demonstrated in the story of the construction of Imambara. During daytime, common citizens employed on the project would construct the building. On the night of every fourth day, the noble and upper class people were employed in secret to demolish the structure built, an effort for which they received payment. Thus their dignity was preserved.
The Nawab became so famous for his generosity that it is still a well-known saying in Lucknow that "he who does not receive (livelihood) from the Lord, will receive it from Asaf-ud-Dowlah" (
Jisko de na Moula, usko de Asaf-ud-Doula
).
One of his many acts of generosity was the digging of a canal known as Nahar-i-Asafi in
Najaf Ashraf
Najaf
Najaf is a city in Iraq about 160 km south of Baghdad. Its estimated population in 2008 is 560,000 people. It is the capital of Najaf Governorate...
, where the
Imam
Imam
An imam is an Islamic leadership position, often the worship leader of a mosque and the Muslim community. Similar to spiritual leaders, the imam is the one who leads Islamic worship services. More often, the community turns to the mosque imam if they have a religious question...
Ali
Ali
' |Ramaḍān]], 40 AH; approximately October 23, 598 or 600 or March 17, 599 – January 27, 661).His father's name was Abu Talib. Ali was also the cousin and son-in-law of the Islamic prophet Muhammad, and ruled over the Islamic Caliphate from 656 to 661, and was the first male convert to Islam...
's
tomb
Imam Ali Mosque
The Imām 'Alī Holy Shrine , also known as Masjid Ali or the Mosque of 'Alī, located in Najaf, Iraq, is the third holiest site for some of the estimated 200 million followers of the Shia branch of Islam. 'Alī ibn Abī Tālib, the cousin of Muhammad, the fourth caliph , the first Imam is buried here...
is, at a cost of about 7 lakhs of rupees.
Lord Valentia

George Annesley, 2nd Earl of Mountnorris

George Annesley, 2nd Earl of Mountnorris FRS , styled Viscount Valentia between 1793 and 1816, was a British peer and politician.-Background:Mountnorris was the son of Arthur Annesley, 1st Earl of Mountnorris, and the Hon...


, Travels I 15ti.
Death
The nawab died of
dropsy
Edema
Edema or oedema ; both words from the Greek , oídēma "swelling"), formerly known as dropsy or hydropsy, is an abnormal accumulation of fluid beneath the skin or in one or more cavities of the body that produces swelling...
on 21 September 1797 (28 Rabi I, 1212 A.H.) at the age of 48
according to Gregorian

Gregorian calendar

The Gregorian calendar, also known as the Western calendar, or Christian calendar, is the internationally accepted civil calendar. It was introduced by Pope Gregory XIII, after whom the calendar was named, by a decree signed on 24 February 1582, a papal bull known by its opening words Inter...


calculation
/51
according to Hijri

Islamic calendar

The Hijri calendar , also known as the Muslim calendar or Islamic calendar , is a lunar calendar consisting of 12 lunar months in a year of 354 or 355 days. It is used to date events in many Muslim countries , and used by Muslims everywhere to determine the proper day on which to celebrate Islamic...


calculation
in Lucknow and is buried at
Bara Imambara
Bara Imambara
Bara Imambara is an imambara complex in Lucknow, India, built by Asaf-ud-daulah, Nawab of Lucknow, in 1784. It is also called the Asafi Imambara.Bara means big, and an imambara is a shrine built by Shia Muslims for the purpose of Azadari...
, Lucknow.
Ghulam Ali, op. cit. 158 ; Faiz Bakhsh, op. cit. 255-6 ; Rai Ratan Chand, Sutian-ut-Tawarikh f. 215-16 ; Kamaluddin Haidar op. cit. f. 27 verso.
Chief minister (Diwan)
Mukhtaruddaula Murtaza Khan (In office from 28 January 1775 to March 1776 (7 Safar 1190 A.H.))Ghulam Ali, op. cit. 130 ; Abu Talib, op cit 19-23 ; Kamaluddin Haidar, op. cit. f. 22.
Muhammad Ilich Khan (In office from March 1776 to August 1776)Faiz Bakhsh, op. cit. 83.
Hasan Raza Khan

Hasan Raza Khan

Mirza Hasan Raza Khan Sarfarazuddaula Intizamulmulk was the Prime Minister of Awadh from September 1776 to June 1796 in the regime of Asaf-ud-daula.-Personal:...


(In office from August 1776 to June 1796)Kamaluddin Haidar, op. cit. f. 24 ; B.P.C. 15 Jun. 1792 Ives to
Cornwallis 6 Jun.
Jhao Lal (In office from June 1796 to early 1797)Kamaluddin Haidar, op. cit. f. 27 ; Ghulam All, op. cit. 157.
Almas All Khan (In office for a day, 1797)Ratan Chand, op. cit. f. 213.
Tafazzul Hussain Khan (In office from early 1797 to 1800)Kamaluddin Haidar, op. cit. f. 31.
Assistant Minster to Chief Minister
Haidar Beg Khan (In office from August 1776 to 5 June 1792 )B.P.C. 3 Aug. 1792 Cornwallis to Ives. 61 B.8.C. 10 Apr. 1797 Shore to Speke 5 Apr. 52 Author's italics.
Raja Tikait Rai

Raja Tikait Rai

Maharaja Tikait Rai Bahadur was the Diwan of Awadh from 1791 - 1796 in the regime of Asaf-u-daula.He was a Hindu Kayasth of the Saksena Dusre sub-caste....


(In office from June 1792 to June 1796)B.P.C. 20 May 1796 Cherry to Shore 21 July 1795.
Other durbaris
It will suffice to mention here only the names of some of the lesser personalities in the nawab's durbar who during the period under review had had a share in the government of Oudh. They were :
I have not found many details about them in the chronicles or official
documents I have consulted, where they are only casually mentioned.
Surat Singh,
Raja Jagannath,
Hulas Rai,
Buchhraj,
Tahsin Ali Khan,
Balakram,
Bhagwan Das,
Dhanpat Rai,
Bhawani Mahra,
Zainulabdin,
Mirza Hasan,
Mehdi Ali,
Govindram,
Ratan Chand,
Abu Talib, etc.
They possessed varying degrees of ability and power, the two not always proportionate to each other because they were employed either haphazardly or
deliberately with corrupt intentions.
Timeline
External links
This article incorporates text from the Encyclopædia Britannica, Eleventh Edition

Encyclopædia Britannica Eleventh Edition

The Encyclopædia Britannica Eleventh Edition is a 29-volume reference work, an edition of the Encyclopædia Britannica. It was developed during the encyclopaedia's transition from a British to an American publication. Some of its articles were written by the best-known scholars of the time...


, a publication now in the public domain

Public domain

Works are in the public domain if the intellectual property rights have expired, if the intellectual property rights are forfeited, or if they are not covered by intellectual property rights at all...


.
Refer to mapsofindia.com Bara Imambara http://india.mapsofindia.com/culture/monuments/bada-imambada.html for details of the Imambara
See also
Claude Martin

Claude Martin

Major General Claude Martin was an officer in the French, and later the British, army in India. He rose to the position of Major General in the British East India Company...



Mir Taqi Mir

Mir Taqi Mir

Khuda-e-sukhan Mir Taqi Mir , whose real name was Muhammad Taqi and takhallus was Mir , was the leading Urdu poet of the 18th century, and one of the pioneers who gave shape to the Urdu language itself...



Antoine Polier

Antoine Polier

Colonel Antoine-Louis Henri de Polier was a Swiss adventurer, art collector, military engineer and soldier who made his fortune in India in the eighteenth century.-Early life:...