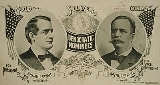 Arthur Sewall
Arthur Sewall
was a
U.S.
United States
The United States of America is a federal constitutional republic comprising fifty states and a federal district...
Democratic politician from Maine most notable as
William Jennings Bryan's
William Jennings Bryan
William Jennings Bryan was an American politician in the late-19th and early-20th centuries. He was a dominant force in the liberal wing of the Democratic Party, standing three times as its candidate for President of the United States...
first running mate in 1896. As the Populist Party nominee, Bryan had another running mate as well,
Thomas E. Watson
Thomas E. Watson
Thomas Edward "Tom" Watson was an American politician, newspaper editor, and writer from Georgia. In the 1890s Watson championed poor farmers as a leader of the Populist Party, articulating an agrarian political viewpoint while attacking business, bankers, railroads, Democratic President Grover...
. Sewall never held elective office, although he was a member of the
Democratic National Committee
Democratic National Committee
The Democratic National Committee is the principal organization governing the United States Democratic Party on a day to day basis. While it is responsible for overseeing the process of writing a platform every four years, the DNC's central focus is on campaign and political activity in support...
from 1888 to 1896.
Arthur Sewall's main claim to fame had been as an exceptionally successful, wealthy shipbuilder and New England industrialist. He was a director of the Maine Central railroad and President of the Bath National Bank for years. His selection is believed to have been an effort to win votes among conservative and New England members of the party who were disturbed by the populist aspects of William Jennings Bryan. Arthur Sewall is also one of the few politicians to be an adherent of Swedenborgianism, a religion based on the writings of
Swedish
Sweden
Sweden , officially the Kingdom of Sweden , is a Nordic country on the Scandinavian Peninsula in Northern Europe. Sweden borders with Norway and Finland and is connected to Denmark by a bridge-tunnel across the Öresund....
theologian
Emanuel Swedenborg
Emanuel Swedenborg
was a Swedish scientist, philosopher, and theologian. He has been termed a Christian mystic by some sources, including the Encyclopædia Britannica online version, and the Encyclopedia of Religion , which starts its article with the description that he was a "Swedish scientist and mystic." Others...
.
His main vice-presidential opponent,
Garret A. Hobart
Garret Hobart
Garret Augustus Hobart was the 24th Vice President of the United States, serving from March 4, 1897 until his death. He was the sixth American vice president to die in office....
(
Rep
Republican Party (United States)
The Republican Party is one of the two major contemporary political parties in the United States, along with the Democratic Party. Founded by anti-slavery expansion activists in 1854, it is often called the GOP . The party's platform generally reflects American conservatism in the U.S...
), was also an eastern banker and industrialist who had served in his party's national committee. The two also wore large mustaches.
He was Bryan's running mate for the first of Bryan's three times as the Democratic presidential nominee. Sewall died not long after Bryan's was nominated for the second time in 1900.
His grandson,
Sumner Sewall
Sumner Sewall
Sumner Sewall was a U.S. Republican politician and airline executive who served as the 58th Governor of Maine from 1941 to 1945. He began his aviation career during World War I as a fighter ace.-Biography:...
, served as Governor of Maine from 1941 to 1945, as a Republican.
Legacy
In 2008, the
St. Louis Post-Dispatch
St. Louis Post-Dispatch
The St. Louis Post-Dispatch is the major city-wide newspaper in St. Louis, Missouri. Although written to serve Greater St. Louis, the Post-Dispatch is one of the largest newspapers in the Midwestern United States, and is available and read as far west as Kansas City, Missouri, as far south as...
referenced Sewall in an article criticizing Senator
John McCain
John McCain
John Sidney McCain III is the senior United States Senator from Arizona. He was the Republican nominee for president in the 2008 United States election....
's selection of Gov.
Sarah Palin
Sarah Palin
Sarah Louise Palin is an American politician, commentator and author. As the Republican Party nominee for Vice President in the 2008 presidential election, she was the first Alaskan on the national ticket of a major party and first Republican woman nominated for the vice-presidency.She was...
as his vice presidential candidate in the 2008 presidential election, saying he had picked "the least qualified running mate since the Swedenborgian shipbuilder Arthur Sewall ran as William Jennings Bryan's No. 2 in 1896."
External links