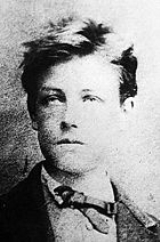 Arthur Rimbaud
Jean Nicolas Arthur Rimbaud
(ræmˈboʊ or /ˈræmboʊ/, aʁtyʁ ʁɛ̃bo; 20 October 1854 – 10 November 1891) was a
French
French people
The French are a nation that share a common French culture and speak the French language as a mother tongue. Historically, the French population are descended from peoples of Celtic, Latin and Germanic origin, and are today a mixture of several ethnic groups...
poet. Born in
Charleville
Charleville-Mézières
Charleville-Mézières is a commune in northern France, capital of the Ardennes department in the Champagne-Ardenne region. Charleville-Mézières is located on the banks of the Meuse River.-History:...
, Ardennes, he produced his best known works while still in his late teens—
Victor Hugo
Victor Hugo
Victor-Marie Hugo was a Frenchpoet, playwright, novelist, essayist, visual artist, statesman, human rights activist and exponent of the Romantic movement in France....
described him at the time as "an infant Shakespeare"—and he gave up creative writing altogether before the age of 21. As part of the
decadent movement
Decadent movement
The Decadent movement was a late 19th century artistic and literary movement of Western Europe. It flourished in France, but also had devotees in England and throughout Europe, as well as in the United States.-Overview:...
, Rimbaud influenced modern literature, music and art.
Mon auberge était à la Grande-Ourse.Mes étoiles au ciel avaient un doux frou-frou.

My tavern was the Big Bear.My stars in the sky rustled softly.
Elle est retrouvée,Quoi? — L'Éternité.C'est la mer alléeAvec le soleil.

It is found again.What? Eternity.It is the seaGone with the sun.
Il pleut doucement sur la ville.

It rains softly on the town.
Je dis qu'il faut être voyant, se faire voyant. Le poète se fait voyant par un long, immense et raisonné dérèglement de tous les sens.

I say one must be a seer, make oneself a seer. The poet makes himself a seer by an immense, long, deliberate derangement of all the senses.
Plus léger qu'un bouchon j'ai dansé sur les flots.

Lighter than a cork I danced on the waves.
Plus douce qu'aux enfants la chair des pommes sures,L'eau verte pénétra ma coque de sapin.

Sweeter than apples to childrenThe green water spurted through my wooden hull.