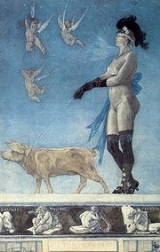 Decadent movement
The
Decadent movement
was a late 19th century
artistic
Art movement
An art movement is a tendency or style in art with a specific common philosophy or goal, followed by a group of artists during a restricted period of time, or, at least, with the heyday of the movement defined within a number of years...
and literary movement of
Western Europe
Western Europe
Western Europe is a loose term for the collection of countries in the western most region of the European continents, though this definition is context-dependent and carries cultural and political connotations. One definition describes Western Europe as a geographic entity—the region lying in the...
. It flourished in France, but also had devotees in
England
England
England is a country that is part of the United Kingdom. It shares land borders with Scotland to the north and Wales to the west; the Irish Sea is to the north west, the Celtic Sea to the south west, with the North Sea to the east and the English Channel to the south separating it from continental...
and throughout Europe, as well as in the
United States
United States
The United States of America is a federal constitutional republic comprising fifty states and a federal district...
.
Decadence
Decadence
Decadence can refer to a personal trait, or to the state of a society . Used to describe a person's lifestyle. Concise Oxford Dictionary: "a luxurious self-indulgence"...
was the name given, originally by hostile critics, to several late nineteenth-century writers who valued artifice more than the earlier Romantics' naïve descriptions. Some of them adopted the name, referring to themselves as "Decadents".