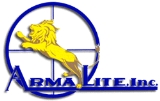 ArmaLite
ArmaLite
is the name of a
small arms
Small arms
Small arms is a term of art used by armed forces to denote infantry weapons an individual soldier may carry. The description is usually limited to revolvers, pistols, submachine guns, carbines, assault rifles, battle rifles, multiple barrel firearms, sniper rifles, squad automatic weapons, light...
engineering facility founded in the early 1950s, and once associated with the Fairchild Engine and Airplane Corporation. ArmaLite was formally incorporated as a subdivision of Fairchild on October 1, 1954. ArmaLite was responsible for small arm designs that evolved into many of the
infantry
Infantry
Infantrymen are soldiers who are specifically trained for the role of fighting on foot to engage the enemy face to face and have historically borne the brunt of the casualties of combat in wars. As the oldest branch of combat arms, they are the backbone of armies...
weapons in service worldwide today, including the
M16
M16 rifle
The M16 is the United States military designation for the AR-15 rifle adapted for both semi-automatic and full-automatic fire. Colt purchased the rights to the AR-15 from ArmaLite, and currently uses that designation only for semi-automatic versions of the rifle. The M16 fires the 5.56×45mm NATO...
assault rifles and the
M4
M4 carbine
The M4 carbine is a family of firearms tracing its lineage back to earlier carbine versions of the M16, all based on the original AR-15 designed by Eugene Stoner and made by ArmaLite. It is a shorter and lighter variant of the M16A2 assault rifle, with 80% parts commonality.It is a gas-operated,...
carbine.