 Aristide Maillol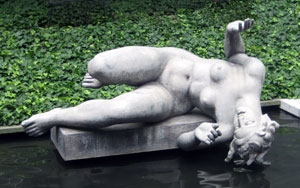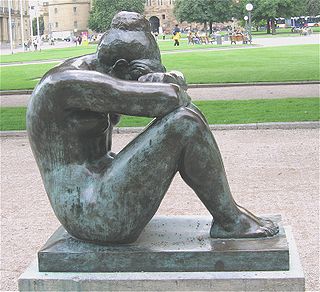 Aristide Maillol
or
Aristides Maillol
(December 8, 1861 – September 27, 1944) was a French Catalan
sculptor
Sculpture
Sculpture is three-dimensional artwork created by shaping or combining hard materials—typically stone such as marble—or metal, glass, or wood. Softer materials can also be used, such as clay, textiles, plastics, polymers and softer metals...
and
painter
Painting
Painting is the practice of applying paint, pigment, color or other medium to a surface . The application of the medium is commonly applied to the base with a brush but other objects can be used. In art, the term painting describes both the act and the result of the action. However, painting is...
.
Biography
Maillol was born in
Banyuls-sur-Mer
Banyuls-sur-Mer
Banyuls-sur-Mer is a commune in the Pyrénées-Orientales department in southern France.-Geography:Banyuls-sur-Mer is neighbored by Cerbère, Port-Vendres, Argelès-sur-Mer and Collioure. The region is known for its wines, such as the sweet wine Banyuls. An aquatic museum with aquarium is located in...
,
Roussillon
Roussillon
Roussillon is one of the historical counties of the former Principality of Catalonia, corresponding roughly to the present-day southern French département of Pyrénées-Orientales...
. He decided at an early age to become a painter, and moved to
Paris
Paris
Paris is the capital and largest city in France, situated on the river Seine, in northern France, at the heart of the Île-de-France region...
in 1881 to study art. After several applications, his enrollment in the
École des Beaux-Arts
École des Beaux-Arts
École des Beaux-Arts refers to a number of influential art schools in France. The most famous is the École nationale supérieure des Beaux-Arts, now located on the left bank in Paris, across the Seine from the Louvre, in the 6th arrondissement. The school has a history spanning more than 350 years,...
was accepted in 1885, and he studied there under
Jean-Léon Gérôme
Jean-Léon Gérôme
Jean-Léon Gérôme was a French painter and sculptor in the style now known as Academicism. The range of his oeuvre included historical painting, Greek mythology, Orientalism, portraits and other subjects, bringing the Academic painting tradition to an artistic climax.-Life:Jean-Léon Gérôme was born...
and
Alexandre Cabanel
Alexandre Cabanel
Alexandre Cabanel was a French painter.- Biography :Cabanel was born in Montpellier, Hérault. He painted historical, classical and religious subjects in the academic style. He was also well known as a portrait painter...
. His early paintings show the influence of his contemporaries
Pierre Puvis de Chavannes
Pierre Puvis de Chavannes
Pierre Puvis de Chavannes was a French painter, who became the president and co-founder of the Société Nationale des Beaux-Arts and whose work influenced many other artists.-Life:...
and
Paul Gauguin
Paul Gauguin
Eugène Henri Paul Gauguin was a leading French Post-Impressionist artist. He was an important figure in the Symbolist movement as a painter, sculptor, print-maker, ceramist, and writer...
.
Gauguin encouraged his growing interest in decorative art, an interest that led Maillol to take up
tapestry
Tapestry
Tapestry is a form of textile art, traditionally woven on a vertical loom, however it can also be woven on a floor loom as well. It is composed of two sets of interlaced threads, those running parallel to the length and those parallel to the width ; the warp threads are set up under tension on a...
design. In 1893 Maillol opened a tapestry workshop in Banyuls, producing works whose high technical and aesthetic quality gained him recognition for renewing this art form in France. He began making small terracotta sculptures in 1895, and within a few years his concentration on sculpture led to the abandonment of his work in tapestry.
The subject of nearly all of Maillol's mature work is the female body, treated with a
classical
Classicism
Classicism, in the arts, refers generally to a high regard for classical antiquity, as setting standards for taste which the classicists seek to emulate. The art of classicism typically seeks to be formal and restrained: of the Discobolus Sir Kenneth Clark observed, "if we object to his restraint...
emphasis on stable forms. The figurative style of his large bronzes is perceived as an important precursor to the greater simplifications of
Henry Moore
Henry Moore
Henry Spencer Moore OM CH FBA was an English sculptor and artist. He was best known for his semi-abstract monumental bronze sculptures which are located around the world as public works of art....
and
Alberto Giacometti
Alberto Giacometti
Alberto Giacometti was a Swiss sculptor, painter, draughtsman, and printmaker.Alberto Giacometti was born in the canton Graubünden's southerly alpine valley Val Bregaglia and came from an artistic background; his father, Giovanni, was a well-known post-Impressionist painter...
, and his serene classicism set a standard for European (and
American
United States
The United States of America is a federal constitutional republic comprising fifty states and a federal district...
) figure sculpture until the end of
World War II
World War II
World War II, or the Second World War , was a global conflict lasting from 1939 to 1945, involving most of the world's nations—including all of the great powers—eventually forming two opposing military alliances: the Allies and the Axis...
.
His important public commissions include a 1912 commission for a monument to
Cézanne
Paul Cézanne
Paul Cézanne was a French artist and Post-Impressionist painter whose work laid the foundations of the transition from the 19th century conception of artistic endeavour to a new and radically different world of art in the 20th century. Cézanne can be said to form the bridge between late 19th...
, as well as numerous war memorials commissioned after
World War I
World War I
World War I , which was predominantly called the World War or the Great War from its occurrence until 1939, and the First World War or World War I thereafter, was a major war centred in Europe that began on 28 July 1914 and lasted until 11 November 1918...
.
Maillol served as a juror with Florence Meyer Blumenthal in awarding the
Prix Blumenthal
Prix Blumenthal
The Prix Blumenthal was a grant or stipend awarded through the philanthropy of Florence Meyer Blumenthal — and the foundation she created, Fondation franco-américaine Florence Blumenthal — to discover young French artists, aid them financially, and in the process draw the United States...
(1919–1954) a grant awarded to painters, sculptors, decorators, engravers, writers, and musicians.
He died in Banyuls at the age of eighty-three, in an automobile accident. While driving home during a thunderstorm, the car in which he was a passenger skidded off the road and rolled over. A large collection of Maillol's work is maintained at the
Musée Maillol
Musée Maillol
The Musée Maillol is an art museum located in the 7th arrondissement at 59-61, rue de Grenelle, Paris, France. It is open daily except Tuesday; an admission fee is charged....
in
Paris
Paris
Paris is the capital and largest city in France, situated on the river Seine, in northern France, at the heart of the Île-de-France region...
, which was established by
Dina Vierny
Dina Vierny
Dina Vierny was an art dealer, collector and museum director and former artists' model.Born as Dina Aibinder into a Jewish family in Kishinev, Bessarabia ,...
, Maillol's model and platonic companion during the last 10 years of his life. His home a few kilometers outside Banyuls, also the site of his final resting place, has been turned into a museum where a number of his works and sketches are displayed.
Three of his bronzes grace the grand staircase of the
Metropolitan Opera House
Metropolitan Opera
The Metropolitan Opera is an opera company, located in New York City. Originally founded in 1880, the company gave its first performance on October 22, 1883. The company is operated by the non-profit Metropolitan Opera Association, with Peter Gelb as general manager...
in New York City:
Summer
(1910–11),
Venus Without Arms
(1920), and
Kneeling Woman: Monument to Debussy
(1950–55). The third is the artist's only reference to music, created for a monument at
Saint-Germain-en-Laye
Saint-Germain-en-Laye
Saint-Germain-en-Laye is a commune in the Yvelines department in the Île-de-France in north-central France. It is located in the western suburbs of Paris from the centre.Inhabitants are called Saint-Germanois...
,
Claude Debussy
Claude Debussy
Claude-Achille Debussy was a French composer. Along with Maurice Ravel, he was one of the most prominent figures working within the field of impressionist music, though he himself intensely disliked the term when applied to his compositions...
's birthplace.
Maillol "spoke Catalan, wore traditional espadrilles, a sash and a barretina (the traditional Catalan cap), he danced sardanes" and he openly proclaimed his Catalan identity: "I consider Catalonia my true homeland".
Sources
Solomon R. Guggenheim Museum, "Aristide Maillol, 1861-1944", New York, Solomon R. Guggenheim Foundation, 1975.
Frèches-Thory, Claire, & Perucchi-Petry, Ursula, ed.: Die Nabis: Propheten der Moderne, Kunsthaus Zürich & Grand Palais, Paris & Prestel, Munich 1993 ISBN 3791319698 (German), (French)
Other links