Arcandor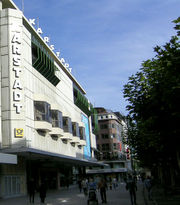 Arcandor AG
(
KarstadtQuelle AG
until June 30, 2007) is a
holding company
Holding company
A holding company is a company or firm that owns other companies' outstanding stock. It usually refers to a company which does not produce goods or services itself; rather, its purpose is to own shares of other companies. Holding companies allow the reduction of risk for the owners and can allow...
located in
Essen
Essen
- Origin of the name :In German-speaking countries, the name of the city Essen often causes confusion as to its origins, because it is commonly known as the German infinitive of the verb for the act of eating, and/or the German noun for food. Although scholars still dispute the interpretation of...
,
Germany
Germany
Germany , officially the Federal Republic of Germany , is a federal parliamentary republic in Europe. The country consists of 16 states while the capital and largest city is Berlin. Germany covers an area of 357,021 km2 and has a largely temperate seasonal climate...
that oversees companies operating in the businesses of mail order and internet shopping, department stores and tourism services. It was created in 1999 through the merger of
Karstadt Warenhaus AG
, which was founded in 1920, and
Quelle Schickedanz AG & Co
, founded in 1927. In 2005, the corporation had about 68,000 employees and annual sales of €15.5 billion. Its stocks were traded on the Mid Cap DAX until September 2009. The company's largest store is
Kaufhaus des Westens
Kaufhaus des Westens
The Kaufhaus des Westens is a department store in Berlin. With over 60,000 square metres of selling space and more than 380,000 articles available, it is the second largest department store in Europe; trumped only by Harrods in London...
(KaDeWe) in
Berlin
Berlin
Berlin is the capital city of Germany and is one of the 16 states of Germany. With a population of 3.45 million people, Berlin is Germany's largest city. It is the second most populous city proper and the seventh most populous urban area in the European Union...
, while the largest store under the name
Karstadt
is in
Frankfurt
Frankfurt
Frankfurt am Main , commonly known simply as Frankfurt, is the largest city in the German state of Hesse and the fifth-largest city in Germany, with a 2010 population of 688,249. The urban area had an estimated population of 2,300,000 in 2010...
. On May 11, 2009, the company requested government financial assistance due to liquidity problems. On June 6, 2009, the company announced that it is no longer able to pay rent for its department stores, which the company had previously sold and
leaseback
Leaseback
Leaseback, short for sale-and-leaseback, is a financial transaction, where one sells an asset and leases it back for the long-term; therefore, one continues to be able to use the asset but no longer owns it...
ed. On June 9, 2009, the company filed for bankruptcy.
History
On 14 May 1881,
Rudolph Karstadt
Rudolph Karstadt
Rudolph Karstadt was a German entrepreneur.On 14 May 1881, Karstadt opened his first "Tuch-, Manufactur- und Konfectionsgeschäft" in Wismar and by 1920 owned over 30 shops across Germany....
founded his first store
Tuch-, Manufaktur- und Konfektionsgeschäft Karstadt
(
Cloth, Manufacture, and Mass Production Business Karstadt
) in
Wismar
Wismar
Wismar , is a small port and Hanseatic League town in northern Germany on the Baltic Sea, in the state of Mecklenburg-Vorpommern,about 45 km due east of Lübeck, and 30 km due north of Schwerin. Its natural harbour, located in the Bay of Wismar is well-protected by a promontory. The...
. In 1884, a second store was opened in
Lübeck
Lübeck
The Hanseatic City of Lübeck is the second-largest city in Schleswig-Holstein, in northern Germany, and one of the major ports of Germany. It was for several centuries the "capital" of the Hanseatic League and, because of its Brick Gothic architectural heritage, is listed by UNESCO as a World...
. Soon, 24 stores had been opened in all of Northern Germany. In 1920, the business was turned into a
joint stock company
Joint stock company
A joint-stock company is a type of corporation or partnership involving two or more individuals that own shares of stock in the company...
. In 1984, Karstadt acquired the mail-order business Neckermann Versand. In 1994, it acquired the department store chain Hertie, to which KaDeWe belonged. In 1999 it finally merged with Quelle AG to become KarstadtQuelle AG, only to be renamed Arcandor AG on July 1, 2007. The current chief executive officer is Karl-Gerhard Eick (since 2009).
On June 5, 2009, investigations started into possible breach of trust offenses by Arcandor's former CEO
Thomas Middelhoff
Thomas Middelhoff
Thomas Middelhoff is a German corporate manager. He was on the board of directors of Bertelsmann from 1990–2002, being CEO from 1998...
.
Arcandor AG business segments
Arcandor is active in the following business segments:
Brick-and-mortar operations:

Department stores: Karstadt, KaDeWe, Wertheim

Wertheim

Wertheim may refer to:* Wertheim vacuum cleaner, a brand of vacuum cleaner* Wertheim am Main, Baden-Württemberg, Germany* Wertheim , a chain of German department stores...


, Alsterhaus, Oberpollinger, WoM (World of Music), Schaulandt, LeBuffet, Fox Markt
Specialty stores: KarstadtSport (athletic equipment, etc.)

Mail-order:

General: neckermann.de (until 2005 known as Neckermann Versand), Quelle
Specialty assortments: Walz, Hess Natur, Fritz Berger, Madeleine, BON'A PARTE, clinic+job-dress, DK Berufsmoden, Simon Jersey

Services:

Tourism: Bucher Reisen, Thomas Cook Group

Thomas Cook Group

Thomas Cook Group plc is a travel company created on 19 June, 2007 by the merger of Thomas Cook AG and MyTravel Group plc. At flotation on the London Stock Exchange 52% of the shares in the new company were held by the German mail order and department store corporation Arcandor and 48% owned by...


(52% ownership)
Financial services: KarstadtQuelle Bank, KarstadtQuelle Finanz Service
Other services: Customer Advantage Program (HappyDigits), Itellium, KarstadtQuelle Information Services
Arcandor's websites, when taken together, put Arcandor easily in the top 20, and maybe in the top 10, in the rankings of all web properties ranked by numbers of unique visitors per month, among internet users in Germany. Most of this traffic is shoppers at online stores branded with the company's brick-and-mortar store brands or its mail-order catalog brands.
Bankruptcy
In June 2009, Arcandor filed for bankruptcy protection after its request for loan guarantees of up to 650 million Euros had been rejected by the German government. After the bankruptcy, Thomas Cook is not a part of Arcandor anymore, as shares of the travel group which formerly served as collateral against the loans taken out were sold by Arcandor's creditor banks.
In June 2010 parts of the company were taken over by
Nicolas Berggruen
Nicolas Berggruen
Nicolas Berggruen is an investor. He is the son of art collector Heinz Berggruen. He is the founder and president of Berggruen Holdings, a private investment company and the Nicolas Berggruen Institute, a political think tank. His father created the Museum Berggruen in Berlin and his mother was...
to save it from insolvency.