 Anya Seton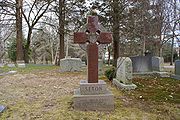 Anya Seton
was the
pen name
Pen name
A pen name, nom de plume, or literary double, is a pseudonym adopted by an author. A pen name may be used to make the author's name more distinctive, to disguise his or her gender, to distance an author from some or all of his or her works, to protect the author from retribution for his or her...
of Ann Seton, an
American
United States
The United States of America is a federal constitutional republic comprising fifty states and a federal district...
author of historical romances.
Biography
Ann Seton was born in New York, New York, and died in
Old Greenwich, Connecticut
Greenwich, Connecticut
Greenwich is a town in Fairfield County, Connecticut, United States. As of the 2010 census, the town had a total population of 61,171. It is home to many hedge funds and other financial service companies. Greenwich is the southernmost and westernmost municipality in Connecticut and is 38+ minutes ...
. She was the daughter of English-born naturalist and pioneer of the
Boy Scouts of America
Boy Scouts of America
The Boy Scouts of America is one of the largest youth organizations in the United States, with over 4.5 million youth members in its age-related divisions...
,
Ernest Thompson Seton
Ernest Thompson Seton
Ernest Thompson Seton was a Scots-Canadian who became a noted author, wildlife artist, founder of the Woodcraft Indians, and one of the founding pioneers of the Boy Scouts of America . Seton also influenced Lord Baden-Powell, the founder of Scouting...
and Grace Gallatin Seton. She is interred at
Putnam Cemetery
Putnam Cemetery
Putnam Cemetery is a non-sectarian cemetery located in Greenwich, Connecticut. It is affiliated with adjacent Saint Mary's Cemetery, which is a Catholic cemetery. The cemetery is located in a quiet residential neighborhood and is the final resting place of several notable people...
in Greenwich.
Her
historical novel
Historical novel
According to Encyclopædia Britannica, a historical novel is-Development:An early example of historical prose fiction is Luó Guànzhōng's 14th century Romance of the Three Kingdoms, which covers one of the most important periods of Chinese history and left a lasting impact on Chinese culture.The...
s were noted for how extensively she researched the historical facts, and some of them were best-sellers:
Dragonwyck
(1944) and
Foxfire
(1950) were both made into Hollywood films. Three of her books are classics in their genre and continue in their popularity to the present:
Katherine
, the story of
Katherine Swynford
Katherine Swynford
Katherine Swynford, Duchess of Lancaster , née Roet , was the daughter of Sir Payne Roet , originally a Flemish herald from County of Hainaut, later...
, the mistress and eventual wife of John of Gaunt, and their children, who were the direct ancestors of the Tudors, Stuarts, and the modern British royal family;
Green Darkness
Green Darkness
Green Darkness is the 1972 novel by Anya Seton.-Plot summary:In the 1960s, young Celia Marsdon is a rich American heiress who, upon her marriage to English aristocrat Richard Marsdon, goes to live at an ancestral manor in Sussex, England. Shortly afterward, strange things begin to occur —...
, the story of a modern couple plagued by their past life incarnations; and
The Winthrop Woman
about the notorious
Elizabeth Fones
Elizabeth Fones
Elizabeth Fones Winthrop Feake Hallett was an early settler in the Massachusetts Bay Colony where her father-in-law John Winthrop served as Governor...
, niece and daughter-in-law of
John Winthrop
John Winthrop
John Winthrop was a wealthy English Puritan lawyer, and one of the leading figures in the founding of the Massachusetts Bay Colony, the first major settlement in New England after Plymouth Colony. Winthrop led the first large wave of migrants from England in 1630, and served as governor for 12 of...
, the first governor of the
Massachusetts Bay Colony
Massachusetts Bay Colony
The Massachusetts Bay Colony was an English settlement on the east coast of North America in the 17th century, in New England, situated around the present-day cities of Salem and Boston. The territory administered by the colony included much of present-day central New England, including portions...
. Most of her novels have been recently republished, several with forewords by
Philippa Gregory
Philippa Gregory
Philippa Gregory is an English novelist.-Early life and academic career:Philippa Gregory was born in Kenya. When she was two years old, her family moved to England. She was a "rebel" at school, but managed to attend the University of Sussex...
.
Her novel
Devil Water
concerns
James
James Radclyffe, 3rd Earl of Derwentwater
James Radclyffe, 3rd Earl of Derwentwater was an English Jacobite, executed for treason. His death is remembered in an English traditional ballad, "Lord Allenwater", collected by Ralph Vaughan Williams in 1904 from the singing of Emily Stears.-Life:He was the son of Edward Radclyffe, 2nd Earl of...
, the luckless
Earl of Derwentwater
Earl of Derwentwater
Earl of Derwentwater was a title in the Peerage of England. It was created in 1688 for Sir Francis Radclyffe, 3rd Baronet. He was made Baron Tyndale, of Tyndale in the County of Northumberland, and Viscount Radclyffe and Langley at the same time, also in the Peerage of England. He was succeeded by...
and his involvement with the
Jacobite rising
Jacobite rising
The Jacobite Risings were a series of uprisings, rebellions, and wars in Great Britain and Ireland occurring between 1688 and 1746. The uprisings were aimed at returning James VII of Scotland and II of England, and later his descendants of the House of Stuart, to the throne after he was deposed by...
of 1715. She also narrates the story of his brother Charles, beheaded after the 1745 rebellion, the last man to die for the cause. The action of the novel moves back and forth between
Northumberland
Northumberland
Northumberland is the northernmost ceremonial county and a unitary district in North East England. For Eurostat purposes Northumberland is a NUTS 3 region and is one of three boroughs or unitary districts that comprise the "Northumberland and Tyne and Wear" NUTS 2 region...
,
Tyneside
Tyneside
Tyneside is a conurbation in North East England, defined by the Office of National Statistics, which is home to over 80% of the population of Tyne and Wear. It includes the city of Newcastle upon Tyne and the Metropolitan Boroughs of Gateshead, North Tyneside and South Tyneside — all settlements on...
, London, and America.
Seton stated that the book developed out of her love for Northumberland. Anya certainly visited her Snowdon cousins at
Felton
Felton, Northumberland
Felton is a small village in north Northumberland in North East England. Felton is situated about 10 miles south of the town of Alnwick, and 9 miles north of Morpeth. The nearest city is Newcastle upon Tyne and the Scottish border is about an hour away. At the last UK Census in 2001, Felton had a...
.
Billy Pigg
Billy Pigg
Billy Pigg was an English player of Northumbrian smallpipes. He was a Vice-President and an influential member of the Northumbrian Pipers Society from 1930 until his death.-Life and music:...
, the celebrated Northumbrian piper played "Derwentwater's Farewell" especially for her. The novel shows her typical thorough research of events and places, though the accents are a little wayward. Seton said that her greatest debt of all was to Miss Amy Flagg of
Westoe
Westoe
Westoe is a suburb of South Shields, Tyne & Wear, United Kingdom.- History :Westoe was originally a village a mile south of South Shields, and was gradually absorbed into the urban sprawl extending from the centre of Shields at the end of the niineteenth century.In contemporary usage the term...
Village in
South Shields
South Shields
South Shields is a coastal town in Tyne and Wear, England, located at the mouth of the River Tyne to Tyne Dock, and about downstream from Newcastle upon Tyne...
, her father's birthplace.
Notable works
My Theodosia

My Theodosia

My Theodosia is a novel, written by the American author Anya Seton which was first published in 1941.It is a fictional interpretation of the life of Theodosia Burr Alston, set against an historical background of Aaron Burr's Vice Presidency of the United States, and his subsequent years.The book...


(1941)
Dragonwyck

Dragonwyck (novel)

Dragonwyck is a novel, written by the American author Anya Seton which was first published in 1944.It is a fictional story of the life of Miranda Wells and her marriage to Nicholas Van Ryn, set against an historical background of the Patroon system, Anti-Rent Wars, the Astor Place Riots, and...


(1944)
The Turquoise

The Turquoise (novel)

The Turquoise is a novel, written by the American author Anya Seton which was first published in 1946.It is a fictional story of the life of Fey Cameron set against an historical background of the United States and New York society in the mid 19th century.The book focuses on Fey Cameron, from her...


(1946)
The Hearth and Eagle

The Hearth and Eagle

The Hearth and Eagle is a historical novel by Anya Seton. Set in the old New England fishing village of Marblehead, Massachusetts, the story centers on strong-willed, passionate Hesper Honeywood and her search for love and fulfillment at a time when women had few options and the stormy Atlantic...


(1948)
Foxfire (1950)
Katherine

Katherine (novel)

Anya Seton's Katherine is a historical novel based largely on fact. It tells the story of the historically important love affair between the titular Katherine Swynford and John of Gaunt, Duke of Lancaster, the third surviving son of King Edward III...


(1954)
The Mistletoe and the Sword (1956)
The Winthrop Woman (1958)
Devil Water (1962)
Avalon

Avalon (novel)

Avalon is a novel, written by the American author Anya Seton. It was published in 1965.It is a fictional story about the lives of Saint Rumon and Merewyn, set against a broad historical background of Anglo-Saxon England and the Viking expansion to Iceland and Greenland.The book focuses on Rumon and...


(1965)
Green Darkness

Green Darkness

Green Darkness is the 1972 novel by Anya Seton.-Plot summary:In the 1960s, young Celia Marsdon is a rich American heiress who, upon her marriage to English aristocrat Richard Marsdon, goes to live at an ancestral manor in Sussex, England. Shortly afterward, strange things begin to occur —...


(1972)
Smouldering Fires

Smouldering Fires

Smouldering Fires is a novel by Anya Seton. It was published by Doubleday, New York, NY, U.S.A., 1975.This book covers reincarnation and past lives regression and shares some of the territory the author covered in her best selling novel, Green Darkness.-Plot introduction:A teenage girl is troubled...


(1975)
External links
http://www.hstg.org/ Anya Seton's papers are housed at the Historical Society of the Town of Greenwich