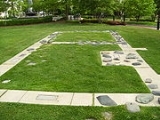 John Winthrop
John Winthrop
was a wealthy English
Puritan
Puritan
The Puritans were a significant grouping of English Protestants in the 16th and 17th centuries. Puritanism in this sense was founded by some Marian exiles from the clergy shortly after the accession of Elizabeth I of England in 1558, as an activist movement within the Church of England...
lawyer, and one of the leading figures in the founding of the
Massachusetts Bay Colony
Massachusetts Bay Colony
The Massachusetts Bay Colony was an English settlement on the east coast of North America in the 17th century, in New England, situated around the present-day cities of Salem and Boston. The territory administered by the colony included much of present-day central New England, including portions...
, the first major settlement in
New England
New England
New England is a region in the northeastern corner of the United States consisting of the six states of Maine, New Hampshire, Vermont, Massachusetts, Rhode Island, and Connecticut...
after
Plymouth Colony
Plymouth Colony
Plymouth Colony was an English colonial venture in North America from 1620 to 1691. The first settlement of the Plymouth Colony was at New Plymouth, a location previously surveyed and named by Captain John Smith. The settlement, which served as the capital of the colony, is today the modern town...
. Winthrop led the first large wave of migrants from England in 1630, and served as governor for 12 of the colony's first 20 years of existence. His writings and vision of the colony as a Puritan "
city upon a hill
City upon a Hill
A City Upon A Hill is a phrase from the parable of Salt and Light in Jesus' Sermon on the Mount. In Matthew 5:14, he tells his listeners, "You are the light of the world. A city that is set on a hill cannot be hidden."-American usage:...
" dominated New England colonial development, influencing the government and religion of neighboring colonies.
Born into a wealthy landowning and merchant family, Winthrop was trained in the law, and became
Lord of the Manor
Lord of the Manor
The Lordship of a Manor is recognised today in England and Wales as a form of property and one of three elements of a manor that may exist separately or be combined and may be held in moieties...
at
Groton
Groton, Suffolk
Groton is a village and civil parish in Suffolk, England. Located around a mile north of the A1071 between Hadleigh and Sudbury, it is part of Babergh district....
in
Suffolk
Suffolk
Suffolk is a non-metropolitan county of historic origin in East Anglia, England. It has borders with Norfolk to the north, Cambridgeshire to the west and Essex to the south. The North Sea lies to the east...
.