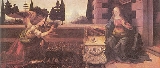 Gabriel
In
Abrahamic religions
Abrahamic religions
Abrahamic religions are the monotheistic faiths emphasizing and tracing their common origin to Abraham or recognizing a spiritual tradition identified with him...
,
Gabriel
' onMouseout='HidePop("69469")' href="/topics/Arabic_language">Arabic
Arabic language
Arabic is a name applied to the descendants of the Classical Arabic language of the 6th century AD, used most prominently in the Quran, the Islamic Holy Book...
: جبريل, Jibrīl or جبرائيل Jibrāʾīl) is an
Archangel
Archangel
An archangel is an angel of high rank. Archangels are found in a number of religious traditions, including Judaism, Christianity and Islam. Michael and Gabriel are recognized as archangels in Judaism and by most Christians. Michael is the only archangel specifically named in the Protestant Bible...
who typically serves as a messenger to humans from
God
God
God is the English name given to a singular being in theistic and deistic religions who is either the sole deity in monotheism, or a single deity in polytheism....
.
He first appears in the
Book of Daniel
Book of Daniel
The Book of Daniel is a book in the Hebrew Bible. The book tells of how Daniel, and his Judean companions, were inducted into Babylon during Jewish exile, and how their positions elevated in the court of Nebuchadnezzar. The court tales span events that occur during the reigns of Nebuchadnezzar,...
, delivering explanations of Daniel's visions.