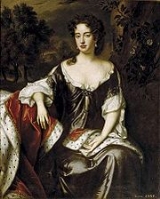 Anne of Great Britain
Anne
ascended the thrones of England, Scotland and
Ireland
on 8 March 1702. On 1 May 1707, under the
Act of Union
Acts of Union 1707
The Acts of Union were two Parliamentary Acts - the Union with Scotland Act passed in 1706 by the Parliament of England, and the Union with England Act passed in 1707 by the Parliament of Scotland - which put into effect the terms of the Treaty of Union that had been agreed on 22 July 1706,...
, two of her realms, England and Scotland, were united as a single
sovereign state
Sovereign state
A sovereign state, or simply, state, is a state with a defined territory on which it exercises internal and external sovereignty, a permanent population, a government, and the capacity to enter into relations with other sovereign states. It is also normally understood to be a state which is neither...
, the
Kingdom of Great Britain
Kingdom of Great Britain
The former Kingdom of Great Britain, sometimes described as the 'United Kingdom of Great Britain', That the Two Kingdoms of Scotland and England, shall upon the 1st May next ensuing the date hereof, and forever after, be United into One Kingdom by the Name of GREAT BRITAIN. was a sovereign...
.
Anne's Catholic father,
James II and VII
James II of England
James II & VII was King of England and King of Ireland as James II and King of Scotland as James VII, from 6 February 1685. He was the last Catholic monarch to reign over the Kingdoms of England, Scotland, and Ireland...
, was deposed during the "
Glorious Revolution
Glorious Revolution
The Glorious Revolution, also called the Revolution of 1688, is the overthrow of King James II of England by a union of English Parliamentarians with the Dutch stadtholder William III of Orange-Nassau...
" of 1688. Her
Protestant
Protestantism
Protestantism is one of the three major groupings within Christianity. It is a movement that began in Germany in the early 16th century as a reaction against medieval Roman Catholic doctrines and practices, especially in regards to salvation, justification, and ecclesiology.The doctrines of the...
sister
Mary
Mary II of England
Mary II was joint Sovereign of England, Scotland, and Ireland with her husband and first cousin, William III and II, from 1689 until her death. William and Mary, both Protestants, became king and queen regnant, respectively, following the Glorious Revolution, which resulted in the deposition of...
and Mary's husband, Anne's brother-in-law and cousin
William III
William III of England
William III & II was a sovereign Prince of Orange of the House of Orange-Nassau by birth. From 1672 he governed as Stadtholder William III of Orange over Holland, Zeeland, Utrecht, Guelders, and Overijssel of the Dutch Republic. From 1689 he reigned as William III over England and Ireland...
, became joint monarchs.
Here thou, great Anna! whom three realms obey,Dost sometimes counsel take - and sometimes tea.

Alexander Pope, "The Rape of the Lock," Canto III, line 7