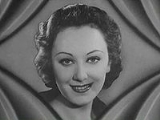 Ann Dvorak
Ann Dvorak
was an American film actress.
Asked how to pronounce her adopted surname, she told
The Literary Digest
Literary Digest
The Literary Digest was an influential general interest weekly magazine published by Funk & Wagnalls. Founded by Isaac Kaufmann Funk in 1890, it eventually merged with two similar weekly magazines, Public Opinion and Current Opinion.-History:...
: "My name is properly pronounced
vor'shack
. The
D
remains silent. I have had quite a time with the name, having been called practically everything from Balzac to Bickelsrock."
Life and career
Born
Anna McKim
in New York City of Irish-Australian descent, the only child of two vaudevillians, she was raised in the business that would later make her a star. Her father, Edwin McKim worked as a director for the
Lubin Studios
Lubin Studios
The Lubin Manufacturing Company, was an American motion picture production company that produced silent films from 1902 to 1916. Lubin films were distributed with a Liberty Bell trademark.-History:...
, and her mother,
Anna Lehr
Anna Lehr
Anna Lehr was an American silent film actress. She was married to Edwin McKim; their daughter was actress Ann Dvorak. Lehr had ample experience as a stage performer also....
, found success as the star of many silent features. The couple split when Ann was four, and she and her mother moved to Hollywood. Ann would not see her father again until a national appeal to the press reunited the two in 1934.
As a child, she appeared in several films. She began working for MGM in the late 1920s as a dance instructor and gradually began to appear on film as a chorus girl. Her friend
Joan Crawford
Joan Crawford
Joan Crawford , born Lucille Fay LeSueur, was an American actress in film, television and theatre....
introduced her to
Howard Hughes
Howard Hughes
Howard Robard Hughes, Jr. was an American business magnate, investor, aviator, engineer, film producer, director, and philanthropist. He was one of the wealthiest people in the world...
, who groomed her as a dramatic actress. She was a success in such
pre-Code
Pre-Code
Pre-Code Hollywood refers to the era in the American film industry between the introduction of sound in the late 1920s and the enforcement of the Motion Picture Production Code censorship guidelines. Although the Code was adopted in 1930, oversight was poor and it did not become rigorously...
films as
Scarface
Scarface (1932 film)
Scarface is a 1932 American gangster film starring Paul Muni and George Raft, produced by Howard Hughes, directed by Howard Hawks and Richard Rosson, and written by Ben Hecht based on the 1929 novel of the same name by Armitage Trail...
(1932), as
Paul Muni
Paul Muni
Paul Muni was an Austrian-Hungarian-born American stage and film actor...
's character's sister, as the doomed unstable Vivian in
Three on a Match
Three on a Match
Three on a Match is a Warner Bros. drama film directed by Mervyn LeRoy and starring Joan Blondell, Ann Dvorak and Bette Davis. The film also features Warren William, Lyle Talbot, Humphrey Bogart , Allen Jenkins and Edward Arnold.-Plot:Three friends from childhood, Mary , Ruth , and Vivian , meet...
(1932), with
Joan Blondell
Joan Blondell
Rose Joan Blondell was an American actress who performed in movies and on television for five decades as Joan Blondell.After winning a beauty pageant, Blondell embarked upon a film career...
and
Bette Davis
Bette Davis
Ruth Elizabeth "Bette" Davis was an American actress of film, television and theater. Noted for her willingness to play unsympathetic characters, she was highly regarded for her performances in a range of film genres, from contemporary crime melodramas to historical and period films and occasional...
,
Love Is a Racket
Love Is a Racket
Love Is a Racket is a romantic comedy drama 1932 film starring Douglas Fairbanks, Jr. and Ann Dvorak. The movie was written by Courtney Terrett from the novel by Rian James, and directed by William A. Wellman....
(1932), and opposite
Spencer Tracy
Spencer Tracy
Spencer Bonaventure Tracy was an American theatrical and film actor, who appeared in 75 films from 1930 to 1967. Tracy was one of the major stars of Hollywood's Golden Age, ranking among the top ten box office draws for almost every year from 1938 to 1951...
in
Sky Devils
(1932).
Known for her style and elegance, she was a popular leading lady for Warner Brothers during the 1930s, and appeared in numerous contemporary romances and melodramas. A dispute over her pay (she discovered she was making the same amount of money as the little boy who played her son in
Three on a Match
) led to her finishing out her contract on permanent suspension, and then working as a freelancer, but although she worked regularly, the quality of her scripts declined sharply. She appeared as secretary
Della Street
Della Street
Della Street was the fictional secretary of Perry Mason in the long-running series of novels, films, and radio and television programs featuring the fictional defense attorney created by Erle Stanley Gardner.-Description:...
to
Donald Woods
Donald Woods (actor)
Donald Woods was a Canadian-born American film and television actor whose career spanned six decades....
'
Perry Mason
Perry Mason
Perry Mason is a fictional character, a defense attorney who was the main character in works of detective fiction authored by Erle Stanley Gardner. Perry Mason was featured in more than 80 novels and short stories, most of which had a plot involving his client's murder trial...
in
The Case of the Stuttering Bishop
The Case of the Stuttering Bishop
The Case of the Stuttering Bishop is a 1937 drama film directed by William Clemens. It stars Donald Woods as Perry Mason, and Ann Dvorak as his secretary. Edward McWade plays the role of stuttering Bishop William Mallory...
(1937). She also acted on Broadway. With her then-husband, British actor
Leslie Fenton
Leslie Fenton
Leslie Fenton was an English-born American actor and film director. He appeared in 62 films between 1923 and 1945....
, Dvorak travelled to England where she supported the war effort by working as an ambulance driver, and appeared in several British films. She gives a magnificent and unforgettable performance as a saloon singer in
Abilene Town
Abilene Town
Abilene Town was a 1946 western film directed by Edwin L. Marin. The film starred Randolph Scott, Ann Dvorak, Lloyd Bridges, Rhonda Fleming, and Edgar Buchanan....
, released in 1946.
She retired from the screen in 1951, when she married her third and last husband, Nicholas Wade, to whom she remained married until his death in 1975. It was her longest and most successful marriage. She had no children.
She lived her post-retirement years in anonymity until her death from stomach cancer in
Honolulu
Honolulu, Hawaii
Honolulu is the capital and the most populous city of the U.S. state of Hawaii. Honolulu is the southernmost major U.S. city. Although the name "Honolulu" refers to the urban area on the southeastern shore of the island of Oahu, the city and county government are consolidated as the City and...
at the age of 68. She was cremated and her ashes scattered.
Ann Dvorak has a star on the
Hollywood Walk of Fame
Hollywood Walk of Fame
The Hollywood Walk of Fame consists of more than 2,400 five-pointed terrazzo and brass stars embedded in the sidewalks along fifteen blocks of Hollywood Boulevard and three blocks of Vine Street in Hollywood, California...
for her contribution to Motion Pictures, at 6321 Hollywood Boulevard.
Features
Short subjects
External links