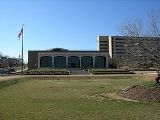 Amon Carter Museum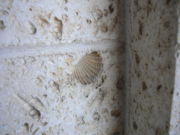 The
Amon Carter Museum of American Art
is located in
Fort Worth, Texas
Fort Worth, Texas
Fort Worth is the 16th-largest city in the United States of America and the fifth-largest city in the state of Texas. Located in North Central Texas, just southeast of the Texas Panhandle, the city is a cultural gateway into the American West and covers nearly in Tarrant, Parker, Denton, and...
. It was established by
Amon G. Carter
Amon G. Carter
Amon G. Carter, Sr. was the creator and publisher of the Fort Worth Star-Telegram, and a nationally known civic booster for Fort Worth, Texas. A legacy in his will was used to create Fort Worth's Amon Carter Museum....
to house his collection of
painting
Painting
Painting is the practice of applying paint, pigment, color or other medium to a surface . The application of the medium is commonly applied to the base with a brush but other objects can be used. In art, the term painting describes both the act and the result of the action. However, painting is...
s and
sculpture
Sculpture
Sculpture is three-dimensional artwork created by shaping or combining hard materials—typically stone such as marble—or metal, glass, or wood. Softer materials can also be used, such as clay, textiles, plastics, polymers and softer metals...
by
Frederic Remington
Frederic Remington
Frederic Sackrider Remington was an American painter, illustrator, sculptor, and writer who specialized in depictions of the Old American West, specifically concentrating on the last quarter of the 19th century American West and images of cowboys, American Indians, and the U. S...
and Charles M. Russell. Carter's will provided a museum in Fort Worth devoted to American art.
When the museum opened in 1961, its first director, Mitchell A. Wilder, sought a broader vision for its collection. Wilder believed that the grand story of American art could be interpreted as the history of many artists at different times working on "successive frontiers" in the great pageant of American history. As a result of this vision, the museum's collections began to expand in many fascinating ways, from the first landscape painters of the 1830s to modern artists of the twentieth century.
Today, the collection includes masterworks by such artists as
Alexander Calder
Alexander Calder
Alexander Calder was an American sculptor and artist most famous for inventing mobile sculptures. In addition to mobile and stable sculpture, Alexander Calder also created paintings, lithographs, toys, tapestry, jewelry and household objects.-Childhood:Alexander "Sandy" Calder was born in Lawnton,...
,
Thomas Cole
Thomas Cole
Thomas Cole was an English-born American artist. He is regarded as the founder of the Hudson River School, an American art movement that flourished in the mid-19th century...
,
Stuart Davis
Stuart Davis (painter)
Stuart Davis , was an early American modernist painter. He was well known for his jazz influenced, proto pop art paintings of the 1940s and 1950s, bold, brash, and colorful as well as his ashcan pictures in the early years of the 20th century.-Biography:He was born in Philadelphia to Edward Wyatt...
,
Thomas Eakins
Thomas Eakins
Thomas Cowperthwait Eakins was an American realist painter, photographer, sculptor, and fine arts educator...
,
Winslow Homer
Winslow Homer
Winslow Homer was an American landscape painter and printmaker, best known for his marine subjects. He is considered one of the foremost painters in 19th century America and a preeminent figure in American art....
,
Georgia O'Keeffe
Georgia O'Keeffe
Georgia Totto O'Keeffe was an American artist.Born near Sun Prairie, Wisconsin, O'Keeffe first came to the attention of the New York art community in 1916, several decades before women had gained access to art training in America's colleges and universities, and before any of its women artists...
,
John Singer Sargent
John Singer Sargent
John Singer Sargent was an American artist, considered the "leading portrait painter of his generation" for his evocations of Edwardian era luxury. During his career, he created roughly 900 oil paintings and more than 2,000 watercolors, as well as countless sketches and charcoal drawings...
,
Charles Demuth
Charles Demuth
Charles Demuth was an American watercolorist who turned to oils late in his career, developing a style of painting known as Precisionism....
,
Martin Johnson Heade
Martin Johnson Heade
Martin Johnson Heade was a prolific American painter known for his salt marsh landscapes, seascapes, portraits of tropical birds, and still lifes...
and
Alfred Stieglitz
Alfred Stieglitz
Alfred Stieglitz was an American photographer and modern art promoter who was instrumental over his fifty-year career in making photography an accepted art form...
. The museum also possesses one of the premier collections of American photography in the nation, comprising more than 30,000 exhibition prints by some 400 photographers. The photography collection also includes the work and archives of several notable American photographers, including
Laura Gilpin
Laura Gilpin
Laura Gilpin was an American photographer known for her photographs of Native Americans, particularly the Navajo and Pueblo, and her Southwestern landscapes.-Life:...
,
Eliot Porter
Eliot Porter
Eliot Furness Porter was an American photographer best known for his color photographs of nature.-Early life:...
, and
Karl Struss
Karl Struss
Karl Struss, A.S.C. was a photographer and a cinematographer of the 1920s through the 1950s. He was also one of the earliest pioneers of 3-D films. While he mostly worked on films, he was also one of the cinematographers for the television series Broken Arrow.He was born in New York, New York and...
. The museum continues to collect American art and produce related programs, publications, and exhibitions.
Philip Johnson
Philip Johnson
Philip Cortelyou Johnson was an influential American architect.In 1930, he founded the Department of Architecture and Design at the Museum of Modern Art in New York City, and later , as a trustee, he was awarded an American Institute of Architects Gold Medal and the first Pritzker Architecture...
, the museum's original architect, designed and completed the building's most recent expansion in 2001.
External links