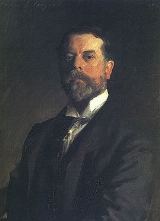 John Singer Sargent
John Singer Sargent
was an American artist, considered the "leading portrait painter of his generation" for his evocations of Edwardian era luxury. During his career, he created roughly 900 oil paintings and more than 2,000 watercolors, as well as countless sketches and charcoal drawings. His
oeuvre
documents worldwide travel, from Venice to the Tyrol, Corfu, the Middle East, Montana, Maine, and Florida.
An American expatriate who was trained in Paris prior to moving to London, Sargent enjoyed international acclaim as a portrait painter, though not without controversy and some critical reservation; an early submission to the
Paris Salon
Paris Salon
The Salon , or rarely Paris Salon , beginning in 1725 was the official art exhibition of the Académie des Beaux-Arts in Paris, France. Between 1748–1890 it was the greatest annual or biannual art event in the Western world...
, his
Portrait of Madame X
Portrait of Madame X
Madame X or Portrait of Madame X is the informal title of a portrait painting by John Singer Sargent of a young socialite named Virginie Amélie Avegno Gautreau, wife of Pierre Gautreau. The model was an American expatriate who married a French banker, and became notorious in Parisian high society...
was intended to consolidate his position as a society painter, but it resulted in scandal instead.
Every time I paint a portrait I lose a friend.

Quoted in Bentley and Esar, Treasury of Humorous Quotations (1951)