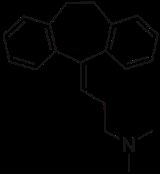 Amitriptyline
Amitriptyline
is a
tricyclic antidepressant
Tricyclic antidepressant
Tricyclic antidepressants are heterocyclic chemical compounds used primarily as antidepressants. The TCAs were first discovered in the early 1950s and were subsequently introduced later in the decade; they are named after their chemical structure, which contains three rings of atoms...
(TCA). It is the most widely used TCA and has at least equal efficacy against depression as the newer class of SSRIs. As well as reducing depressive symptoms, these type of tricyclics also aid migraines, tension headaches, anxiety attacks and some schizophrenic symptoms.
Medical uses
Amitriptyline is used for a number of medical conditions including: depressive disorders, anxiety disorders, attention deficit hyperactivity disorder,
migraine
Migraine
Migraine is a chronic neurological disorder characterized by moderate to severe headaches, and nausea...
prophylaxis, eating disorders,
bipolar disorder
Bipolar disorder
Bipolar disorder or bipolar affective disorder, historically known as manic–depressive disorder, is a psychiatric diagnosis that describes a category of mood disorders defined by the presence of one or more episodes of abnormally elevated energy levels, cognition, and mood with or without one or...
, post herpetic neuralgia, and
insomnia
Insomnia
Insomnia is most often defined by an individual's report of sleeping difficulties. While the term is sometimes used in sleep literature to describe a disorder demonstrated by polysomnographic evidence of disturbed sleep, insomnia is often defined as a positive response to either of two questions:...
.
Amitriptyline is used in
ankylosing spondylitis
Ankylosing spondylitis
Ankylosing spondylitis , previously known as Bekhterev's disease, Bekhterev syndrome, and Marie-Strümpell disease is a chronic inflammatory disease of the axial skeleton with variable involvement of peripheral joints and nonarticular structures...
for
pain
Pain
Pain is an unpleasant sensation often caused by intense or damaging stimuli such as stubbing a toe, burning a finger, putting iodine on a cut, and bumping the "funny bone."...
relief. It is also used as a preventive for patients with recurring
biliary dyskinesia
Biliary dyskinesia
Biliary dyskinesia refers to altered tonus of the sphincter of Oddi , disturbance in the coordination of contraction of the biliary ducts, and/or reduction in the speed of emptying of the biliary tree....
(
sphincter of Oddi
Sphincter of Oddi
The sphincter of ampulla or sphincter of Oddi is a muscular valve that controls the flow of digestive juices through the ampulla of Vater into the second part of the duodenum. It is named after Ruggero Oddi...
dysfunction).
Amitriptyline is also used in the treatment of nocturnal enuresis in children.
Amitriptyline may be prescribed for other conditions such as
post-traumatic stress disorder
Post-traumatic stress disorder
Posttraumaticstress disorder is a severe anxiety disorder that can develop after exposure to any event that results in psychological trauma. This event may involve the threat of death to oneself or to someone else, or to one's own or someone else's physical, sexual, or psychological integrity,...
(PTSD),
chronic pain
Chronic pain
Chronic pain has several different meanings in medicine. Traditionally, the distinction between acute and chronic pain has relied upon an arbitrary interval of time from onset; the two most commonly used markers being 3 months and 6 months since the initiation of pain, though some theorists and...
,
tinnitus
Tinnitus
Tinnitus |ringing]]") is the perception of sound within the human ear in the absence of corresponding external sound.Tinnitus is not a disease, but a symptom that can result from a wide range of underlying causes: abnormally loud sounds in the ear canal for even the briefest period , ear...
, chronic cough,
carpal tunnel syndrome
Carpal tunnel syndrome
Carpal Tunnel Syndrome is an entrapment idiopathic median neuropathy, causing paresthesia, pain, and other symptoms in the distribution of the median nerve due to its compression at the wrist in the carpal tunnel. The pathophysiology is not completely understood but can be considered compression...
(CTS),
fibromyalgia
Fibromyalgia
Fibromyalgia is a medical disorder characterized by chronic widespread pain and allodynia, a heightened and painful response to pressure. It is an example of a diagnosis of exclusion...
,
vulvodynia
Vulvodynia
Vulvodynia is a chronic pain syndrome that affects the vulvar area and occurs without an identifiable cause or visible pathology categorized in the ICD-9 group 625—specifically ICD-9 625.7, which is for pain and other disorders of the female genital organs...
,
interstitial cystitis
Interstitial cystitis
Interstitial cystitis or bladder pain syndrome is a chronic, oftentimes severely debilitating disease of the urinary bladder...
, male chronic pelvic pain syndrome,
irritable bowel syndrome
Irritable bowel syndrome
Irritable bowel syndrome is a diagnosis of exclusion. It is a functional bowel disorder characterized by chronic abdominal pain, discomfort, bloating, and alteration of bowel habits in the absence of any detectable organic cause. In some cases, the symptoms are relieved by bowel movements...
(IBS),
diabetic peripheral neuropathy
Diabetic neuropathy
Diabetic neuropathies are neuropathic disorders that are associated with diabetes mellitus. These conditions are thought to result from diabetic microvascular injury involving small blood vessels that supply nerves in addition to macrovascular conditions that can culminate in diabetic neuropathy...
, neurological pain, laryngeal sensory neuropathy, chronic fatigue syndrom and painful
paresthesia
Paresthesia
Paresthesia , spelled "paraesthesia" in British English, is a sensation of tingling, burning, pricking, or numbness of a person's skin with no apparent long-term physical effect. It is more generally known as the feeling of "pins and needles" or of a limb "falling asleep"...
s related to
multiple sclerosis
Multiple sclerosis
Multiple sclerosis is an inflammatory disease in which the fatty myelin sheaths around the axons of the brain and spinal cord are damaged, leading to demyelination and scarring as well as a broad spectrum of signs and symptoms...
. Typically lower dosages are required for pain modification of 10 to 50 mg daily.
A
randomized controlled trial
Randomized controlled trial
A randomized controlled trial is a type of scientific experiment - a form of clinical trial - most commonly used in testing the safety and efficacy or effectiveness of healthcare services or health technologies A randomized controlled trial (RCT) is a type of scientific experiment - a form of...
published in June 2005 found that amitriptyline was effective in functional dyspepsia that did not respond to a first-line treatment (
famotidine
Famotidine
Famotidine is a histamine H2-receptor antagonist that inhibits stomach acid production, and it is commonly used in the treatment of peptic ulcer disease and gastroesophageal reflux disease . It is commonly marketed by Johnson & Johnson/Merck under the trade names Pepcidine and Pepcid and by...
or
mosapride
Mosapride
Mosapride is a gastroprokinetic agent that acts as a selective 5HT4 agonist which accelerates gastric emptying and is used for the treatment of acid reflux, irritable bowel syndrome and functional dyspepsia....
).
Adverse effects
The main two side effects that occur from taking amitriptyline are drowsiness and a dry mouth. Other common
side effects
Adverse drug reaction
An adverse drug reaction is an expression that describes harm associated with the use of given medications at a normal dosage. ADRs may occur following a single dose or prolonged administration of a drug or result from the combination of two or more drugs...
of using amitriptyline are mostly due to its
anticholinergic
Anticholinergic
An anticholinergic agent is a substance that blocks the neurotransmitter acetylcholine in the central and the peripheral nervous system. An example of an anticholinergic is dicycloverine, and the classic example is atropine....
activity, including: weight gain, changes in appetite, muscle stiffness, nausea, constipation, nervousness, dizziness, blurred vision, urinary retention,
insomnia
Insomnia
Insomnia is most often defined by an individual's report of sleeping difficulties. While the term is sometimes used in sleep literature to describe a disorder demonstrated by polysomnographic evidence of disturbed sleep, insomnia is often defined as a positive response to either of two questions:...
and changes in sexual function. Some rare side effects include seizures,
tinnitus
Tinnitus
Tinnitus |ringing]]") is the perception of sound within the human ear in the absence of corresponding external sound.Tinnitus is not a disease, but a symptom that can result from a wide range of underlying causes: abnormally loud sounds in the ear canal for even the briefest period , ear...
,
hypotension
Hypotension
In physiology and medicine, hypotension is abnormally low blood pressure, especially in the arteries of the systemic circulation. It is best understood as a physiologic state, rather than a disease. It is often associated with shock, though not necessarily indicative of it. Hypotension is the...
,
mania
Mania
Mania, the presence of which is a criterion for certain psychiatric diagnoses, is a state of abnormally elevated or irritable mood, arousal, and/ or energy levels. In a sense, it is the opposite of depression...
,
psychosis
Psychosis
Psychosis means abnormal condition of the mind, and is a generic psychiatric term for a mental state often described as involving a "loss of contact with reality"...
,
sleep paralysis
Sleep paralysis
Sleep paralysis is paralysis associated with sleep that may occur in healthy persons or may be associated with narcolepsy, cataplexy, and hypnagogic hallucinations. The pathophysiology of this condition is closely related to the normal hypotonia that occurs during REM sleep. When considered to be a...
,
hypnagogia
Hypnagogia
Hypnagogia is the transitional state between wakefulness and sleep , originally coined in adjectival form as "hypnagogic" by Alfred Maury....
, hypnopompia,
heart block
Heart block
A heart block can be a blockage at any level of the electrical conduction system of the heart .* Blocks that occur within the sinoatrial node are described as SA nodal blocks....
, arrhythmias, lip and mouth ulcers,
extrapyramidal symptoms
Extrapyramidal symptoms
The extrapyramidal system can be affected in a number of ways, which are revealed in a range of extrapyramidal symptoms , also known as extrapyramidal side-effects , such as akinesia and akathisia .Extrapyramidal symptoms are various movement disorders such as acute dystonic reactions,...
,
depression
Clinical depression
Major depressive disorder is a mental disorder characterized by an all-encompassing low mood accompanied by low self-esteem, and by loss of interest or pleasure in normally enjoyable activities...
, tingling pain or numbness in the feet or hands, yellowing of the eyes or skin, pain or difficulty passing urine, confusion, abnormal production of milk in females, breast enlargement in both males and females, fever with increased sweating, and suicidal thoughts. The Indianapolis Discovery Network for Dementia (IDND) rates Amitriptyline as having definite 'Anticholinergic Effects'. A side effect of many commonly used drugs with such effects appears to be to increase the risks of both cognitive impairment and death in older people, according to new research led by the
University of East Anglia
University of East Anglia
The University of East Anglia is a public research university based in Norwich, United Kingdom. It was established in 1963, and is a founder-member of the 1994 Group of research-intensive universities.-History:...
(UEA).
Amitriptyline can induce
hepatotoxicity
Hepatotoxicity
Hepatotoxicity implies chemical-driven liver damage.The liver plays a central role in transforming and clearing chemicals and is susceptible to the toxicity from these agents. Certain medicinal agents, when taken in overdoses and sometimes even when introduced within therapeutic ranges, may injure...
.
Overdose
The symptoms and the treatment of an overdose are largely the same as for the other TCAs. However, the
British National Formulary
British National Formulary
The British National Formulary is a medical and pharmaceutical reference book that contains a wide spectrum of information and advice on prescribing and pharmacology, along with specific facts and details about all medicines available on the National Health Service , including indication,...
notes that amitryptyline is particularly dangerous in overdose, and thus does not recommend its use in depression.
Pharmacology
Amitriptyline acts primarily as a
serotonin-norepinephrine reuptake inhibitor
Serotonin-norepinephrine reuptake inhibitor
Serotonin–norepinephrine reuptake inhibitors are a class of antidepressant drugs used in the treatment of major depression and other mood disorders...
, with strong actions on the
serotonin transporter
Serotonin transporter
The serotonin transporter is a monoamine transporter protein.This protein is an integral membrane protein that transports the neurotransmitter serotonin from synaptic spaces into presynaptic neurons. This transport of serotonin by the SERT protein terminates the action of serotonin and recycles it...
and moderate effects on the
norepinephrine transporter
Norepinephrine transporter
The norepinephrine transporter , also known as solute carrier family 6 member 2 , is a protein that in humans is encoded by the SLC6A2 gene....
. It has negligible influence on the
dopamine transporter
Dopamine transporter
The dopamine transporter is a membrane-spanning protein that pumps the neurotransmitter dopamine out of the synapse back into cytosol, from which other transporters sequester DA and NE into vesicles for later storage and release...
and therefore does not affect
dopamine
Dopamine
Dopamine is a catecholamine neurotransmitter present in a wide variety of animals, including both vertebrates and invertebrates. In the brain, this substituted phenethylamine functions as a neurotransmitter, activating the five known types of dopamine receptors—D1, D2, D3, D4, and D5—and their...
reuptake
Reuptake
Reuptake, or re-uptake, is the reabsorption of a neurotransmitter by a neurotransmitter transporter of a pre-synaptic neuron after it has performed its function of transmitting a neural impulse....
, being nearly 1,000 times weaker on it than on
serotonin
Serotonin
Serotonin or 5-hydroxytryptamine is a monoamine neurotransmitter. Biochemically derived from tryptophan, serotonin is primarily found in the gastrointestinal tract, platelets, and in the central nervous system of animals including humans...
.
Amitriptyline additionally functions as a
5-HT2A
5-HT2A receptor
The mammalian 5-HT2A receptor is a subtype of the 5-HT2 receptor that belongs to the serotonin receptor family and is a G protein-coupled receptor . This is the main excitatory receptor subtype among the GPCRs for serotonin , although 5-HT2A may also have an inhibitory effect on certain areas such...
,
5-HT2C
5-HT2C receptor
The 5-HT2C receptor is a subtype of 5-HT receptor that binds the endogenous neurotransmitter serotonin . It is a G protein-coupled receptor that is coupled to Gq/G11 and mediates excitatory neurotransmission. HTR2C denotes the human gene encoding for the receptor, that in humans is located at the...
,
5-HT6
5-HT6 receptor
The 5-HT6 receptor is a subtype of 5-HT receptor that binds the endogenous neurotransmitter serotonin . It is a G protein-coupled receptor that is coupled to Gs/Go and mediates excitatory neurotransmission. HTR6 denotes the human gene encoding for the receptor.-Distribution:The 5-HT6 receptor is...
,
5-HT7
5-HT7 receptor
The 5-HT7 receptor is a member of the GPCR superfamily of cell surface receptors and is activated by the neurotransmitter serotonin The 5-HT7 receptor is coupled to Gs and is expressed in a variety of human tissues, particularly in the brain, the gastrointestinal tract, and in various...
,
α1-adrenergic
Alpha-1 adrenergic receptor
The alpha-1 adrenergic receptor is a G protein-coupled receptor associated with the Gq heterotrimeric G-protein. It consists of three highly homologous subtypes, including α1A-, α1B-, and α1D-adrenergic...
,
H1
H1 receptor
The H1 receptor is a histamine receptor belonging to the family of Rhodopsin like G-protein-coupled receptors. This receptor, which is activated by the biogenic amine histamine, is expressed throughout the body, to be specific, in smooth muscles, on vascular endothelial cells, in the heart, and in...
,
H2
H2 receptor
H2 receptors are positively coupled to adenylate cyclase via Gs. It is a potent stimulant of cAMP production. It increases the intracellular Ca2+ concentrations and release Ca2+ from intracellular stores...
,
H4
H4 receptor
The histamine H4 receptor is, like the other three histamine receptors, a member of the G protein-coupled receptor superfamily.-Tissue distribution:...
, and
mACh receptor
Muscarinic acetylcholine receptor
Muscarinic receptors, or mAChRs, are acetylcholine receptors that form G protein-coupled in the plasma membranes of certain neurons and other cells...
antagonist
Receptor antagonist
A receptor antagonist is a type of receptor ligand or drug that does not provoke a biological response itself upon binding to a receptor, but blocks or dampens agonist-mediated responses...
, and
σ1 receptor
Sigma-1 receptor
The sigma-1 receptor is a chaperone protein at the endoplasmatic reticulum that modulates calcium signaling through the IP3 receptor. In humans, the sigma-1 receptor is encoded by the SIGMAR1 gene....
agonist
Agonist
An agonist is a chemical that binds to a receptor of a cell and triggers a response by that cell. Agonists often mimic the action of a naturally occurring substance...
. It has also been shown to be a relatively weak
NMDA receptor
NMDA receptor
The NMDA receptor , a glutamate receptor, is the predominant molecular device for controlling synaptic plasticity and memory function....
negative allosteric modulator
NMDA receptor antagonist
NMDA receptor antagonists are a class of anesthetics that work to antagonize, or inhibit the action of, the N-methyl d-aspartate receptor . They are used as anesthesia for animals and, less commonly, for humans; the state of anesthesia they induce is referred to as dissociative anesthesia...
at the same
binding site
Binding site
In biochemistry, a binding site is a region on a protein, DNA, or RNA to which specific other molecules and ions—in this context collectively called ligands—form a chemical bond...
as
phencyclidine
Phencyclidine
Phencyclidine , commonly initialized as PCP and known colloquially as angel dust, is a recreational dissociative drug...
. Amitriptyline inhibits sodium channels,
L-type calcium channel
L-type calcium channel
The L-type calcium channel is a type of voltage-dependent calcium channel. "L" stands for long-lasting referring to the length of activation. Like the others of this class, the α1 subunit is the one that determines most of the channel's properties....
s, and K
v
1.1, K
v
7.2, and K
v
7.3
voltage-gated potassium channel
Voltage-gated potassium channel
Voltage-gated potassium channels are transmembrane channels specific for potassium and sensitive to voltage changes in the cell's membrane potential. During action potentials, they play a crucial role in returning the depolarized cell to a resting state....
s, and therefore acts as a
sodium
Sodium channel blocker
Sodium channel blockers are agents that impair conduction of sodium ions through sodium channels.-Extracellular:The following naturally produced substances block sodium channels by binding to and occluding the extracellular pore opening of the channel:...
,
calcium
Calcium channel blocker
A calcium channel blocker is a chemical that disrupts the movement of calcium through calcium channels.CCB drugs devised to target neurons are used as antiepileptics. However, the most widespread clinical usage of calcium channel blockers is to decrease blood pressure in patients with...
, and
potassium
Potassium channel blocker
Potassium channel blockers are agents which interfere with conduction through potassium channels.-Arrhythmia:Potassium channel blockers used in the treatment of cardiac arrhythmia are classified as class III antiarrhythmic agents.-Mechanism:...
channel blocker
Channel blocker
A channel blocker or ion channel blocker is a type of drug which binds inside the pore of a specific type of ion channel and blocks the flow of ions through it, resulting in an alteration of the electrochemical gradient of the cell membrane of neurons and therefore a change in...
as well.
Recently, amitriptyline has been demonstrated to act as an
agonist
Agonist
An agonist is a chemical that binds to a receptor of a cell and triggers a response by that cell. Agonists often mimic the action of a naturally occurring substance...
of the
TrkA
TrkA
High affinity nerve growth factor receptor also known as neurotrophic tyrosine kinase receptor type 1 or TRK1-transforming tyrosine kinase protein or Trk-A is a protein that in humans is encoded by the NTRK1 gene....
and
TrkB receptor
TrkB
TrkB receptor also known as TrkB tyrosine kinase or BDNF/NT-3 growth factors receptor or neurotrophic tyrosine kinase, receptor, type 2 is a protein that in humans is encoded by the NTRK2 gene.-Function:...
s. It promotes the heterodimerization of these
protein
Protein
Proteins are biochemical compounds consisting of one or more polypeptides typically folded into a globular or fibrous form, facilitating a biological function. A polypeptide is a single linear polymer chain of amino acids bonded together by peptide bonds between the carboxyl and amino groups of...
s in the absence of
NGF
Nerve growth factor
Nerve growth factor is a small secreted protein that is important for the growth, maintenance, and survival of certain target neurons . It also functions as a signaling molecule. It is perhaps the prototypical growth factor, in that it is one of the first to be described...
and has potent neurotrophic activity both in-vivo and in-vitro in mouse models. These are the same receptors
BDNF
Brain-derived neurotrophic factor
Brain-derived neurotrophic factor, also known as BDNF, is a protein that, in humans, is encoded by the BDNF gene. BDNF is a member of the "neurotrophin" family of growth factors, which are related to the canonical "Nerve Growth Factor", NGF...
activate, an
endogenous
Endogenous
Endogenous substances are those that originate from within an organism, tissue, or cell. Endogenous retroviruses are caused by ancient infections of germ cells in humans, mammals and other vertebrates...
neurotrophin
Neurotrophin
Neurotrophins are a family of proteins that induce the survival, development, and function of neurons.They belong to a class of growth factors, secreted proteins that are capable of signaling particular cells to survive, differentiate, or grow. Growth factors such as neurotrophins that promote the...
with powerful antidepressant effects, and as such this property may contribute significantly to its therapeutic efficacy against depression.
History
Amitriptyline, under the brand name
Elavil
, was developed by
Merck
Merck & Co.
Merck & Co., Inc. , also known as Merck Sharp & Dohme or MSD outside the United States and Canada, is one of the largest pharmaceutical companies in the world. The Merck headquarters is located in Whitehouse Station, New Jersey, an unincorporated area in Readington Township...
and approved by the
FDA
Food and Drug Administration
The Food and Drug Administration is an agency of the United States Department of Health and Human Services, one of the United States federal executive departments...
on April 7, 1961, for the treatment of major depression in the United States.
Further reading