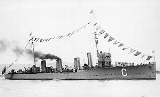 Almirante Lynch
The
Almirante Lynch
was a
destroyer
Destroyer
In naval terminology, a destroyer is a fast and maneuverable yet long-endurance warship intended to escort larger vessels in a fleet, convoy or battle group and defend them against smaller, powerful, short-range attackers. Destroyers, originally called torpedo-boat destroyers in 1892, evolved from...
in service with the
Chilean Navy
Chilean Navy
-Independence Wars of Chile and Peru :The Chilean Navy dates back to 1817. A year before, following the Battle of Chacabuco, General Bernardo O'Higgins prophetically declared "this victory and another hundred shall be of no significance if we do not gain control of the sea".This led to the...
through
World War I
World War I
World War I , which was predominantly called the World War or the Great War from its occurrence until 1939, and the First World War or World War I thereafter, was a major war centred in Europe that began on 28 July 1914 and lasted until 11 November 1918...
and
World War II
World War II
World War II, or the Second World War , was a global conflict lasting from 1939 to 1945, involving most of the world's nations—including all of the great powers—eventually forming two opposing military alliances: the Allies and the Axis...
. She was named after Admiral
Patricio Lynch
Patricio Lynch
Patricio Javier de los Dolores Lynch y Solo de Zaldívar was a Lieutenant in the Royal Navy and a Rear Admiral in the Chilean navy, and one of the principal figures of the later stages of the War of the Pacific...
, Chilean sailor, hero of the
War of the Pacific
War of the Pacific
The War of the Pacific took place in western South America from 1879 through 1883. Chile fought against Bolivia and Peru. Despite cooperation among the three nations in the war against Spain, disputes soon arose over the mineral-rich Peruvian provinces of Tarapaca, Tacna, and Arica, and the...
.
The
Chile
Chile
Chile ,officially the Republic of Chile , is a country in South America occupying a long, narrow coastal strip between the Andes mountains to the east and the Pacific Ocean to the west. It borders Peru to the north, Bolivia to the northeast, Argentina to the east, and the Drake Passage in the far...
an Navy ordered six ships from
J. Samuel White
J. Samuel White
J. Samuel White was a British shipbuilding firm based in Cowes, taking its name from John Samuel White . It came to prominence during the Victorian era...
in 1911. These destroyers were larger and more powerful that contemporary British destroyers. The
Lynch
was built by the
United Kingdom
United Kingdom
The United Kingdom of Great Britain and Northern IrelandIn the United Kingdom and Dependencies, other languages have been officially recognised as legitimate autochthonous languages under the European Charter for Regional or Minority Languages...
as part of a six ship class of s, of which only two were delivered before the outbreak of war, and served in the Chilean Navy until 1945 (the
Lynch
was the sister ship to the .)