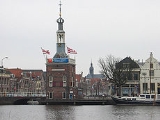 Alkmaar
Alkmaar
ˈɑlk.maːr is a municipality and a city in the
Netherlands
Netherlands
The Netherlands is a constituent country of the Kingdom of the Netherlands, located mainly in North-West Europe and with several islands in the Caribbean. Mainland Netherlands borders the North Sea to the north and west, Belgium to the south, and Germany to the east, and shares maritime borders...
, in the province of
Noord Holland
North Holland
North Holland |West Frisian]]: Noard-Holland) is a province situated on the North Sea in the northwest part of the Netherlands. The provincial capital is Haarlem and its largest city is Amsterdam.-Geography:...
. Alkmaar is well known for its traditional cheese market. For tourists, it is a popular cultural destination.
The earliest mention of the name Alkmaar is in a 10th-century document. As the village grew into a town, it was granted
city rights
City rights in the Netherlands
City rights are a medieval phenomenon in the history of the Low Countries. A liegelord, usually a count, duke or similar member of high nobility, granted a settlement he owned certain town privileges that settlements without city rights did not have....
in 1254. The oldest part of Alkmaar lies on an ancient sand bank that afforded some protection from the sea during medieval times.