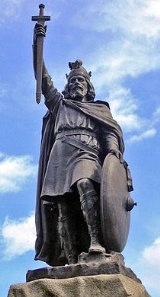 Alfred the Great
Alfred the Great was King of
Wessex
Wessex
The Kingdom of Wessex or Kingdom of the West Saxons was an Anglo-Saxon kingdom of the West Saxons, in South West England, from the 6th century, until the emergence of a united English state in the 10th century, under the Wessex dynasty. It was to be an earldom after Canute the Great's conquest...
from 871 to 899.
Alfred is noted for his defence of the
Anglo-Saxon
Anglo-Saxon
Anglo-Saxon may refer to:* Anglo-Saxons, a group that invaded Britain** Old English, their language** Anglo-Saxon England, their history, one of various ships* White Anglo-Saxon Protestant, an ethnicity* Anglo-Saxon economy, modern macroeconomic term...
kingdoms of southern England against the Vikings, becoming the only
English
English people
The English are a nation and ethnic group native to England, who speak English. The English identity is of early mediaeval origin, when they were known in Old English as the Anglecynn. England is now a country of the United Kingdom, and the majority of English people in England are British Citizens...
monarch still to be accorded the
epithet
Epithet
An epithet or byname is a descriptive term accompanying or occurring in place of a name and having entered common usage. It has various shades of meaning when applied to seemingly real or fictitious people, divinities, objects, and binomial nomenclature. It is also a descriptive title...
"the Great". Alfred was the first
King of the West Saxons
to style himself "King of the Anglo-Saxons". Details of his life are described in a work by the
10th century
10th century in England
Events from the 10th century in the Kingdom of England.-Events:* 902** Irish Norsemen, expelled from Dublin, establish colonies on The Wirral.* 910–920** Edward the Elder, King of Wessex, and Æthelflæd, ruler of Mercia, conquer most of the Danelaw....
Welsh
Welsh people
The Welsh people are an ethnic group and nation associated with Wales and the Welsh language.John Davies argues that the origin of the "Welsh nation" can be traced to the late 4th and early 5th centuries, following the Roman departure from Britain, although Brythonic Celtic languages seem to have...
scholar and bishop
Asser
Asser
Asser was a Welsh monk from St David's, Dyfed, who became Bishop of Sherborne in the 890s. About 885 he was asked by Alfred the Great to leave St David's and join the circle of learned men whom Alfred was recruiting for his court...
.