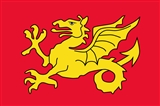 Wessex
The
Kingdom of Wessex
or
Kingdom of the West Saxons
was an
Anglo-Saxon
Anglo-Saxon
Anglo-Saxon may refer to:* Anglo-Saxons, a group that invaded Britain** Old English, their language** Anglo-Saxon England, their history, one of various ships* White Anglo-Saxon Protestant, an ethnicity* Anglo-Saxon economy, modern macroeconomic term...
kingdom of the West
Saxons
Saxons
The Saxons were a confederation of Germanic tribes originating on the North German plain. The Saxons earliest known area of settlement is Northern Albingia, an area approximately that of modern Holstein...
, in
South West England
South West England
South West England is one of the regions of England defined by the Government of the United Kingdom for statistical and other purposes. It is the largest such region in area, covering and comprising Bristol, Gloucestershire, Somerset, Dorset, Wiltshire, Devon, Cornwall and the Isles of Scilly. ...
, from the 6th century, until the emergence of a united English state in the 10th century, under the Wessex dynasty. It was to be an earldom after
Canute the Great
Canute the Great
Cnut the Great , also known as Canute, was a king of Denmark, England, Norway and parts of Sweden. Though after the death of his heirs within a decade of his own and the Norman conquest of England in 1066, his legacy was largely lost to history, historian Norman F...
's conquest of 1016, from 1020 to 1066. After the
Norman Conquest
Norman conquest of England
The Norman conquest of England began on 28 September 1066 with the invasion of England by William, Duke of Normandy. William became known as William the Conqueror after his victory at the Battle of Hastings on 14 October 1066, defeating King Harold II of England...
there was a dissolution of the English earldoms, and Wessex was split among the followers of William the Conqueror.
According to the
Anglo-Saxon Chronicle
Anglo-Saxon Chronicle
The Anglo-Saxon Chronicle is a collection of annals in Old English chronicling the history of the Anglo-Saxons. The original manuscript of the Chronicle was created late in the 9th century, probably in Wessex, during the reign of Alfred the Great...
(ASC), Wessex was founded by
Cerdic
Cerdic of Wessex
Cerdic was probably the first King of Anglo-Saxon Wessex from 519 to 534, cited by the Anglo-Saxon Chronicle as the founder of the kingdom of Wessex and ancestor of all its subsequent kings...
and
Cynric
Cynric of Wessex
Cynric was King of Wessex from 534 to 560. Everything known about him comes from the Anglo-Saxon Chronicle. There he is stated to have been the son of Cerdic, and also to have been the son of Cerdic's son, Creoda...
, chieftains of a clan known as "
Gewisse
".