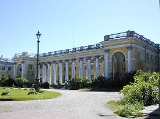 Alexander Palace
The
Alexander Palace
is a former imperial residence at
Tsarskoye Selo
Tsarskoye Selo
Tsarskoye Selo is the town containing a former Russian residence of the imperial family and visiting nobility, located south from the center of St. Petersburg. It is now part of the town of Pushkin and of the World Heritage Site Saint Petersburg and Related Groups of Monuments.-History:In...
, on a plateau around 30 minutes by train from St Petersburg. It is known as the favourite residence of the last Russian Emperor,
Nicholas II
Nicholas II of Russia
Nicholas II was the last Emperor of Russia, Grand Prince of Finland, and titular King of Poland. His official short title was Nicholas II, Emperor and Autocrat of All the Russias and he is known as Saint Nicholas the Passion-Bearer by the Russian Orthodox Church.Nicholas II ruled from 1894 until...
, and his family and their initial place of imprisonment after the revolution that overthrew the Romanov dynasty in early 1917. The Alexander Palace is situated in the Alexander Park, not far from the larger
Catherine Palace
Catherine Palace
The Catherine Palace was the Rococo summer residence of the Russian tsars, located in the town of Tsarskoye Selo , 25 km south-east of St. Petersburg, Russia.- History :...
. Today it is undergoing renovation as a museum housing relics of the former imperial dynasty.
The Alexander Palace was constructed in the Imperial retreat of Tsarskoe Selo.
It was commissioned by Catherine the Great for her favorite grandson, Grand Duke Alexander Pavlovich, the future emperor
Alexander I of Russia
Alexander I of Russia
Alexander I of Russia , served as Emperor of Russia from 23 March 1801 to 1 December 1825 and the first Russian King of Poland from 1815 to 1825. He was also the first Russian Grand Duke of Finland and Lithuania....
on the occasion of his marriage to Grand Duchess Elizaveeta Alexeevna, born Princess Luise Marie Augusta of Baden.
The
Neoclassical
Neoclassicism
Neoclassicism is the name given to Western movements in the decorative and visual arts, literature, theatre, music, and architecture that draw inspiration from the "classical" art and culture of Ancient Greece or Ancient Rome...
edifice was planned by
Giacomo Quarenghi
Giacomo Quarenghi
Giacomo Quarenghi was the foremost and most prolific practitioner of Palladian architecture in Imperial Russia, particularly in Saint Petersburg.- Career in Italy :...
and built between 1792 and 1796.