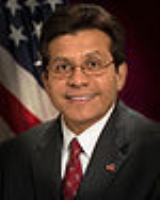 Alberto Gonzales
Alberto R. Gonzales
was the 80th
Attorney General
United States Attorney General
The United States Attorney General is the head of the United States Department of Justice concerned with legal affairs and is the chief law enforcement officer of the United States government. The attorney general is considered to be the chief lawyer of the U.S. government...
of the
United States
United States
The United States of America is a federal constitutional republic comprising fifty states and a federal district...
. Gonzales was appointed to the post in February 2005 by President
George W. Bush
George W. Bush
George Walker Bush is an American politician who served as the 43rd President of the United States, from 2001 to 2009. Before that, he was the 46th Governor of Texas, having served from 1995 to 2000....
. Gonzales was the first Hispanic Attorney General in U.S. history and the highest-ranking Hispanic government official ever. He is the only lawyer in the nation's history to serve as both White House Counsel and Attorney General of the United States. While Bush was
Governor of Texas
Governor of Texas
The governor of Texas is the head of the executive branch of Texas's government and the commander-in-chief of the state's military forces. The governor has the power to either approve or veto bills passed by the Texas Legislature, and to convene the legislature...
, Gonzales had served as his general counsel, and subsequently he served as
Secretary of State of Texas
Secretary of State of Texas
The Secretary of State of Texas is one of six state officials designated by the Texas Constitution to form the executive department of that U.S. state...
and then on the
Texas Supreme Court
Texas Supreme Court
The Supreme Court of Texas is the court of last resort for non-criminal matters in the state of Texas. A different court, the Texas Court of Criminal Appeals, is the court of last resort for criminal matters.The Court is composed of a Chief Justice and eight Associate Justices...
.
America is my home — I believe in her promise and I will do what I can to secure that promise for future generations of our children. America is great — not because of our military might or our economic strength — but because of the greatness of Americans, and I welcome the opportunity to stand shoulder to shoulder, side by side with all of you to preserve our heritage rich in "liberty and justice for all."

Remarks at his installation as Attorney General
To achieve victory at the cost of eroding civil liberties would not really be a victory. We cannot change the core identity of our Nation and claim success. And our identity has never been in doubt — we are a free people, dedicated to liberty for the popular and the unpopular, committed to the ideal that the People govern themselves, and determined to have a government that cannot extinguish or suppress the rights that make us Americans.