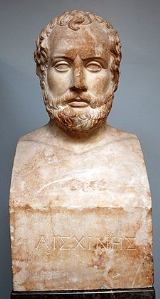 Aeschines
Aeschines
was a
Greek
Ancient Greece
Ancient Greece is a civilization belonging to a period of Greek history that lasted from the Archaic period of the 8th to 6th centuries BC to the end of antiquity. Immediately following this period was the beginning of the Early Middle Ages and the Byzantine era. Included in Ancient Greece is the...
statesman
Statesman
A statesman is usually a politician or other notable public figure who has had a long and respected career in politics or government at the national and international level. As a term of respect, it is usually left to supporters or commentators to use the term...
and one of the ten
Attic orators
Attic orators
The ten Attic orators were considered the greatest orators and logographers of the classical era . They are included in the "Alexandrian Canon" compiled by Aristophanes of Byzantium and Aristarchus of Samothrace.-The Alexandrian "Canon of Ten":* Aeschines* Andocides* Antiphon* Demosthenes*...
.
Although it is known he was born in
Athens
Athens
Athens , is the capital and largest city of Greece. Athens dominates the Attica region and is one of the world's oldest cities, as its recorded history spans around 3,400 years. Classical Athens was a powerful city-state...
, the records regarding his parentage and early life are conflicting; but it seems probable that his parents, though poor, were respectable. Aeschines' father was Atrometus, an elementary school teacher of letters. His mother Glaukothea assisted in the religious rites of initiation for the poor. After assisting his father in his school, he tried his hand at
acting
Acting
Acting is the work of an actor or actress, which is a person in theatre, television, film, or any other storytelling medium who tells the story by portraying a character and, usually, speaking or singing the written text or play....
with indifferent success, served with distinction in the
army
Army
An army An army An army (from Latin arma "arms, weapons" via Old French armée, "armed" (feminine), in the broadest sense, is the land-based military of a nation or state. It may also include other branches of the military such as the air force via means of aviation corps...
, and held several clerkships, amongst them the office of clerk to the
Boule

Boule (Ancient Greece)

In cities of ancient Greece, the boule meaning to will ) was a council of citizens appointed to run daily affairs of the city...


.
Among the campaigns that Aeschines participated in were Phlius in the
Peloponnese
Peloponnese
The Peloponnese, Peloponnesos or Peloponnesus , is a large peninsula , located in a region of southern Greece, forming the part of the country south of the Gulf of Corinth...
(368 BC),
Battle of Mantinea (362 BC)
Battle of Mantinea (362 BC)
The Battle of Mantinea was fought on July 4 362 BC between the Thebans, led by Epaminondas and supported by the Arcadians and the Boeotian league against the Spartans, led by King Agesilaus II and supported by the Eleans, Athenians, and Mantineans...
, and Phokion's campaign in Euboea (349 BC).