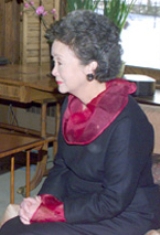 Adrienne Clarkson
Adrienne Louise Clarkson (née Adrienne Louise Poy, February 10, 1939) is a
Canadian
Canada
Canada is a North American country consisting of ten provinces and three territories. Located in the northern part of the continent, it extends from the Atlantic Ocean in the east to the Pacific Ocean in the west, and northward into the Arctic Ocean...
journalist and stateswoman who served as
Governor General of Canada
Governor General of Canada
The Governor General of Canada is the federal viceregal representative of the Canadian monarch, Queen Elizabeth II...
, the 26th since
Canadian Confederation
Canadian Confederation
Canadian Confederation was the process by which the federal Dominion of Canada was formed on July 1, 1867. On that day, three British colonies were formed into four Canadian provinces...
.
Clarkson arrived in Canada with her family in 1941 as a
refugee
Refugee
A refugee is a person who outside her country of origin or habitual residence because she has suffered persecution on account of race, religion, nationality, political opinion, or because she is a member of a persecuted 'social group'. Such a person may be referred to as an 'asylum seeker' until...
from
Hong Kong
Hong Kong
Hong Kong is one of two Special Administrative Regions of the People's Republic of China , the other being Macau. A city-state situated on China's south coast and enclosed by the Pearl River Delta and South China Sea, it is renowned for its expansive skyline and deep natural harbour...
and was raised in
Ottawa
Ottawa
Ottawa is the capital of Canada, the second largest city in the Province of Ontario, and the fourth largest city in the country. The city is located on the south bank of the Ottawa River in the eastern portion of Southern Ontario...
,
Ontario
Ontario
Ontario is a province of Canada, located in east-central Canada. It is Canada's most populous province and second largest in total area. It is home to the nation's most populous city, Toronto, and the nation's capital, Ottawa....
. After receiving a number of university degrees, Clarkson worked as a producer and broadcaster for the
Canadian Broadcasting Corporation
Canadian Broadcasting Corporation
The Canadian Broadcasting Corporation, commonly known as CBC and officially as CBC/Radio-Canada, is a Canadian crown corporation that serves as the national public radio and television broadcaster...
(CBC) and a journalist for various magazines.
Our problem with the U.S. is not insufficient access; it is debilitating dependence.

As a woman, I fear that the gradual Americanization of our society might mean that I could not get on a subway alone.

European countries are basically tribal. The French, Germans, and Italians are tribes... racism can arise in a country like that. ... We [Canadians] are not a tribe. We are a series, a group, a conglomeration of people. ... That is a positive thing in many ways.

I am above politics.

at Royal Military College of Canada commencement: You will be called upon to take your place in modern Canada and in the modern world.... You will also be called upon to lead...and a leader must stand for something. You must not only be aware of who you are. You must also be defined by what you do.