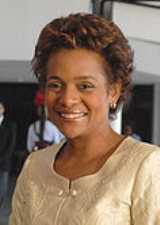 Governor General of Canada
The Governor General of Canada (
French
French language
French is a Romance language spoken as a first language in France, the Romandy region in Switzerland, Wallonia and Brussels in Belgium, Monaco, the regions of Quebec and Acadia in Canada, and by various communities elsewhere. Second-language speakers of French are distributed throughout many parts...
[masculine]:
Gouverneur général du Canada
, or [feminine]:
Gouverneure générale du Canada
) is the federal
viceregal
Viceroy
A viceroy is a royal official who runs a country, colony, or province in the name of and as representative of the monarch. The term derives from the Latin prefix vice-, meaning "in the place of" and the French word roi, meaning king. A viceroy's province or larger territory is called a viceroyalty...
representative of the Canadian monarch, Queen Elizabeth II. As the sovereign is shared equally with
15 other independent countries
Commonwealth Realm
A Commonwealth realm is a sovereign state within the Commonwealth of Nations that has Elizabeth II as its monarch and head of state. The sixteen current realms have a combined land area of 18.8 million km² , and a population of 134 million, of which all, except about two million, live in the six...
in a form of
personal union
Personal union
A personal union is the combination by which two or more different states have the same monarch while their boundaries, their laws and their interests remain distinct. It should not be confused with a federation which is internationally considered a single state...
, as well as with the
ten other jurisdictions of Canada
Canadian federalism
Canada is a federation with two distinct jurisdictions of political authority: the country-wide federal government and the ten regionally-based provincial governments. It also has three territorial governments in the far north, though these are subject to the federal government...
, and resides predominantly in her oldest realm, the
United Kingdom
United Kingdom
The United Kingdom of Great Britain and Northern IrelandIn the United Kingdom and Dependencies, other languages have been officially recognised as legitimate autochthonous languages under the European Charter for Regional or Minority Languages...
, she, on the
advice
Advice (constitutional)
Advice, in constitutional law, is formal, usually binding, instruction given by one constitutional officer of state to another. Especially in parliamentary systems of government, Heads of state often act on the basis of advice issued by prime ministers or other government ministers...
of her
Canadian prime minister
Prime Minister of Canada
The Prime Minister of Canada is the primary minister of the Crown, chairman of the Cabinet, and thus head of government for Canada, charged with advising the Canadian monarch or viceroy on the exercise of the executive powers vested in them by the constitution...
only, appoints the
governor general
Governor-General
A Governor-General, is a vice-regal person of a monarch in an independent realm or a major colonial circonscription. Depending on the political arrangement of the territory, a Governor General can be a governor of high rank, or a principal governor ranking above "ordinary" governors.- Current uses...
to carry out most of her constitutional and ceremonial duties for an unfixed period of time—known as serving
at Her Majesty's pleasure
At Her Majesty's pleasure
At Her Majesty's pleasure is a legal term of art derived from all legitimate authority for government stemming from the Crown. Originating from the United Kingdom, it is now used throughout the Commonwealth realms...
—though five years is the normal convention.