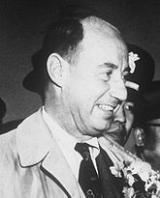 Adlai Stevenson
Adlai Ewing Stevenson II (ˈædleɪ; February 5, 1900 – July 14, 1965) was an
American politician
United States
The United States of America is a federal constitutional republic comprising fifty states and a federal district...
, noted for his intellectual demeanor, eloquent
oratory
Oratory
Oratory is a type of public speaking.Oratory may also refer to:* Oratory , a power metal band* Oratory , a place of worship* a religious order such as** Oratory of Saint Philip Neri ** Oratory of Jesus...
, and promotion of liberal causes in the
Democratic Party
Democratic Party (United States)
The Democratic Party is one of two major contemporary political parties in the United States, along with the Republican Party. The party's socially liberal and progressive platform is largely considered center-left in the U.S. political spectrum. The party has the lengthiest record of continuous...
. He served as the
31st Governor
of
Illinois
Illinois
Illinois is the fifth-most populous state of the United States of America, and is often noted for being a microcosm of the entire country. With Chicago in the northeast, small industrial cities and great agricultural productivity in central and northern Illinois, and natural resources like coal,...
, and received the Democratic Party's nomination for president in
1952
United States presidential election, 1952
The United States presidential election of 1952 took place in an era when Cold War tension between the United States and the Soviet Union was escalating rapidly. In the United States Senate, Republican Senator Joseph McCarthy of Wisconsin had become a national figure after chairing congressional...
and
1956
United States presidential election, 1956
The United States presidential election of 1956 saw a popular Dwight D. Eisenhower successfully run for re-election. The 1956 election was a rematch of 1952, as Eisenhower's opponent in 1956 was Democrat Adlai Stevenson, whom Eisenhower had defeated four years earlier.Incumbent President Eisenhower...
; both times he was defeated by Republican
Dwight D. Eisenhower
Dwight D. Eisenhower
Dwight David "Ike" Eisenhower was the 34th President of the United States, from 1953 until 1961. He was a five-star general in the United States Army...
. He sought the Democratic presidential nomination for a third time in the
election of 1960
United States presidential election, 1960
The United States presidential election of 1960 was the 44th American presidential election, held on November 8, 1960, for the term beginning January 20, 1961, and ending January 20, 1965. The incumbent president, Republican Dwight D. Eisenhower, was not eligible to run again. The Republican Party...
, but was defeated by Senator
John F. Kennedy
John F. Kennedy
John Fitzgerald "Jack" Kennedy , often referred to by his initials JFK, was the 35th President of the United States, serving from 1961 until his assassination in 1963....
of
Massachusetts
Massachusetts
The Commonwealth of Massachusetts is a state in the New England region of the northeastern United States of America. It is bordered by Rhode Island and Connecticut to the south, New York to the west, and Vermont and New Hampshire to the north; at its east lies the Atlantic Ocean. As of the 2010...
.
The whole notion of loyalty inquisitions is a national characteristic of the police state, not of democracy. The history of Soviet Russia is a modern example of this ancient practice. I must, in good conscience, protest against any unnecessary suppression of our rights as free men. We must not burn down the house to kill the rats.

Voicing opposition to the McCarran Internal Security Act|McCarran Internal Security Act of 1950
Communism is the corruption of a dream of justice.

Speech in Urbana Illinois (1951); as quoted in Adlai's Almanac: The Wit and Wisdom of Stevenson of Illinois (1952), p. 20
Laws are never as effective as habits.

Speech, New York City (28 August 1952)
Man does not live by words alone, despite the fact that sometimes he has to eat them.

Speech in Denver, Colorado (5 September 1952)
A hungry man is not a free man.

Speech in Kasson, Minnesota (6 September 1952)
Words calculated to catch everyone may catch no one.

Address to the Democratic National Convention, Chicago, Illinois. (21 July 1952); published in Speeches of Adlai Stevenson (1952)
What counts now is not just what we are against, but what we are for. Who leads us is less important than what leads us — what convictions, what courage, what faith — win or lose. A man doesn't save a century, or a civilization, but a militant party wedded to a principle can.

Address to the Democratic National Convention, Chicago, Illinois. (21 July 1952); published in Speeches of Adlai Stevenson (1952) p. 17