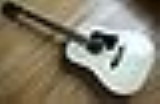 Acoustic guitar
An
acoustic guitar
is a
guitar
Guitar
The guitar is a plucked string instrument, usually played with fingers or a pick. The guitar consists of a body with a rigid neck to which the strings, generally six in number, are attached. Guitars are traditionally constructed of various woods and strung with animal gut or, more recently, with...
that uses only an acoustic sound board. The air in this cavity resonates with the vibrational modes of the string and at low frequencies, which depend on the size of the box, the chamber acts like a
Helmholtz resonator
Helmholtz resonance
Helmholtz resonance is the phenomenon of air resonance in a cavity, such as when one blows across the top of an empty bottle. The name comes from a device created in the 1850s by Hermann von Helmholtz, the "Helmholtz resonator", which he, the author of the classic study of acoustic science, used to...
, increasing or decreasing the volume of the sound again depending on whether the air in the box is moving in phase or out of phase with the strings. When in phase, the sound is increased by about 3 decibels and when in opposing phase, it is decreased about 3 decibels.