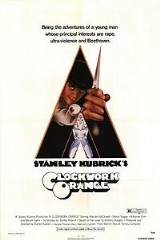 A Clockwork Orange (film)
A Clockwork Orange
is a 1971 film adaptation of
Anthony Burgess
Anthony Burgess
John Burgess Wilson – who published under the pen name Anthony Burgess – was an English author, poet, playwright, composer, linguist, translator and critic. The dystopian satire A Clockwork Orange is Burgess's most famous novel, though he dismissed it as one of his lesser works...
's 1962
novel of the same name
A Clockwork Orange
A Clockwork Orange is a 1962 dystopian novella by Anthony Burgess. The novel contains an experiment in language: the characters often use an argot called "Nadsat", derived from Russian....
. It was written, directed and produced by
Stanley Kubrick
Stanley Kubrick
Stanley Kubrick was an American film director, writer, producer, and photographer who lived in England during most of the last four decades of his career...
. It features disturbing, violent images, facilitating its social commentary on psychiatry, youth gangs, and other social, political, and economic subjects in a
dystopia
Dystopia
A dystopia is the idea of a society in a repressive and controlled state, often under the guise of being utopian, as characterized in books like Brave New World and Nineteen Eighty-Four...
n, future Britain.
Alex
Alex (A Clockwork Orange)
Alex is a fictional character in Anthony Burgess' novel A Clockwork Orange and the film adaptation, in which he is played by Malcolm McDowell. In this film adaption, Alex's surname is DeLarge, in relation to Alex's reference to himself as "Alexander the Large" in the novel. This, in itself, is an...
(
Malcolm McDowell
Malcolm McDowell
Malcolm McDowell is an English actor with a career spanning over forty years.McDowell is principally known for his roles in the controversial films If...., O Lucky Man!, A Clockwork Orange and Caligula...
), the main character, is a charismatic, psychopathic delinquent whose interests include classical music (especially
Beethoven
Ludwig van Beethoven
Ludwig van Beethoven was a German composer and pianist. A crucial figure in the transition between the Classical and Romantic eras in Western art music, he remains one of the most famous and influential composers of all time.Born in Bonn, then the capital of the Electorate of Cologne and part of...
), rape, and what is termed 'ultra-violence'.
[voiceover] There was me, that is Alex, and my three droogs, that is Pete, Georgie, and Dim, and we sat in the Korova Milkbar trying to make up our rassoodocks what to do with the evening. The Korova milkbar sold milk-plus, milk plus vellocet or synthemesc or drencrom, which is what we were drinking. This would sharpen you up and make you ready for a bit of the old ultra-violence.

[voiceover] It was around by the derelict casino that we came across Billyboy and his four droogs. They were getting ready to perform a little of the old in-out, in-out on a weepy young devotchka they had there.

Ho, ho, ho! Well if it isn't fat stinking billy goat Billy Boy in poison! How art thou, thou globby bottle of cheap stinking chip oil? Come and get one in the yarbles, if ya have any yarbles, ya eunuch jelly thou!

[voiceover] The Durango-95 purred away real horrorshow - a nice, warm, vibraty feeling all through your guttiwuts. Soon, it was trees and dark, my brothers, with real country dark. We fillied around for a while with other travellers of the night, playing hogs of the road. Then we headed West. What we were after now was the old surprise visit. That was a real kick, and good for laughs and lashings of the old ultra-violence.

Viddy well, little brother. Viddy well.

[voiceover] We were all feeling a bit shagged and fagged and fashed, it having been an evening of some small energy expenditure, O my brothers. So we got rid of the auto and stopped off at the Korova for a nightcap.

[voiceover] And it was like for a moment, O my brothers, some great bird had flown into the milkbar and I felt all the malenky little hairs on my plott standing endwise and the shivers crawling up like slow malenky lizards and then down again. Because I knew what she sang. It was a bit from the glorious Ninth, by Ludwig van.

It had been a wonderful evening and what I needed now, to give it the perfect ending, was a little of the Ludwig Van.

[While listening to Beethoven's Ninth Symphony] Oh bliss! Bliss and heaven! Oh, it was gorgeousness and gorgeousity made flesh. It was like a bird of rarest-spun heaven metal or like silvery wine flowing in a spaceship, gravity all nonsense now. As I slooshied, I knew such lovely pictures!

Appy-polly-loggies. I had something of a pain in my gulliver so I had to sleep. I was not awakened when I gave orders for awakening.