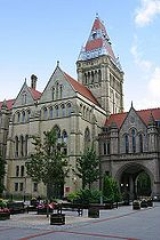 Anthony Burgess
John Burgess Wilson – who published under the pen name Anthony Burgess – was an English author, poet, playwright, composer, linguist, translator and critic. The
dystopian
Utopian and dystopian fiction
The utopia and its offshoot, the dystopia, are genres of literature that explore social and political structures. Utopian fiction is the creation of an ideal world, or utopia, as the setting for a novel. Dystopian fiction is the opposite: creation of a nightmare world, or dystopia...
satire
A Clockwork Orange
A Clockwork Orange
A Clockwork Orange is a 1962 dystopian novella by Anthony Burgess. The novel contains an experiment in language: the characters often use an argot called "Nadsat", derived from Russian....
is Burgess's most famous novel, though he dismissed it as one of his lesser works. It was adapted into a highly controversial
1971 film
A Clockwork Orange (film)
A Clockwork Orange is a 1971 film adaptation of Anthony Burgess's 1962 novel of the same name. It was written, directed and produced by Stanley Kubrick...
by
Stanley Kubrick
Stanley Kubrick
Stanley Kubrick was an American film director, writer, producer, and photographer who lived in England during most of the last four decades of his career...
, which Burgess said was chiefly responsible for the popularity of the book. Burgess produced numerous other novels, including the Enderby quartet, and
Earthly Powers
Earthly Powers
Earthly Powers is a panoramic saga of the 20th century by Anthony Burgess first published in 1980. On one level it is a parody of a "blockbuster" novel, with the 81-year-old hero, Kenneth Toomey , telling the story of his life in 82 chapters...
.
Nabby Adams, supine on the bed, grunted. It was four o'clock in the morning and he did not want to be talking. He had had a confused coloured dream about Bombay, shot with sharp pangs of unpaid bills. Over it all had brooded thirst, thirst for a warmish bottle of Tiger beer. Or Anchor. Or Carlsberg. He said, 'Did you bring any beer back with you?'

Vorpal had the trick of adding a Malay enclitic to his utterances. This also had power to irritate, especially in the mornings. It irritated Nabby Adams that this should irritate him, but somewhere at the back of his brain was the contempt of the man learned in languages for the silly show-off, jingling the small change of 'wallah' and charpoy...

'What you could do with is a nice strong cup of tea, sir. I'll tell the kuki to make you one.' 'Does it really do any good, Nabby? (That was better.) 'I've tried every damn thing.'....

His heart beating faster, his throat drying, Nabby whispered to the driver, 'Not so bloody fast.' 'Tuan?' 'All right, all right.' One of these days he must really get down to the language. There never seemed to be the time, somehow....

Relief brought an aching desire to be sitting in a kedai with a large bottle of Tiger or Anchor or Carlsberg in front of him....

Sultan Aladdin… had few illusions about his own people: amiable, well-favoured, courteous, they loved rest better than industry… their function was to remind the toiling Chinese, Indians and British of the ultimate vanity of labour.

…it was a cardinal rule in the East not to show one's true feelings.