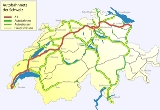 A1 (Switzerland)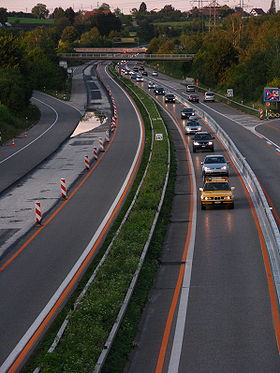 The
A1
is a motorway in
Switzerland
Switzerland
Switzerland name of one of the Swiss cantons. ; ; ; or ), in its full name the Swiss Confederation , is a federal republic consisting of 26 cantons, with Bern as the seat of the federal authorities. The country is situated in Western Europe,Or Central Europe depending on the definition....
. It follows Switzerland's main east-west axis, from
St. Margrethen
St. Margrethen
St. Margrethen is a municipality in the Wahlkreis of Rheintal in the canton of St. Gallen in Switzerland.-Geography:...
in northeastern Switzerland's
canton of St. Gallen
Canton of St. Gallen
The Canton of St. Gallen is a canton of Switzerland. St. Gallen is located in the north east of Switzerland. It covers an area of 2,026 km², and has a population of . , the population included 97,461 foreigners, or about 20.9% of the total population. The capital is St. Gallen. Spelling...
through to
Geneva
Geneva
Geneva In the national languages of Switzerland the city is known as Genf , Ginevra and Genevra is the second-most-populous city in Switzerland and is the most populous city of Romandie, the French-speaking part of Switzerland...
in southwestern Switzerland. The motorway spans over 200 kilometres (124.3 mi) through Switzerland.
With the build of the third
Baregg Tunnel
Baregg Tunnel
The Baregg Tunnel is a motorway tunnel in Switzerland, and forms part of the A1 motorway from Geneva to St. Margrethen.The tunnel is 1.1 km long.It lies in the vicinity of city of Baden, Switzerland....
tube, the traffic jams in this area were reduced, but the
Gubrist Tunnel
Gubrist Tunnel
The Gubrist Tunnel is a 3.2 km long motorway tunnel in Switzerland, and forms part of the A20 motorway .It lies west of the city of Zurich, in a hilly area. It is named after the hill of Gubrist, which is nearby....
remains with the old capacity as a new point of heavy traffic.
Exit list
Exits and buildings
EWLINE
France

France

The French Republic , The French Republic , The French Republic , (commonly known as France , is a unitary semi-presidential republic in Western Europe with several overseas territories and islands located on other continents and in the Indian, Pacific, and Atlantic oceans. Metropolitan France...




----
Border crossing at Bardonnex

Bardonnex

Bardonnex is a municipality in the canton of Geneva in Switzerland.-Geography:Bardonnex has an area, , of . Of this area, or 73.6% is used for agricultural purposes, while or 3.4% is forested...


/
Saint-Julien-en-Genevois

Saint-Julien-en-Genevois

Saint-Julien-en-Genevois is a commune in the Haute-Savoie department in the Rhône-Alpes region in south-eastern France. It is a sub-prefecture of the department.-Geography:...



(1)
Fork Perly

Perly-Certoux

Perly-Certoux is a municipality of the canton of Geneva in Switzerland.-History:Perly is first mentioned in 1124 as de Perliaco. Certoux was mentioned in 1537 as Sartoux.-Geography:...



(2)
Perly

Perly-Certoux

Perly-Certoux is a municipality of the canton of Geneva in Switzerland.-History:Perly is first mentioned in 1124 as de Perliaco. Certoux was mentioned in 1537 as Sartoux.-Geography:...



Confignon (1240 m)
(3)
Bernex
Chèvres (400 m)
Vernier (1900 m)
(4)
Vernier

Vernier, Switzerland

Vernier is a municipality in the Canton of Geneva, Switzerland. It is divided into different sections: Vernier Village, Le Lignon, Aïre, Les Avanchets, Cointrin and Châtelaine.-Tourist Information and History:...



(5)
Meyrin

Meyrin

Meyrin is a municipality of the Canton of Geneva, Switzerland. It is the city located nearest to the CERN particle physics laboratory.Meyrin was originally a small agricultural village until the 1950s, when construction of CERN began just to the north...



(6)
Genève Aéroport
(7)
Genève Aéroport / Ferney
(8)
Versoix
(9)
Fork Le Vengeron
(10)
Coppet

Coppet

Coppet is a municipality in the district of Nyon in the canton of Vaud in Switzerland.-History:Coppet is first mentioned in 1294 as Copetum. In 1347 it was mentioned as Copet.-Geography:...



(Rest area) Crans près Célingy
(11)
Nyon

Nyon

Nyon is a municipality in the district of Nyon in the canton of Vaud in Switzerland. It is located some 25 kilometers north east of Geneva's city centre, and since the 1970s it has become part of the Geneva metropolitan area. It lies on the shores of Lake Geneva, and is the seat of the district of...



(12)
Gland
La côte
(13)
Rolle
(14)
Aubonne
(Rest area) Etoy
(15)
Morges Ouest
(16)
Morges Est
(17)
Fork Ecublens
(18)
Lausanne

Lausanne

Lausanne is a city in Romandy, the French-speaking part of Switzerland, and is the capital of the canton of Vaud. The seat of the district of Lausanne, the city is situated on the shores of Lake Geneva . It faces the French town of Évian-les-Bains, with the Jura mountains to its north-west...


Crissier

Crissier

Crissier is a municipality in the district of Ouest Lausannois in the canton of Vaud in Switzerland.It is a suburb of Lausanne.-History:Crissier is first mentioned in 1199 as Crissiaco. In 1228 it was mentioned as Crissie.-Geography:...



(19)
Fork Villars-Ste-Croix

Villars-Sainte-Croix

Villars-Sainte-Croix is a municipality in the Swiss canton of Vaud, located in the district of Ouest lausannois.-History:The Order of St John owned the old village church and a hospital which is mentioned in records from before 1272. The buildings still existed as ruins in 1546. Both had been part...



(20)
Cossonay

Cossonay

Cossonay is a municipality in the canton of Vaud in Switzerland. It is the seat of the district of Morges.-History:Cossonay has both Roman ruins and medieval graves. The first documentation of the settlement dates from 1096 under the name Cochoniacum...



(21)
La Sarraz

La Sarraz

La Sarraz is a municipality of the canton of Vaud in Switzerland, located in the district of Morges.-Geography:La Sarraz has an area, , of . Of this area, or 48.2% is used for agricultural purposes, while or 39.0% is forested...



(Rest area) Bavois
(22)
Chavornay
(23)
Fork Essert-Pittet

Essert-Pittet

Essert-Pittet is a municipality in the district of Jura-Nord Vaudois of the canton of Vaud in Switzerland.-History:Essert-Pittet is first mentioned in 1100 as Exertus. In 1453 it was mentioned as Essers. It was first known as Essert-Pittet before 1764.-Geography:Essert-Pittet has an area, , of...



(24)
Fork Yverdon

Yverdon-les-Bains

Yverdon-les-Bains is a municipality in the district of Jura-Nord vaudois of the canton of Vaud in Switzerland. It is the seat of the district...



(25)
Yverdon

Yverdon-les-Bains

Yverdon-les-Bains is a municipality in the district of Jura-Nord vaudois of the canton of Vaud in Switzerland. It is the seat of the district...


Sud
Pomy (3000 m)
Arrissoules (3000 m)
Rose de la Broye
(26)
Estavayer-le-Lac

Estavayer-le-Lac

Estavayer-le-Lac is a municipality of the canton of Fribourg, situated on the south shore of Lake Neuchâtel. Estavayer-le-Lac is located between Yverdon and Bern. It is the capital of the district of Broye.-History:...



(27)
Payerne

Payerne

Payerne is a municipality in the Swiss canton of Vaud. It was the seat of the district of Payerne, and is now part of the district of Broye-Vully....



(28)
Avenches

Avenches

Avenches is a Swiss municipality in the canton of Vaud, located in the district of Broye-Vully.-History:The roots of Avenches go back to the Celts...



(29)
Murten

Murten

Murten is a municipality in the See district of the canton of Fribourg in Switzerland.It is located on the southern shores of Lake Morat. Morat is situated between Bern and Lausanne and is the capital of the Lake District of the canton of Fribourg....



(30)
Kerzers

Kerzers

Kerzers is a municipality in the district of See in the canton of Fribourg in Switzerland. Its French name is Chiètres.-External links:*...



(31)
Mühleberg

Mühleberg

Mühleberg is a municipality in the Bern-Mittelland administrative district in the canton of Bern in Switzerland.-Geography:Mühleberg has an area of . Of this area, 53.6% is used for agricultural purposes, while 32.9% is forested...



(32)
Bern Brünnen

Brunnen

Brunnen is a resort on Lake Lucerne in Switzerland, part of the municipality Ingenbohl , at .Brunnen has a cablecar that goes to the Urmiberg, a part of the Rigi offering wonderful views of Lake Lucerne and the Alps....



Brünnen (510 m)
(33)
Bern Bethlehem
(34)
Fork Bern Weyermannshaus
(35)
Bern Forsthaus
(36)
Bern Neufeld
Felsenaubrücke
(37)
Fork Bern Wankdorf
Grauholz
(38)
Fork Schönbühl

Urtenen-Schönbühl

Urtenen-Schönbühl is a municipality in the Bern-Mittelland administrative district in the canton of Bern in Switzerland.-Geography:Urtenen-Schönbühl has an area of . Of this area, 47.3% is used for agricultural purposes, while 31% is forested...



(Rest area)
(39)
Kirchberg
(40)
Kriegstetten

Kriegstetten

Kriegstetten is a municipality in the district of Wasseramt in the canton of Solothurn in Switzerland.-Geography:Kriegstetten has an area, , of . Of this area, or 43.9% is used for agricultural purposes, while or 8.8% is forested...



(41)
Fork Luterbach

Luterbach

Luterbach is a municipality in the district of Wasseramt in the canton of Solothurn in Switzerland.-History:Luterbach is first mentioned in 1052 as lutere Bach, though this identification is disputed. In 1319 it was mentioned as ville Luterbach....



Deitingen
(42)
Wangen

Wangen an der Aare

Wangen an der Aare is a municipality in the Oberaargau administrative district in the canton of Bern in Switzerland.This small town lies between Olten and Solothurn in rural surroundings on the Aare, a major river of the west-central lowland region of Switzerland, the Mittelland. An ancient wooden...



(Rest area) Oberbipp
(43)
Niederbipp

Niederbipp

Niederbipp is a municipality in the Oberaargau administrative district in the canton of Bern in Switzerland.-History:Niederbipp is first mentioned in 968 as Pippa. In 1302 it was mentioned as Nider-Bippe.-Geography:...



(44)
Oensingen

Oensingen

Oensingen is a municipality in the district of Gäu in the canton of Solothurn in Switzerland.-Geography:Oensingen has an area, , of . Of this area, or 39.7% is used for agricultural purposes, while or 37.2% is forested...



(45)
Fork Härkingen

Härkingen

Härkingen is a municipality in the district of Gäu in the canton of Solothurn in Switzerland.-History:Härkingen is first mentioned in 1080 as quendam comitatum nomine Härichingen in pago Buchsgeowe situm . In 1101 it was mentioned as 03 apud Harichingen.-Geography:Härkingen has an area, , of...



Gunzgen
(46)
Rothrist

Rothrist

Rothrist is a municipality in the district of Zofingen in the canton of Aargau in Switzerland.-History:Originally an Alamanni settlement, the modern village of Rothrist is first mentioned in 1263 as Routris. The Herschaft rights were held by the Counts of Frohburg until 1299, when they...



(47)
Fork Wiggertal
(48)
Oftringen

Oftringen

Oftringen is a municipality in the district of Zofingen in the canton of Aargau in Switzerland.-History:The earliest trace of human habitation near Oftringen is scattered mesolithic era finds. A Roman era farm at the intersection of two roads and scattered Alamanni settlements have also been...



(Rest area)
Kölliken
(49)
Aarau

Aarau

Aarau is the capital of the northern Swiss canton of Aargau. The city is also the capital of the district of Aarau. It is German-speaking and predominantly Protestant. Aarau is situated on the Swiss plateau, in the valley of the Aar, on the river's right bank, and at the southern foot of the Jura...


West
(50)
Aarau

Aarau

Aarau is the capital of the northern Swiss canton of Aargau. The city is also the capital of the district of Aarau. It is German-speaking and predominantly Protestant. Aarau is situated on the Swiss plateau, in the valley of the Aar, on the river's right bank, and at the southern foot of the Jura...


Ost
(Rest area)
(51)
Lenzburg

Lenzburg

Lenzburg is a town in the central region of the Swiss canton Aargau and is the capital of the district of the same name. The town, founded in the Middle Ages, lies in the Seetal valley, about 3 kilometres south of the Aare river. Lenzburg and the neighbouring municipalities of Niederlenz and...



(Rest area)
(52)
Mägenwil

Mägenwil

Mägenwil is a municipality in the district of Baden in the canton of Aargau in Switzerland.-History:Mägenwil is first mentioned in 924 as Maganwilare. In 1273 it was mentioned as Echwile.-Geography:...



(53)
Fork Birrfeld
(54)
Baden West
Baregg (1080 m)
(55)
Neuenhof
Neuenhof
(56)
Wettingen

Wettingen

Wettingen is a residential community in the district of Baden in the Swiss canton of Aargau. With a population about 20,000, Wettingen is the largest municipality in the canton.-Geography:...


Ost
Würenlos / "Fressbalken"
(57)
Spreitenbach

Spreitenbach

Spreitenbach is a municipality in the district of Baden in the canton of Aargau in Switzerland, located in the Limmat Valley .It lies southeast of the district center directly on the border with the canton of Zurich....


- planned
(58)
Dietikon

Dietikon

Dietikon is the fifth biggest city of the canton of Zürich in Switzerland, after Zürich, Winterthur, Uster and Dübendorf. It is the capital of the same-named district of Dietikon and part of the Zürich metropolitan area.- Geography :...



(59)
Autobahnkreuz Limmattal
(60)
Weiningen
Gubristtunnel (3230 m)
(61)
Zürich

Zürich

Zurich is the largest city in Switzerland and the capital of the canton of Zurich. It is located in central Switzerland at the northwestern tip of Lake Zurich...


Affoltern
(Rest area) Büsisee
(62)
Zürich

Zürich

Zurich is the largest city in Switzerland and the capital of the canton of Zurich. It is located in central Switzerland at the northwestern tip of Lake Zurich...


Seebach
Stelzen (380 m)
(63)
Fork Zürich

Zürich

Zurich is the largest city in Switzerland and the capital of the canton of Zurich. It is located in central Switzerland at the northwestern tip of Lake Zurich...


Nord
(64)
Fork Zürich

Zürich

Zurich is the largest city in Switzerland and the capital of the canton of Zurich. It is located in central Switzerland at the northwestern tip of Lake Zurich...


Ost
(65)
Wallisellen

Wallisellen

Wallisellen is a municipality in the district of Bülach in the canton of Zürich in Switzerland, and belongs to the Glatt Valley .-History:The first settlement at Wallisellen dates from 58 BC....



(66)
Autobahnkreuz Brüttisellen
(Rest area) Baltenswil
(67)
Effretikon
Kempthal
(68)
Winterthur Töss
(69)
Winterthur Wülflingen
(70)
Fork Winterthur Nord
(71)
Winterthur Ohringen

Öhringen

Öhringen is the largest city in Hohenlohe in the state of Baden-Württemberg, in southwest Germany, near Heilbronn. Öhringen is on the railways to Schwäbisch Hall and Crailsheim.With a population of 22,745 , the city is diverse...



Forrenberg
(72)
Oberwinterthur

Oberwinterthur

Oberwinterthur is a district in the Swiss city of Winterthur. It is district number 2.The district comprises the quarters Talacker, Guggenbühl, Zinzikon, Reutlingen, Stadel, Grüze, Hegmatten and Hegi....



(73)
Fork Winterthur Ost
(74)
Attikon
(Rest area) Oberweiler
(75)
Matzingen

Matzingen

Matzingen is a municipality in the district of Frauenfeld in the canton of Thurgau in Switzerland.-History:Matzingen is first mentioned in 779 as Mazcingas. During the High Middle Ages, the Freiherr of Matzingen had the low court rights...



(Rest area) Hexentobel
(76)
Münchwilen
(76a)
Wil West - planned
(77)
Wil
Thurau
(78)
Oberbüren-Uzwil

Uzwil

Uzwil is a municipality in the Wahlkreis of Wil in the canton of St. Gallen in Switzerland.-History:Uzwil was first mentioned in 819 as Uzzinwilare. The village of Henau was first mentioned 754 as Villa Aninauva at the Monastery of St. Gallen in the "Henau document" .-Geography:Uzwil has an area,...



(79)
Gossau
(Rest area) Wildhus
(80)
St. Gallen Winkeln
(Rest area) Moosmüli
(81)
St. Gallen Kreuzbleiche
Rosenberg (1440 m)
(82)
St. Gallen St. Fiden
Stephanshorn (570 m)
(83)
St. Gallen Neudorf
(84)
Fork Meggenhus
(Rest area)
(85)
Rheineck

Rheineck

Rheineck is a municipality in the Wahlkreis of Rheintal in the canton of St. Gallen in Switzerland.-History:Rheineck is first mentioned about 1163 as castellum Rinegge. In 1218 it was mentioned as Rinegg...



St. Margrethen
(86)
St. Margrethen

St. Margrethen

St. Margrethen is a municipality in the Wahlkreis of Rheintal in the canton of St. Gallen in Switzerland.-Geography:...


(Fork to S18 - planned)

----
Autoroute part A1a (Genève)
EWLINE

----
(1)
Fork Perly
;
(1)
Perly

Perly-Certoux

Perly-Certoux is a municipality of the canton of Geneva in Switzerland.-History:Perly is first mentioned in 1124 as de Perliaco. Certoux was mentioned in 1537 as Sartoux.-Geography:...



(2)
Lancy

Lancy

Lancy is a municipality of the Canton of Geneva, Switzerland.-Geography:Lancy has an area, , of . Of this area, or 5.2% is used for agricultural purposes, while or 6.5% is forested...


Sud / Carouge

Carouge

Carouge is a municipality in the Canton of Geneva, Switzerland, with a population of 19,114 .-History:Carouge is first mentioned in the Early Middle Ages as Quadruvium and Quatruvio. In 1248 it was mentioned as Carrogium while in the 14th Century it was known as Quarrouiz or Quarroggi. In 1445...



(3)
La Praille / Carouge

Carouge

Carouge is a municipality in the Canton of Geneva, Switzerland, with a population of 19,114 .-History:Carouge is first mentioned in the Early Middle Ages as Quadruvium and Quatruvio. In 1248 it was mentioned as Carrogium while in the 14th Century it was known as Quarrouiz or Quarroggi. In 1445...



(4)
Etoile
end of autoroute

----
Genève Centre / Les Vernets
Autoroute part A1a (Genève Lac)
EWLINE

----
(1)
Fork Le Vengeron
(2)
Genève Lac
end of autoroute

----
Genève Route de Meyrin
Autoroute part A1a (Lausanne)
EWLINE

----
(1)
Fork Ecublens
(2)
Lausanne Malley
(3)
Lausanne Maladière
end of autoroute

----
Lausanne

Lausanne

Lausanne is a city in Romandy, the French-speaking part of Switzerland, and is the capital of the canton of Vaud. The seat of the district of Lausanne, the city is situated on the shores of Lake Geneva . It faces the French town of Évian-les-Bains, with the Jura mountains to its north-west...


Kreisel Maladière
Autobahn part A1h (A3)
EWLINE

----
(1)
Autobahnkreuz Limmattal
(2)
Zürich

Zürich

Zurich is the largest city in Switzerland and the capital of the canton of Zurich. It is located in central Switzerland at the northwestern tip of Lake Zurich...


Altstetten
(3)
Hardturm

Hardturm

The Hardturm was a football stadium located in Zurich's Kreis 5. Opened in 1929, it was the home of the Grasshopper-Club Zürich. It was a host stadium for the 1954 FIFA World Cup....



end of autobahn

----
Zürich

Zürich

Zurich is the largest city in Switzerland and the capital of the canton of Zurich. It is located in central Switzerland at the northwestern tip of Lake Zurich...


Pfingstweidstrasse
Autobahn part A1l
EWLINE
Autostrasse A1l
(1)
Zürich

Zürich

Zurich is the largest city in Switzerland and the capital of the canton of Zurich. It is located in central Switzerland at the northwestern tip of Lake Zurich...


Letten
Milchbuck (1910 m)
Autostrasse A1l

----
end of autobahn
(2)
Zürich

Zürich

Zurich is the largest city in Switzerland and the capital of the canton of Zurich. It is located in central Switzerland at the northwestern tip of Lake Zurich...


Unterstrass

Unterstrass

Unterstrass is a quarter in the district 6 in Zurich.It was formerly a municipality of its own, having been incorporated into Zurich in 1893.The quarter has a population of 19,921 distributed on an area of 2.46 km².- References :...



Schöneich Tunnel

Schöneich Tunnel

The Schöneich Tunnel is a motorway tunnel in Switzerland, and forms part of the A1L motorway in the city of Zurich between Zurich Schwamendingen and Zurich Letten.The tunnel is around 600 metres long....



(3)
Zürich

Zürich

Zurich is the largest city in Switzerland and the capital of the canton of Zurich. It is located in central Switzerland at the northwestern tip of Lake Zurich...


Schwamendingen

Schwamendingen

Schwamendingen is a district in the Swiss city of Zurich. It is district number 12.The district comprises the quarters Schwamendingen Mitte, Saatlen and Hirzenbach....



Schöneich Tunnel
(4)
Zürich

Zürich

Zurich is the largest city in Switzerland and the capital of the canton of Zurich. It is located in central Switzerland at the northwestern tip of Lake Zurich...


Aubrugg
(5)
Fork Zürich

Zürich

Zurich is the largest city in Switzerland and the capital of the canton of Zurich. It is located in central Switzerland at the northwestern tip of Lake Zurich...


Ost

----
Autobahn part A1.1
EWLINE
Autostrasse A1.1
(1)
Arbon

Arbon, Switzerland

Arbon is a municipality and district capital of the district of Arbon in the canton of Thurgau in Switzerland.-Geography:Arbon is situated on a peninsula on the southwest shore of Lake Constance between Romanshorn and Rorschach. On the south, the municipality borders the canton of St. Gallen. St...


West
(2)
Arbon

Arbon, Switzerland

Arbon is a municipality and district capital of the district of Arbon in the canton of Thurgau in Switzerland.-Geography:Arbon is situated on a peninsula on the southwest shore of Lake Constance between Romanshorn and Rorschach. On the south, the municipality borders the canton of St. Gallen. St...


Süd
Autostrasse A1.1

----
end of autobahn
(3)
Rorschach
(4)
Fork Meggenhus

----
See also
Transportation in Switzerland