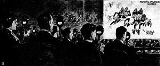 3-D film
A
3-D
film
or
S3D
(
stereoscopic 3D
)
film
is a motion picture that enhances the
illusion
Optical illusion
An optical illusion is characterized by visually perceived images that differ from objective reality. The information gathered by the eye is processed in the brain to give a perception that does not tally with a physical measurement of the stimulus source...
of
depth perception
Depth perception
Depth perception is the visual ability to perceive the world in three dimensions and the distance of an object. Depth sensation is the ability to move accurately, or to respond consistently, based on the distances of objects in an environment....
. Derived from
stereoscopic
Stereoscopy
Stereoscopy refers to a technique for creating or enhancing the illusion of depth in an image by presenting two offset images separately to the left and right eye of the viewer. Both of these 2-D offset images are then combined in the brain to give the perception of 3-D depth...
photography, a regular motion picture camera system is used to record the images as seen from two perspectives (or
computer-generated imagery
Computer-generated imagery
Computer-generated imagery is the application of the field of computer graphics or, more specifically, 3D computer graphics to special effects in art, video games, films, television programs, commercials, simulators and simulation generally, and printed media...
generates the two perspectives in
post-production
Post-production
Post-production is part of filmmaking and the video production process. It occurs in the making of motion pictures, television programs, radio programs, advertising, audio recordings, photography, and digital art...
), and special projection hardware and/or eyewear are used to provide the illusion of depth when viewing the film.