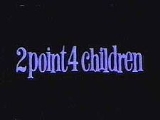 2point4 children
2point4 Children
is a 1990s
British sitcom
British sitcom
A British sitcom tends, as it does in most other countries, to be based on a family, workplace or other institution, where the same group of contrasting characters is brought together in each episode. Unlike American sitcoms, where twenty or more episodes in a season is the norm, British sitcoms...
that was created and written by
Andrew Marshall
Andrew Marshall (writer)
Andrew Marshall is an English comedy screenwriter, most noted for the domestic sitcom 2point4 children. He was also the inspiration for Marvin the Paranoid Android in The Hitchhiker's Guide to the Galaxy...
. It follows the lives of the Porter family; an average family that is persistently faced with surreal situations and sheer bad luck.
The show was originally broadcast on
BBC1
BBC One
BBC One is the flagship television channel of the British Broadcasting Corporation in the United Kingdom. It was launched on 2 November 1936 as the BBC Television Service, and was the world's first regular television service with a high level of image resolution...
from 1991 to 1999, and ran for eight series, ending in a special Millennium edition that would be the last due to the death of Gary Olsen, who died from cancer in 2000. The show is now repeated regularly in the UK on G.O.L.D., and in Australia on UKTV.
The title of the show refers to the once average size of a UK family. There are two children in the Porter family, however Andrew Marshall has indicated that the father, Ben, could be considered almost another child, making up the "point four".
The show regularly picked up large audiences of up to 13 million in the 1990s, and the final episode was viewed by 9.03 million people.
In 1997 a remake of the show debuted in the
Netherlands
Netherlands
The Netherlands is a constituent country of the Kingdom of the Netherlands, located mainly in North-West Europe and with several islands in the Caribbean. Mainland Netherlands borders the North Sea to the north and west, Belgium to the south, and Germany to the east, and shares maritime borders...
:
'Kees & Co
' starring
Simone Kleinsma
Simone Kleinsma
Simone Kleinsma is an award winning musical theatre actress in the Netherlands.-Personal life:On June 5, 1990, Simone married Guus Verstraete, a Dutch television director...
.
Cast
Belinda Lang

Belinda Lang

Belinda Lang is an English actress, best known in the United Kingdom for her role as Bill Porter in the long running BBC sitcom 2point4 children .-Television:...


- Bill Porter
Gary Olsen

Gary Olsen

Gary Olsen was an English actor.Olsen was born in London and lived with an aunt and uncle, after losing both his parents at an early age. He attended the Archbishop Tenison's Church of England School in Kennington...


- Ben Porter
Clare Woodgate

Georgina Cates

Georgina Cates is an English actress of film and television.-Biography:Born Clare Woodgate in Colchester, Essex, she attended Colchester County High School for Girls and broke into television acting when she was only sixteen years old, playing the role of the original Jenny Porter on the BBC's...


- Jenny Porter (series 1 & 2)
Clare Buckfield

Clare Buckfield

Clare Buckfield is an English actress, best known for playing the role of Jenny Porter in the BBC sitcom 2point4 children for most of the nineties and Natasha Stevens in the CBBC series Grange Hill.-Biography:...


- Jenny Porter (series 3 - 8)
John Pickard

John Pickard (British actor)

John Pickard is a British actor who is currently best known for appearing in Channel 4's Hollyoaks playing Dominic Reilly from 2005-2010. He is the brother of fellow Hollyoaks star Nick Pickard, who plays Tony Hutchinson, Dom's half-brother, in the soap...


- David Porter
Julia Hills

Julia Hills

Julia Hills is a British actress, known for being a member of the cast of the Channel 4 late-night comedy sketch show Who Dares Wins in the 1980s. She also played the character of Rona, the man-hungry neighbour, in eight series of the BBC hit sitcom 2point4 children...


- Rona Harris
Kim Benson - Christine (from series 2, one-off appearance in series 1)
Patricia Brake

Patricia Brake

Patricia Ann Brake is an English actress.Her first prominent television role was as Julie Pinfield in The Ugliest Girl in Town , a short-lived sitcom made for the American ABC network...


- Tina (Series 1)
Sandra Dickinson

Sandra Dickinson

Sandra Dickinson is an American-British actress. She trained at the Central School of Speech and Drama in London. She has often played a dumb blonde with a high-pitched voice in the UK – notably commencing in the St...


- Tina (from series 2)
Annette Kerr

Annette Kerr

Annette Kerr is an English actress born in 1920. She has made numerous appearances in films and on television.Kerr is also frequently referred to in The Kenneth Williams Diaries edited by Russell Davies and it seems he was very fond of her and they were good friends who also worked with each other...


- Dora Grimes
Alex Kew

Alex Kew

Alex Kew is an actor, musician and singer-songwriter from High Wycombe, Buckinghamshire.-TV & Film:He is best known for playing Josh Barker in the children's sitcom My Parents Are Aliens. He has also played a variety of other parts, most notably Declan in the final series of 2point4 children...


- Declan (series 8)
Barbara Lott

Barbara Lott

Barbara Dulcie Lott was a British actress probably best remembered as Ronnie Corbett's character's mother, Phyllis Lumsden in the comedy series Sorry!...


- Auntie Pearl
Leonard O'Malley - Gerry (series 1)
Tom Roberts - Tony (series 3-8)
Liz Smith

Liz Smith (actress)

Liz Smith, MBE is a British actress, best-known for her roles in the sitcoms The Vicar of Dibley and The Royle Family. She also appeared in the 2005 film Charlie and the Chocolate Factory.-Early life:...


- Bette & Aunt Belle
Paul Raffield

Paul Raffield

Paul Raffield is a British academic, director and actor.He has played two different characters in Coronation Street: in 1996 as Dr Stirling, and in 2005 as a vicar. Other TV credits include After You've Gone, The Worst Week of My Life, The Robinsons, The Bill, Karaoke and 2point4 Children...


- Adam (series 3)
Roger Lloyd Pack

Roger Lloyd Pack

Roger Lloyd-Pack is an English actor known for his roles in the TV shows The Vicar of Dibley, Only Fools and Horses and The Old Guys.-Career:...


- Jake 'The Klingon' Klinger (series 3-6)
Plot summary
The Porter family at first seem normal enough. Bill is the sensible level-headed mother who does the cooking and housework, whilst running a catering business with sex-crazed friend Rona. Ben is the father, who is often equally as immature as the kids. He runs a heating repair business with his slightly sarcastic assistant Christine.
Jenny is the typical teenage daughter, keen on boys, music and vegetarianism, and David is the mischievous younger brother, who enjoys horror films, aliens and annoying his older sister.
However the Porter's world is frequently turned upside down due to bizarre occurrences and bad luck. Whether its dealing with flatulent dogs, having frozen men in freezers in the front room, or even stumbling across Shirley Bassey's warehouse, it seems like anything is possible in the Porter's world.
Episodes
The show's original run was from 1991-1999. A total of 56 episodes were made over eight series, including six Christmas specials. Each special saw the cast perform a Christmas or special theme song.
Andrew Marshall virtually wrote the whole series, however a few of the episodes in series seven were written by:
Paul Alexander
Paul Alexander
Paul Alexander is an American writer, playwright and stage director. He has published eight books, authored critically praised plays and directed plays as well as a documentary film...
, Simon Braithwaite and
Paul Smith
Paul Smith (writer)
Paul Smith is a British television writer best known as creator of the Dawn French series Murder Most Horrid , and as co-creator of the Mel Smith series Colin's Sandwich....
.
Critical reception
Critics hailed it as "one of the greatest British sitcoms of all time", whilst some made comparisons to US sitcom Roseanne, yet few critics made the connection between Marshall and former writing partner
David Renwick
David Renwick
David Peter Renwick is an English television writer, best known for creation of the sitcom One Foot in the Grave and the mystery series Jonathan Creek....
, whose sitcom
One Foot in the Grave
One Foot in the Grave
One Foot in the Grave is a BBC television sitcom series written by David Renwick. The show ran for six series, including seven Christmas specials, two Comic Relief specials, over an eleven year period, from early 1990 to late 2000...
features a variety of domestic surrealism, similar to 2point4 children.
Eureka Video has also commented on the show on their website, saying:
Sitcom-wise, the shape of the series itself is different from the norm because, from the earliest episodes, it has centred not on the husband, Ben, but on his wife Bill. Even with the focus on Bill, the series still avoids the traditional woman-as-wife-and-mother theme of other series, instead portraying her as a fully rounded person in her own right, unconfined by her family.
DVD & VHS releases
The first three series were released on Region 2
DVD
DVD
A DVD is an optical disc storage media format, invented and developed by Philips, Sony, Toshiba, and Panasonic in 1995. DVDs offer higher storage capacity than Compact Discs while having the same dimensions....
, by Eureka Video in 2005, however, after insufficient sales, they stated "sales were not good" and that they do not intend to release any more. Despite poor DVD sales a box set of series 1-3 was also made available in 2008, again through Eureka Video.
There are differing reports of why further series have not been released. 2Entertain cite clearance problems in series 7, also stating that one issue (though not music) in an episode of series 7 would interfere with the actual episode. Writer and creator,
Andrew Marshall
Andrew Marshall
Andrew Marshall may refer to:*Andrew Marshall , American founder of the Office of Net Assessment*Andrew Marshall , English comedy scriptwriter...
, comments that "All 2point4 Children shows were produced also in a clearable Worldwide edition, so I can't imagine what these mysterious problems might be, other than ridiculous BBC internal tariffs."
The show was produced by the
BBC
BBC
The British Broadcasting Corporation is a British public service broadcaster. Its headquarters is at Broadcasting House in the City of Westminster, London. It is the largest broadcaster in the world, with about 23,000 staff...
and is still owned by
BBC Worldwide
BBC Worldwide
BBC Worldwide Limited is the wholly owned commercial subsidiary of the British Broadcasting Corporation, formed out of a restructuring of its predecessor BBC Enterprises in 1995. In the year to 31 March 2010 it made a profit of £145m on a turnover of £1.074bn. The company had made a profit of £106m...
, who release a vast amount of their programmes through 2Entertain (which is part owned by BBC Worldwide).
Additionally, BBC Enterprises released a video in 1993, comprising the first three episodes of the series, which are known as: Leader of the Pack, Saturday Night and Sunday Morning and When the Going Gets Tough, the Tough Go Shopping.
| Title | Release date |
| --- | --- |
| 2point4 children - Complete Series 1 (DVD) | 24 January 2005 |
| 2point4 children - Complete Series 2 (DVD) | 25 April 2005 |
| 2point4 children - Complete Series 3 (DVD) | 22 August 2005 |
| 2point4 children - Series 1-3 Boxset (DVD) | 22 September 2008 |
| 2point4 children - Leader Of The Pack (VHS) | 26 February 1996 |
Theme music
The programme features an instrumental theme tune with unusual rhythm by
Howard Goodall
Howard Goodall
210px|thumb|Howard Goodall at St. John the Baptist Church in Devon, United Kingdom, May 2009Howard Lindsay Goodall CBE is a British composer of musicals, choral music and music for television...
, which remained unchanged throughout the run of the programme, although it was significantly shortened for the final series. The closing theme is an extension of that used for the introduction.
Opening/Closing credit sequence
The programme starts with a distinctive blue
2point4children
logo overlaid on an exterior shot of the Porters' terraced house, whilst writer and principal actor credits appear over the succeeding footage. Series one and two features clips from Series one. Series three uses clips taken from more recent episodes, so did Series four. Series five saw a slight change to the format with the footage now taken from all previous four series, as opposed to the unseen episodes of series five.
A new look was unveiled for series six with a reworking of the logo (now in 3D colourful letters) which fell randomly from the top of the frame and landed in the correct order at the bottom. The cast were shown dancing against a white backdrop with Belinda Lang taking centre stage literally. Cast and writer credits (featuring Clare Buckfield and John Pickard's names which weren't previously shown until the closing credits) were shown either side of Bill dancing, this new look continued into Series seven.
The final eighth series in 1999 saw a modification to this style, with the same principle of the falling colourful letters landing against a white backdrop but now featuring a line drawing of the Porter house with its colourful front door. These titles are shorter than previous series and featured no cast members. The principal actor credits were shown at the beginning of each scene of the episode and appeared in the Futura typeface, as opposed to the former Roman-style serif font that debuted in episode one. The move to filming in digital widescreen for series eight was one reason that necessitated the change in titles.
For the closing credits, series one-five the credits either flashed up on screen over a freeze frame of the final scene which gradually faded to black or scrolled along the bottom third of the frame from right to left (the latter usually reserved for Christmas specials).
Series six-eight used a plain white background with the new colourful logo situated at the top of the frame and the credit list scrolling up the centre.
Locations
Although set in the fictitious Chepstow Road, Chiswick, most of the exterior scenes of the house and street were filmed in Meon Road, Acton; and earlier on, Duke Road in Chiswick. Interiors were filmed at Television Centre, other than the first 4 episodes, which were recorded at BBC Pebble Mill's studio A, with design by Lynda Kettle.
External links
Comedy Guide