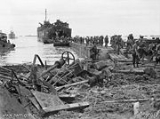 26th Brigade (Australia)
The
Australian 26th Brigade
was an
Australian Army
Australian Army
The Australian Army is Australia's military land force. It is part of the Australian Defence Force along with the Royal Australian Navy and the Royal Australian Air Force. While the Chief of Defence commands the Australian Defence Force , the Army is commanded by the Chief of Army...
infantry
Infantry
Infantrymen are soldiers who are specifically trained for the role of fighting on foot to engage the enemy face to face and have historically borne the brunt of the casualties of combat in wars. As the oldest branch of combat arms, they are the backbone of armies...
brigade
Brigade
A brigade is a major tactical military formation that is typically composed of two to five battalions, plus supporting elements depending on the era and nationality of a given army and could be perceived as an enlarged/reinforced regiment...
of
World War II
World War II
World War II, or the Second World War , was a global conflict lasting from 1939 to 1945, involving most of the world's nations—including all of the great powers—eventually forming two opposing military alliances: the Allies and the Axis...
. The 26th Brigade was raised in 1940 and formed part of the 9th Division throughout the war. The 26th Brigade saw action in
North Africa
North African campaign
During the Second World War, the North African Campaign took place in North Africa from 10 June 1940 to 13 May 1943. It included campaigns fought in the Libyan and Egyptian deserts and in Morocco and Algeria and Tunisia .The campaign was fought between the Allies and Axis powers, many of whom had...
,
New Guinea
New Guinea campaign
The New Guinea campaign was one of the major military campaigns of World War II.Before the war, the island of New Guinea was split between:...
and
Tarakan Island
Battle of Tarakan (1945)
The Battle of Tarakan was the first stage in the Borneo campaign of 1945. It began with an amphibious landing by Australian forces on 1 May, code-named Operation Oboe One...
. The 26th Brigade was disbanded in
Brisbane
Brisbane
Brisbane is the capital and most populous city in the Australian state of Queensland and the third most populous city in Australia. Brisbane's metropolitan area has a population of over 2 million, and the South East Queensland urban conurbation, centred around Brisbane, encompasses a population of...
in January 1946.
The 26th Brigade typically consisted of:
Brigade Headquarters

2/23rd Australian Infantry Battalion
2/24th Australian Infantry Battalion
2/48th Australian Infantry Battalion

2/48th Battalion (Australia)

The 2/48th Battalion was an infantry battalion of the Australian Army which served during the Second World War. Raised in Adelaide in South Australia in August 1940, the battalion formed part of the 26th Brigade and was initially assigned to the 7th Division, although it was later transferred to...



Supporting artillery, engineer and other units.